With hybrid car leader Toyota (NYSE:TM) revealing the final design for its new hydrogen FCV (fuel cell vehicle), investors started speculating if Tesla's (NASDAQ:TSLA) rally is over. That is certainly a possibility in the near term with the company's Model S EV (electric vehicle) sales in the U.S. started to level since the first quarter of 2014. We believe that the market has been looking for a trigger for selling off the stock and the Toyota FCV news could act as such. Tesla's shares have been rallying consistently over the past one year supported by a steady rise in the company's revenue.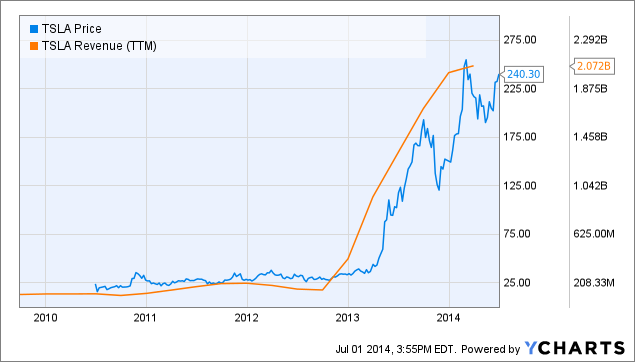 The share price movement has remained directly correlated to the company's revenue performance, as shown in the chart above, which may be showing an early sign of tapering-off since the first quarter of 2014. Although the company's revenue rose 10% in the quarter to $620.5 million year-on-year, on a sequential basis revenue growth remained almost flat, as the chart shows. We believe that Tesla's sales growth will see a brief pause before rising further in the medium term driven by renewed demand for its Model S sedan and fresh demand for its upcoming Model X crossover.
Why Toyota's FCV News Could Act as a Negative Catalyst?
Toyota's FCV will be introduced in Japan in April, 2015 for about 7 million yen ($69,000) with a planned U.S. and Europe rollout few months later. Toyota believes that the FCV technology has huge potential in the development of green vehicles. The advantage of FCVs over battery-powered EVs is that FCVs contribute to the diversification of vehicle fuels. Moreover, FCVs don't emit carbon dioxide or other harmful substances to the environment. In the near term, Tesla's EV sales are not expected to be hit by Toyota's upcoming FCVs. However, in the long term Tesla's sales growth may see contraction if the demand for Toyota's FCVs begin to rise, the chance of which is significant.
Toyota's FCVs will have huge advantage over Tesla's EVs in terms of refueling time. A thirty-minute charge at a supercharger station provides the Model S sedan 170 miles worth of charge, while for Toyota's FCVs refueling takes only three minutes. Toyota will develop hydrogen refueling stations across the globe to support the fuel-cell technology. The company also asked the U.S. auto-safety regulator to grant a two-year exemption from the existing rule with respect to the sale of electric cars.
Toyota invested $50 million in Tesla to acquire a 3% stake in the company, which the company wants to hold for now. The Japanese car maker also signed a supply and services deal with Tesla in 2011 for its RAV4 crossover SUV, which is expected to end this year. Tesla said in a regulatory filing:
In July 2011, we entered into a supply and services agreement with Toyota for the supply of a validated electric powertrain system, including a battery pack, charging system, inverter, motor, gearbox and associated software for integration into the electric vehicle version of the Toyota RAV4. Additionally, we provide Toyota with certain services related to the supply of the electric powertrain system. During the three months ended March 31, 2014 and 2013, we recognized revenue of $15.1 million and $14.4 million in automotive sales revenue, respectively. Our production activities under this program are expected to end in 2014.
We believe that the end of the deal stated above is also a negative development from Tesla's point of view as it suggests that Toyota believes that its future and Tesla's future aren't aligned anymore, and hence no strategic partnership would be necessary. It seems that Toyota may eventually become Tesla's rival in the development of green cars.
Tesla's Revenue to Rise Again in the Medium Term
Although in the long term Toyota's FCVs could beat Tesla's EVs, in the medium term, Tesla's EVs are here to stay. Tesla plans to deliver 35,000 vehicles in 2014, with demand from Europe and China growing at a rapid pace. The company expects to deliver 7,500 Model S sedans in second quarter, with production rising to 8,500 to 9,000 vehicles. In the first quarter, it produced 7,535 Model S cars and delivered 6,457 units. The reason of making these additional units is the growing pipeline of in-transit cars to Asia and Europe.
Tesla's current Model S sedan is expected to see rising demand in the overseas markets although sales are leveling in the U.S., which will help grow Tesla's revenue. The company opened three supercharger stations in Germany recently along the German highways to facilitate travel to Switzerland and Austria, Bloomberg says. The company currently has 23 supercharger stations in Europe, and it plans to open more than 30 new service centers and stores across Europe. Apart from Europe, Tesla's opportunity in China could also be significant as the country is witnessing the formation of a fast-growing luxury vehicle market there. Tesla opened its first Chinese showroom in Beijing in November 2013 and delivered its first cars in China last month. The company wants "to expand in China as fast as possible."
However, the upcoming Model X crossover will be the real revenue generator for the company starting from 2015. We believe that the Model X crossover will be a blockbuster with Falcon wing doors, standard all-wheel-drive and an optional third row, as confirmed by an email from the company directed to reservation holders.
Conclusion
Tesla is planning to develop a giant $5 billion "gigafactory" battery facility in the U.S. for making batteries not only for its own EVs, but for EVs of other manufacturers also. BMW (BAMXY) and Nissan (OTCPK:NSANY) have engaged in talks with Tesla concerning charging technology. This implies that although Toyota will take a different route for developing green cars, it will not render Tesla's technology obsolete.
Business relationship disclosure: The article has been written by a BB Research stock analyst. BB Research is not receiving compensation for it (other than from Seeking Alpha). BB Research has no business relationship with any company whose stock is mentioned in this article.
Disclosure: The author has no positions in any stocks mentioned, and no plans to initiate any positions within the next 72 hours. The author wrote this article themselves, and it expresses their own opinions. The author is not receiving compensation for it (other than from Seeking Alpha). The author has no business relationship with any company whose stock is mentioned in this article.