For 1Q 2014 Molycorp Inc. (MCP) experienced a loss attributable to shareholders of $89 million and cash outflows of $78 million, leaving the company with $236 million of cash on hand. Since, investing in the company has been the equivalent of trying to catch a falling knife - there is no telling when Molycorp's losses or cash outflows will abate. High level cash flow projections show that sans a capital raise, the company could run out of cash by 1Q 2015.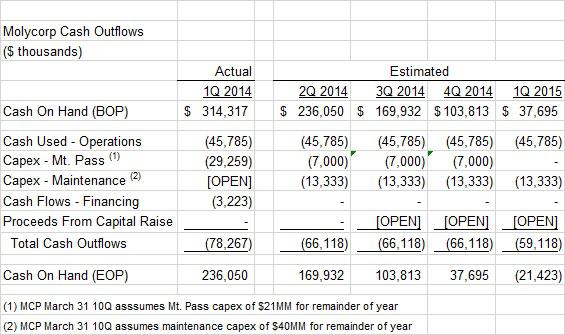 On June 19th Moody's downgraded the company's debt to Caa2 from Caa1, citing debt levels that could potentially be insurmountable. Within a week the company received shareholder approval to issue 350 million new shares, giving it the flexibility to issue dividends, engage in mergers and acquisitions arrangements or raise new capital. On my previous article, I estimated that the company needed cash on hand that equated to six quarters of "run-rate out flows," or approximately $360 million.
According to the above projections, Molycorp's run-rate or "normalized" out flows are approximately $59 million (reflected in Q1 2015). Six [quarters] of such out flows equates to about $360 million of cash on hand. Assuming Molycorp raises capital at the end of 3Q 2014, it would have cash on hand of about $103 million prior to the raise. Thus, it would need somewhere around $250 - $260 million in fresh capital to help weather the storm.
Valuation
The following table explains Molycorp's $1.60 per share valuation: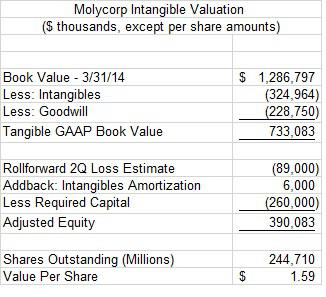 Book Value
The company's GAAP book value at 1Q 2014 was about $1.3 billion.
Reduction of Intangibles and Goodwill
Based on their recoverable amounts, Molycorp's $550 - $560 million of goodwill and intangibles are worthless. The $228.8 million in goodwill has been allocated across three segments - Chemical and Oxides ($125.2 million), Magnetic Materials and Alloys ($102.8 million) and Rare Metals ($0.7 million). Magnetic Materials is the only segment that was profitable during the quarter, earning pretax operating income of $9.4 million. My guess is in 2Q 2014 the company will write off all intangibles and all goodwill except the amount allocated to Magnetic Materials; Molycorp will probably make the argument that this segment's value is greater than the goodwill allocated to it.
However, when you also take into account the company's historical operating losses and the fact that Molycorp has mortgaged these assets via long-term debt, all of the intangibles are worthless.
Rollforward of 2Q Net Loss
We are already through 2Q 2014 and Molycorp has probably experienced another net loss during the quarter. I assumed a loss attributable to shareholders of $89 million - the same amount as 1Q 2014.
Addback Intangibles Amortization
The rollforward of the net loss of $89 million for 2Q 2014 includes quarterly intangible amortization expense of about $6 million. That said, to reduce 1Q 2014 book value by [i] the intangible assets and [ii] the $89 million of quarterly losses would double-count the intangible amortization expense.
Required Capital
As stated above, I assume Molycorp needs cash on hand that equates to six quarters worth of run-rate cash out flows. Assuming the company raised capital at or near the end of 3Q 2014, it would need to raise about $260 million in additional capital.
Adjusted Equity
After estimating the company's tangible GAAP equity at 2Q 2014 and reducing it for the capital hole of $260 million, I derived an equity value of about $391 million. The equity value divided by 244.7 million shares outstanding values Molycorp at approximately $1.60 per share.
Conclusion
In my estimation, Molycorp needs to raise about $260 million in additional capital in order to sustain itself. That said, I value the company at $1.60 per share. The stock currently trades at $2.57 per share. I advise investors to avoid the stock.
Disclosure: The author is short MCP. The author wrote this article themselves, and it expresses their own opinions. The author is not receiving compensation for it (other than from Seeking Alpha). The author has no business relationship with any company whose stock is mentioned in this article.
Additional disclosure: I am net short on Molycorp