The last two days of trading gave delivered my $10.50 profit-taking target level for BlackBerry (BBRY). The 31.25% gain from my March buy-in price of $8 is already too big to not monetize. I will therefore sell 30% of my BlackBerry position tonight. Some of this profit will likely to go to purchasing the weird BlackBerry Passport when it becomes available in my country.
The short-term technical indicators are strongly in favor of BlackBerry. Some profit taking will not slow down the momentum upside of BBRY this week. Quoth made it clear that a short squeeze might lead to the next breakout point of $10.90. Another contributor seconded Quoth's short squeeze supposition.
BarChart Opinion's short-term technical indicators still gives BBRY an average score of 80% Buy. The Momentum Modeling chart of Alpha Omega Mathematica further confirms that investors ought to join BlackBerry's bull train run.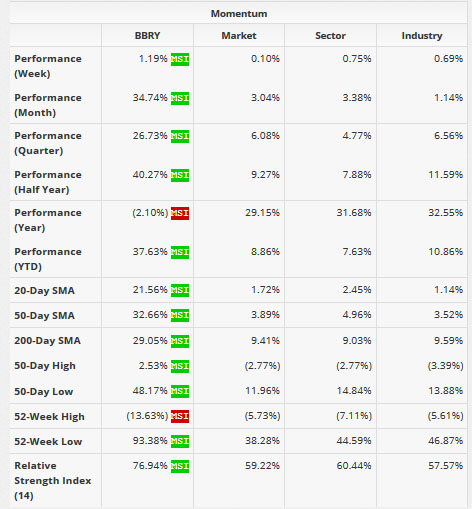 Source: getaom.com
BlackBerry's 200-day SMA, 50-day, and 20-day SMA are screaming a Buy for the stock. Opportunistic investors who like rebounding tickers should appreciate the fact that BlackBerry greatly outperformed its market, sector, and industry peers. A 30-day 34.74%+ performance is very impressive. A tech short squeeze is benefiting heavily shorted tickers like BlackBerry.
BlackBerry is already 48.17% higher than its 50-day low. This stock is definitely bouncing up from its April and May price levels. A fallen angel stock like BlackBerry outperformed the premium smartphone leader, Apple (NASDAQ:AAPL).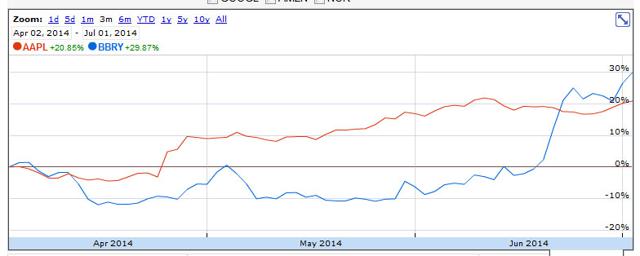 Source: Google Finance
Market Forecast Strongly Favors BlackBerry
The $10.90 breakout point of Quoth the Raven is believable. Finviz has an average price target of $10.90 for BlackBerry. MacroAxis' algorithm is also very bullish on BlackBerry's near-term performance. Its forecast engine is predicting an 11.08 expected value.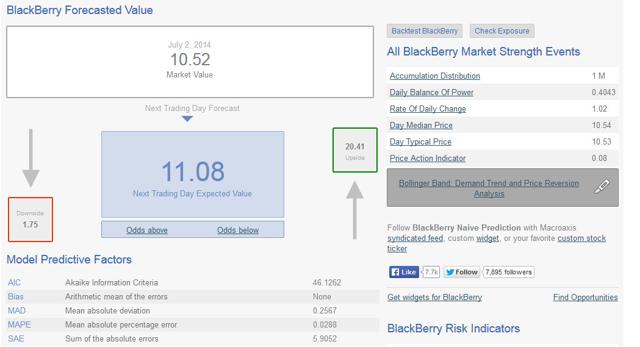 Source: Charts from macroaxis.com
Unlike Alpha Omega Mathematica's valuation engine, Macroaxis covers the "hype-factor" of the stocks it covers. The hype analysis chart below is the main reason why I will not sell all my BlackBerry shares tonight.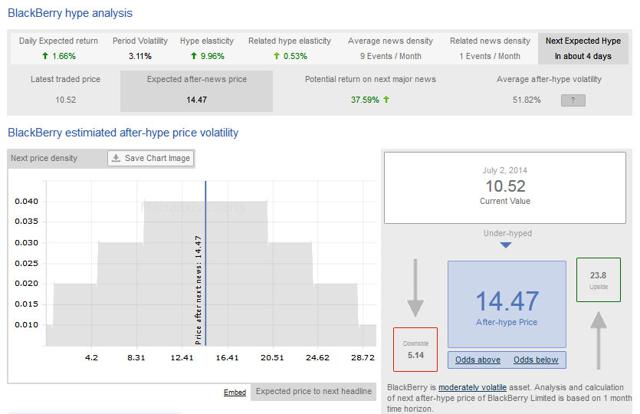 Source: macroaxis.com
The projected 14.47 after-hype price of BlackBerry is near my long-term price target of $15. I firmly believe that a fallen angel stock like BlackBerry benefits a lot from hype or positive propaganda. The upcoming launch of the BlackBerry Z3 in the Middle East, India, and Malaysia has the potential to produce hype for BBRY this month.
The new deal with Amazon (NASDAQ:AMZN) allowing integration of the Amazon App Store inside BB 10.3.1 was definitely good propaganda. Customers in the U.S. should no longer complain about the scarcity of apps for BB phones.
The upcoming release of the very distinctive Passport high-end phone can win the hearts of people bored with the similar looks of the iPhone and Samsung Galaxy series.
Positive updates like the new QNX and Cadence In-Car Noise Control software solution and mobile payments management deal with EnStream are good hype factors for BBRY's continuous recovery.
Conclusion
Amateur retail investors (like me) should heed market signals. BlackBerry's current momentum is strong enough to allow retail investors do some profit-taking.
The near-term prospect of this stock is very positive. Many short sellers will continue to buy BBRY this week to cover their positions.
BlackBerry's long-term potential is also good. RBC Capital increased its price target for BBRY from $11 to $12. BGC Capital upgraded BBRY from Sell to Buy. BGC also increased its price target from $8 to $15. Analysts and investors appreciate that Chen is proving he can really save BlackBerry. The recent earnings reports are proof that his rescue plan is working.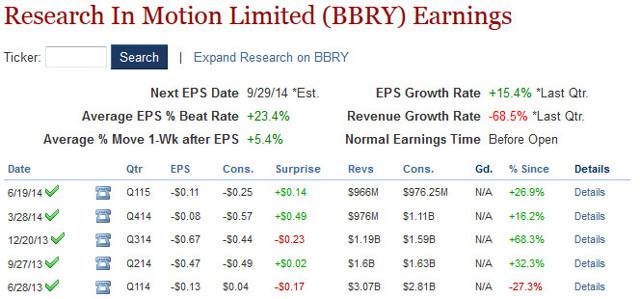 Source: StreetInsider
Chen wants to replicate his Sybase success with BlackBerry because of his 13 million restricted shares. Thirteen million BBRY shares is now worth around $136.76 million. The big monetary reward is a strong motive for Chen to save BlackBerry. It also helps a lot that Terry Goh's Foxconn is helping him achieve his plan.
Disclosure: The author is long BBRY, AAPL. The author wrote this article themselves, and it expresses their own opinions. The author is not receiving compensation for it (other than from Seeking Alpha). The author has no business relationship with any company whose stock is mentioned in this article.