I was just getting accustomed to the idea that iron ore prices could plunge without impacting the Australian dollar (NYSEARCA:FXA).
Now comes a surprisingly large plunge in Australia's trade balance. On July 2 (Australia time), the Australian Bureau of Statistics reported that Australia's trade balance in May dropped to -$1,199 AUD on a seasonally adjusted basis. Australia's trade balance has not been this low since the beginning of 2013 when iron ore prices were in the middle of a recovery from a deep sell-off late in 2012.
Interestingly, there seems to be a loose correlation between the trade balance and the Australian dollar. In the chart below, I plotted the monthly trade balance numbers provided by the Australian Government's Department of Foreign Affairs and Trade versus the Australian dollar represented by the CurrencyShares Australian Dollar Trust. The trade balance figures are monthly so I converted FXA into a monthly average. The chart below shows that since at least 2010 the Australian dollar has moved in tandem with the trade balance. This loose correlation appears so clearly because there are three very distinct periods for the trade balance: May 2010 to November 2011 the trade balance was in balance, it plunged deeply into the red thereafter until the end of 2013. If the last two months indicate the beginning of a new phase, then recent history suggests that the Australian dollar will likely soon stop increasing and thereafter begin a period of decline.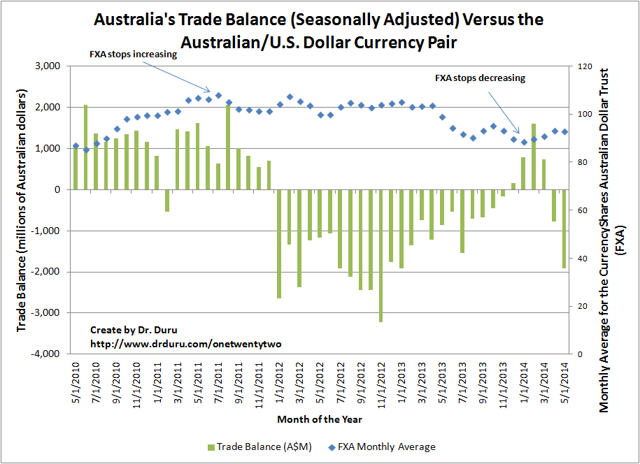 Sources: Trade balance history from the Australian Government's Department of Foreign Affairs and Trade; FXA prices from Yahoo Finance.
I have now put the trade balance on my radar to watch more actively. Since the last two months of negative trade balances follow a 4-month respite, it is too early to conclude that a new trend is underway. However, a negative trade balance makes sense given the Australian dollar is surprisingly high relative to Australia's balance of trade and commodity prices (the value of imports goes up versus exports as domestic consumers take advantage of their relative buying power). One counterbalance is a swing lower in the currency…
Be careful out there!
Disclosure: The author has no positions in any stocks mentioned, and no plans to initiate any positions within the next 72 hours. The author wrote this article themselves, and it expresses their own opinions. The author is not receiving compensation for it (other than from Seeking Alpha). The author has no business relationship with any company whose stock is mentioned in this article.
Additional disclosure: In forex, I am net short the Australian dollar.