Wells Fargo Rises From The Ranks
A previous bull market rally, concerning Wells Fargo & Co (NYSE:WFC) stock, was enough to place this bank among the top banking institutions in value nationwide.
This broke the previous record, occupied by Citigroup (NYSE:C), the company that WFC Former Chairman and CEO Kovacevic left before joining Norwest.
The shares of Wells Fargo reached $52.72 on July 1st, which exceeds 14% for a one year period.
Other competitors like J.P Morgan (NYSE:JPM), Bank of America (NYSE:BAC), and Citigroup have closed on lower levels, despite enjoying an enviable reputation for being the biggest banks on Wall Street.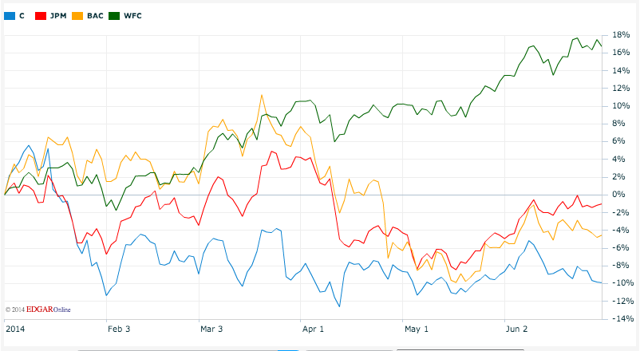 (Nasdaq.com)
A Conservative Banking Philosophy
WFC's current success is partially attributed to the bank's tight regulations regarding risk taking and cautious delays when it comes to trading operations.
JP Morgan continues to post losses in trading revenues.
The bank, contrary to many other rivals at the onset of financial crisis, decided to continue to rely on the philosophy of providing quality lending and mortgage services to regular consumers who at that time constituted the core of the business.
Wells Fargo CEO John Stumph recently noted that his bank took pride in its moderation, and it was this philosophy that was one of the major reasons for its continuing progress--at a time when government prosecutors and bank regulators are clamping down on more aggressive banks who had flaunted legal restrictions and banking requirements in search of higher revenue.
Stacking Up Alongside Big Bank Peers
Wells Fargo recorded over $36 billion in mortgage lending during the first 3 months and managed to reach a market share of 16% according to official mortgage sources-which is quite satisfactory but still 9% less than its peak hit two years ago.
It is now the nation's largest auto lender as well, having surpassed Ally Financial earlier this year.
The corporation also currently owns over 6,000 branches - which makes it rank as the third highest among U.S banks.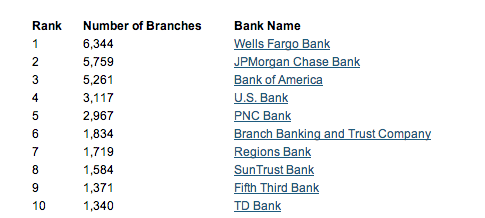 (Source)
In 2008, the situation was very different, with Citigroup well ahead.
A decade ago, the company's stock reached 76%, which exceeded that of Morgan Stanley (NYSE:MS), JPMorgan, Bank of America, and Citigroup.
Shareholder Paul Condrat attributed the bank's success to the high quality of banking services and customer relationships, and he attributed performance to the efficient team of managers who ran the bank, as well as the bank's emphasis on avoiding risky operations.
Points of Improvement
WFC still remains a bit behind when it comes to its assets and mortgage refinancing businesses, which seem stagnant at the moment, and this is reducing the potential for generating more revenue.
The bank also faces a few lawsuits, concerning matters of unfair discrimination in mortgage lending, but it tries to reverse that image by unraveling the intricate details of lending requirements to new customers, helping them make better decisions.
Outlook for WFC Investors
As both internal struggles and negative external factors increasingly come to light for BAC, JPM, and C, investors should strongly consider WFC as a better alternative for a big bank investment in 2014.
WFC has beat EPS estimates consistently for nine quarters, and is paying increasing dividends to its shareholders.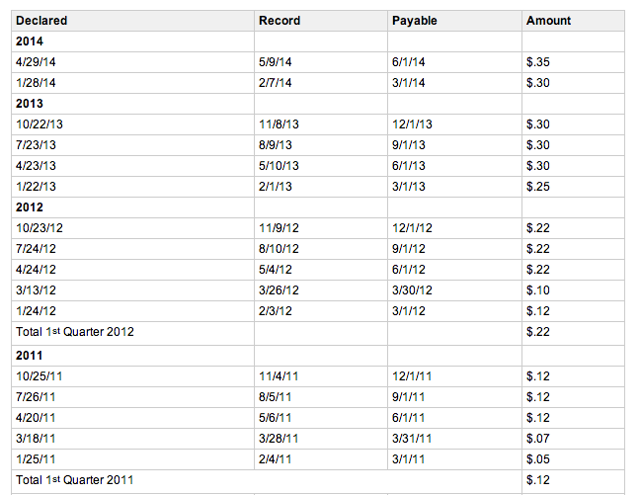 (Source)
With reduced exposure to trading, WFC is able to focus its attention on the mortgage lending space, which historically and currently serve the institution very well.
It is likely WFC will continue to treat its customers better than Bank of America and could use a more equal system of lending than JP Morgan.
We suggest investors consider taking profits in WFC's peers and take positions in WFC moving forward in 2014.
Disclosure: The author has no positions in any stocks mentioned, and no plans to initiate any positions within the next 72 hours. The author wrote this article themselves, and it expresses their own opinions. The author is not receiving compensation for it (other than from Seeking Alpha). The author has no business relationship with any company whose stock is mentioned in this article.