By Dean Popplewell
This week should be capable of living up to the hype of being action packed confined to a few trading sessions of real opportunity. Capital markets have not missed much of a beat, starting H2 where they left off the first - following most global bourses higher. The theme this half will be the investor trying to predict what central bank can afford to begin a "normalcy" monetary policy as early as this year. From the G10's perspective, the BoE and sterling are clearly ahead of the pack. Rate divergence brings forth currency trading opportunities - far more than what investors have been exposed to for the first six-months of this year. Notwithstanding a relatively quiet euro session this morning, the market's focus is eying data and events from the US, particularly the ADP employment report. Tomorrow, NFP is delivered one day ahead of schedule due to the US July 4th holiday on Friday and expect a few early fireworks!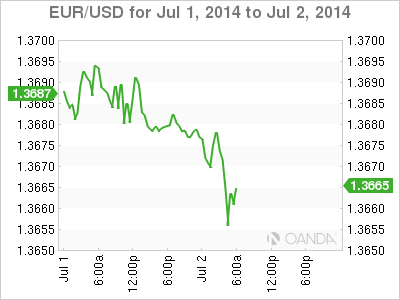 Euro equities continue to underperform their US counterparts, mostly on the back of euro economic data still pointing to a fragile and uneven recovery. The US fraternity has kicked on ever since last month saw the ECB introduce a package of easing measures including interest rate cuts and cheap credit to the financial sector. So far, most of the last ECB meet euphoria has been reversed - the EUR is trading at or near its highs since (€1.3660), while euro stocks continue to underperform. Is there a need for the ECB to step up its efforts again rather than wait in a holding pattern? The ECB makes its July policy announcement tomorrow but many expect Draghi and company to keep policy on hold for now, especially after last month's "fireworks."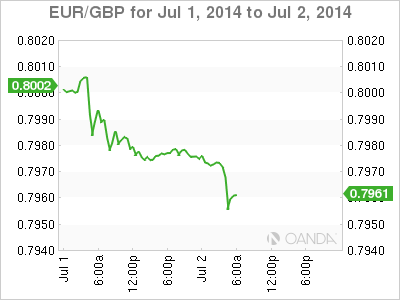 The UK economy is on another trajectory compared to its euro counterpart. Today's June UK construction PMI surprised to the upside, coming in at 62.6 vs. 60 in May and 59.8 expectations. The favored sterling trade this quarter has managed to jump to a fresh five-and-a-half year high (£1.7176), while the EUR/GBP falls to €0.7953, the lowest level since September 2012. This is the 14th consecutive increase, and one that was driven by a rise in residential house building. With this morning's June PMI print hitting a four-month high and yesterday's manufacturing PMI a seven-month high, it's looking increasingly likely that Q2 GDP growth will be stronger than the +0.8% seen in Q1. With Governor Carney having stressed that data strength will drive the bank rates higher, this week's printouts favor a BoE tightening in 2014 rather than next year. The market will be looking very carefully at tomorrow's services PMI for confirmation. Another beat would be good for sterling "bulls." Currently mooted offers stand tall near £1.7190 and £1.7200.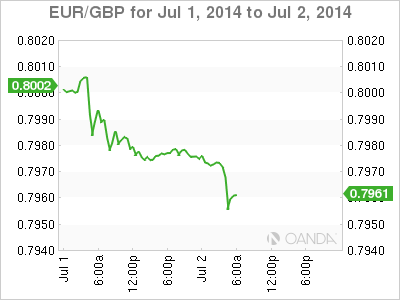 Euro data this morning is not EUR friendly. The eurozone producer prices fell for a fifth straight month in May (-0.1%, m/m and -1%, y/y). The slide has not been dramatic but consistent and it suggests that consumer prices are unlikely to pick up significantly any time soon. Economic prints like this will see countries like France call for more action from the ECB (engage in QE etc.). The single currency action is a tad strange this morning. It would seem that EUR/USD traders might be sitting a little "long" after the successful "knock-out" of the €1.3700. They are certainly disappointed by the lack of follow through. This has resulted in a general unwind of "long" positions (from €1.3700 - €1.3658). EUR/GBP selling has helped to put more pressure on the 18-member single currency. Following the EUR crosses certainly paints a clearer picture. Investors will want to wait for the US's ADP data and Fed Governor Yellen speech at the IMF for further inspiration. Maybe the impending end of the Fed's QE means it's time for investors to contemplate to pull back from risky assets?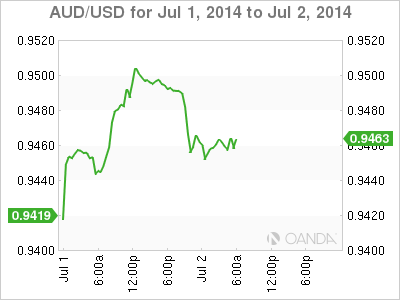 The aussie has managed to keep most of Australasia occupied of late, mostly by the crowded "carry" trade funded by the EUR. Last night, and after five consecutive months of surplus, Australia's terms of trade fell into deficit for the second straight month in May, and the latest AUD $1.9B shortfall is the biggest in the past 18 months. Australian exports fell -5%, m/m, as shipments to its largest trading partner - China - fell a whopping -12% (similar story from Japan). Being a commodity rich country, gold and crude oil saw some of the biggest relative declines on sequential basis and this despite shipments of iron ore held up on demand from Japan (rising to A$6.74B from A$6.42B prior). The aussie, not surprisingly has been one of the most volatile currencies amongst the majors (AUD$0.9460). However, there remains a market appetite on aussie pullback to own higher yielding currencies mostly funded by a cheaper EUR.
Expect the market to take more of an interest in EM currencies, especially after Argentina's credit rating was placed on negative watch at S&P. The company is projecting a 50% chance of being lowered to "Selective Default," after the sovereign missed its scheduled payment on Monday. S&P noted "the CreditWatch placement reflects our view of at least a one-in-two probability that Argentina will not pay the outstanding +US$539m interest payment on the discount bonds within the 30-day grace period allowed thereunder." However, the ratings agency did note that "affirmation of the 'CCC+/C' local currency ratings reflects our view that the potential disruptions to payments on Argentina's external debt are not likely to further erode its ability to service debt issued in local currency under local law."