Over the past 5 years, supermarket and grocery retailers in the US experienced significant polarization, obvious after reviewing market segments' performance. Because of the rise in consumer awareness and disposable income, consumers gravitated towards high-end grocers. Strong growth in organic and natural product sales helped to offset the stagnation in supermarket and grocery store industry. Three of the largest high-end grocers, Whole Foods (WFM), Sprouts Farmers Market (NASDAQ:SFM) and The Fresh Market (NASDAQ:TFM), enjoyed double-digit growth compared against anemic low-single digit growth for the overall supermarket industry. Foreseeing growth in organic foods industry, many analysts are using a variant of total addressable market to project revenue growth for these high-end grocers. Unfortunately, this well-known tale has left an everlasting optimism among the investors who, fascinated with exceptional future growth, have failed to recognize underlying underperformance of newly opened stores for The Fresh Market. In this article, I share my investment thesis and describe why The Fresh Market, at a stock price of $33.50/share, is an exceptional short idea.
In-depth Analysis of Comparable and Non-Comparable Stores reported
For the last fiscal year, The Fresh Market reported same-store sales growth of 3.2%, expanding its total store base by 16% (22 new stores added). Comparable store sales growth is commonly derived from the percentage increase in sales from stores that were open at the beginning of the preceding fiscal year and are still open. Assuming new stores produce sales at the same rate as mature stores, total sales growth is a function of growth in the number of stores and the same-store sales, explained in the equation below:
Sales Growth = (1 + Store Growth)*(1 + Same-Store Sales Growth)-1
By inserting the actual store growth and comp sales growth into the formula above, we can estimate the corresponding sales growth. For The Fresh Market, actual growth (12.8%) is less than estimated growth (19.8%), suggesting new stores do not reach maturity instantly and are underperforming mature stores by a significant margin. In the FY13 annual report's Selling, General and Administrative section, management notes, "The increase in SGA expenses as a percentage of sales was primarily the result of lower than expected sales in certain non-comparable stores combined with expense increases related to store level compensation at some of these non- comparable stores as we provide higher service levels to build our brand in new markets and operate in markets with higher wage rates". Before looking into this deeply buried difference, it is important to understand how the math behind comparable stores works. The number of stores that are open at the beginning of last year and are still open at the end of current fiscal year, calculated as:

Where TSOt is the total number of stores at the end of fiscal year, NSOt is the new stores opened in current fiscal year and NSOt-1 is the number of new stores opened in prior fiscal year. The table below displays the comparable stores computed from the company reported store opening, closing data for each fiscal year. Also included in the table are comparable and non-comparable stores reported in the company's 10-k reports.

Considering the company includes sales from a store in comparable stores beginning on the first day of the sixteenth full month following the store's opening implies that net store additions from the previous fiscal year only contribute 8 months of sales for comparable stores for the following year. However, the difference between the estimated and reported comparables stores suggests that few stores from previous fiscal year get shifted into the mature stores pool, enabling the company to post healthy same-store sales. The chart below shows key elements, such as revenue generated from comparable stores (estimated and reported) and revenue generated at each new store. Note that from FY09 to FY13, sales made from old stores have continued to rise, but the gap between the revenue made through old stores (using the two methods) has widened. However, starting in 2010, sales from new stores started to decline, as the company began opening more stores. In total, this trend plainly contradicts company CEO Craig Carlock's assertion on the reversal in comp sales, as mentioned during a recent earnings conference call:
"When competitors open on a store, that store sales tend to drop and then within the next 12 months they are growing again, sometimes faster than 12 months but general rule of thumb, within 12 months they're growing. So, it's not as if our sales dropped and then they drop again and drop again. It's quite the opposite. They drop once and they build from there."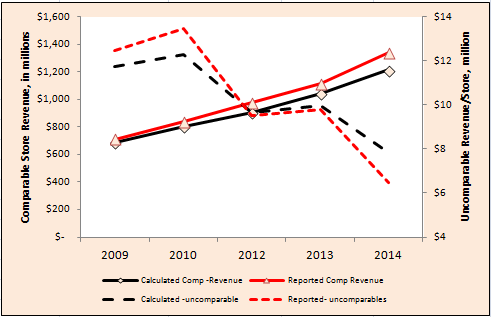 (Source: Data collected from 10-K)
The Fresh Market's Dilemma
So far, expanding the total store base has assisted in shielding the decline in revenue generated from the new stores. However, this underperformance could scarcely strike the company at a worse time, inviting troubles from all sides for the company. On one front, The Fresh Market will need to expand its store base to meet comparable sales growth expectations. At the same time, addition of underperforming new stores to the comparable stores pool will drive the cumulative sales generated lower, causing a decline in the same-store sales. Wall Street calls this the "humpty-dumpty" problem: once growth is broken, it's impossible to put back together again. Unfortunately, moving forward, The Fresh Market needs to shift its focus away from rapid adoption towards a sustainable growth trajectory. Essential to sustainable value-creating growth is conscientiously extending the growth from the inaugural phase to new geographies or channels, which under current circumstances, entails rapidly closing down the underperforming stores. These moves will push store closing costs higher, leading to a significant decline in the margins and profits. Based on these risk factors, I foresee The Fresh Market reaching its saturation levels sooner than commonly believed.
Valuation Estimate
Revenue Growth: Using management's guidance of 1.5%-3.5% comp sales growth and 15.0% growth in stores, I project revenue growth of 18.5% for the next fiscal year. Foreseeing a drop in comp growth, I expect revenue growth to modestly decelerate in the following years.

(Figure Data Source: Company 10-K)

Gross and Operating Margins: Owing to limited product differentiation, the company needs to expand the promotional activities to drive foot traffic and boost customer loyalty. These initiatives pose a threat to gross margins in the future. Nonetheless, mainstream adoption of organic foods, and a modest rise in agriculture price index relative to previous years will aid in neutralizing the gross margin pressures in future. However, continued underperformance from the new stores will drive operating expenses higher, causing a decline in operating margins. Based on the reasons mentioned above, I expect pre-tax operating margins to drop 100 basis points from the existing levels to 5%.
Capital Investment: To continue with its store expansion strategy, the company will need to invest nearly $385 million (total 250 stores) over the next 5 years. However, investors should note that the company has capital and financing lease obligations and operating lease commitments, creating an overhang for equity investors.
Cost of Capital: Weighted average cost of capital is 10.03%, reflecting the risks associated with a dependence on consumer discretionary spending.
The table below shows the financial model and the parameters I used for this analysis.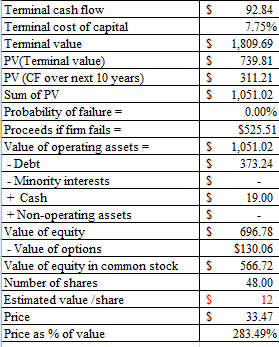 Based on the assumptions and calculations mentioned above, "discounted cash flow implied intrinsic value for The Fresh Market is $12.00/share", nearly 65% below last week's closing price.
Disclosure: The author has no positions in any stocks mentioned, and no plans to initiate any positions within the next 72 hours. The author wrote this article themselves, and it expresses their own opinions. The author is not receiving compensation for it (other than from Seeking Alpha). The author has no business relationship with any company whose stock is mentioned in this article.