The Dow is flirting with 11,000 this week. The S&P 500 has held support above the 1144-1150 mark. Apple (NASDAQ:AAPL) shares are approaching $300. Investors and traders are awaiting direction from Q3 earnings season. The stock market engine is in neutral as news of corporate profits and Fed policy steer the street sentiment. Yet, in the meantime, private firms are seizing stock discount opportunities and authorizing big buys at big premiums.
On Monday, Bain Capital Partners announced the purchase of children's clothing outfit Gymboree (NASDAQ:GYMB) for a valuation of $65.40 in cash, or a premium of 23.5% over the October 8th closing price of $52.95 per share. In less than 2 weeks, the Bain offer values the company at a 57% premium to the stock's trading price before buyout news surfaced on September 30th.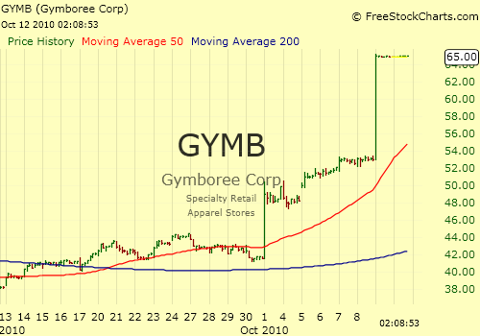 Bain battled another private equity shop, Apollo Global Management, in a stock bidding war. Gymboree is an example of a consistent retail company which satisfies our Wall St. Cheat Sheet investing framework: the company has beaten quarterly earnings estimates in the past six quarters. Gymboree has zero debt on its balance sheet, a solid cash position of $132 million and almost $37 revenue per share. As of this Summer, Gymboree owned about 1,000 retail stores.
The Gymboree deal is a very positive sign for the consumer retail sector as other retail stocks may follow suit to potential private takeovers. The retail sector is seeing a lift since the announcement. Today, related stocks are up: Chico's (NYSE:CHS), Urban Outfitters (NASDAQ:URBN), Limited Brands (LTD), Gap (NYSE:GPS), Charming Shoppes (NASDAQ:CHRS), The Children's Place (NASDAQ:PLCE), New York & Co (NYSE:NWY), and J. Crew Group (JCG).
Disclosure: No positions in stocks mentioned.