Today's news is that Goldman Sachs (NYSE:GS) upgraded Netflix (NASDAQ:NFLX) from Neutral to Buy, and took its price target from $380 to $590. This is pushing Netflix up 4% in pre-market, after the stock had already risen 47% from the lows set just 2 months ago.
Putting aside the wisdom of upgrading after such a move on basically unchanged fundamentals, there's still value in knowing Goldman Sachs has an history with Netflix upgrades and downgrades. This history seems to be rife with upgrades and optimism after massive rallies, but amazingly it also includes negativism after massive drops.
Consider the following chart (Source: Yahoo Finance):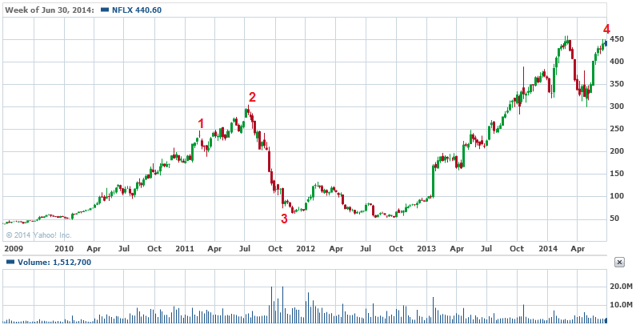 On 1 -- March 15, 2011 - Goldman Sachs upgraded Netflix to Buy after being Neutral during that massive run which precedes it, much like it's doing now.
On 2 -- July 11, 2011 -- Goldman Sachs increased Netflix's price target from $300 to $330 at the very tippy top.
On 3 -- October 25, 2011 -- just 3 months after that price target increase, Goldman Sachs took its price target from $200 to $75, a mind-boggling 77% drop in price target in just 3 months, as well as downgraded the stock from Buy to Neutral.
And now on 4 -- July 1, 2014 -- after a massive run both in the couple of months and couple of years before this date, again Goldman Sachs takes the stock from Neutral to Buy.
I ask myself if this is a coincidence. The same behavior is seen quite often in other euphoric tech stocks trading at massive valuation multiples, so it seems more than a coincidence.
Anyway, for potential Netflix investors it's important to know Goldman Sach's history with these euphoric stocks. After all, today we're likely to see a massive army of Goldman Sach's salesmen working the phones to place Netflix stock. Caveat Emptor.
Disclosure: The author has no positions in any stocks mentioned, and no plans to initiate any positions within the next 72 hours. The author wrote this article themselves, and it expresses their own opinions. The author is not receiving compensation for it (other than from Seeking Alpha). The author has no business relationship with any company whose stock is mentioned in this article.