The shares of Gymboree Corporation (GYMB) soared 22.4% to close at $64.83 on Monday and up to $65 mid-day Tuesday, after news of the company's acceptance of the $1.8 billion buyout offer from Bain Capital Partners hit the market. The investment firm will acquire all the outstanding shares of the company, which currently stand at approximately 27 million shares, for $65.40 per share.

Deal Fetching Higher Premium

Gymboree, the children's clothing retailer, notified that the acquisition price reflects a 57.4% premium to the company's closing price on September 30, 2010, before the possible transaction was speculated, and represents a 23.5% premium to last Friday's closing price of $52.95.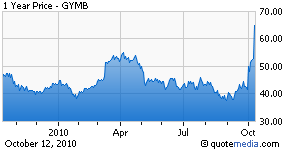 Other potential bidders, who were in the race to acquire the San Francisco based company, Gymboree, were Kohlberg Kravis Roberts & Co. (KKR), Apax Partners, Irving Place Capital and Apollo Management.

Why Gymboree?

While other apparel retailers were struggling to keep afloat in the volatile market, Gymboree remained ahead with its strong fundamentals and brand strength. The company's healthy balance sheet with no debt load makes it a lucrative takeover target. The company ended second-quarter 2010 with cash and cash equivalents of $132.4 million and shareholder's equity of $380.2 million.

Despite a slump in consumers' discretionary spending, Gymboree sustained its growth momentum across its top and bottom lines in each of the past five quarters. In the last four quarters, the company outperformed the Zacks Consensus EPS Estimate in the range of 0.9% to 7.3% with four quarters average being 3%. The company by virtue of its low cost stores has been able to increase sales and improve margins.

Other Aspects of Deal

Bain Capital's affiliates will initiate a tender offer to obtain all the outstanding shares of Gymboree with committed financing from Credit Suisse and Morgan Stanley. If the tender offer is successfully completed, the transaction is expected to close by the end of the year.

However, the agreement allows Gymboree to seek higher bids from third parties until November 20, 2010. Goldman Sachs is the financial advisor to the company's Board.

Market Could See More Consolidation

The Gymboree buyout may trigger further consolidation in the market bringing other retailing companies in the limelight. Investment firms have been eyeing retailers who have fared better despite the recent economic downturn. Other similar buyouts in the past were Apollo Capital Management's acquisition of Claire's Stores for $3.1 billion in 2007; and Dress Barn Inc's buyout of Tween Brands for approximately $157 million in 2009.

Gymboree, which holds a Zacks #3 Rank, operates about 1,037 retail stores as on October 2, 2010 -- 635 Gymboree stores (594 in the United States, 37 in Canada, 2 in Puerto Rico and 2 in Australia), 147 Gymboree Outlet stores, 122 Janie and Jack shops and 133 Crazy 8 stores in the United States.