Walgreens (WAG) has gone through some interesting changes in the past three years or so. It is now a significantly different company than it was at the end of 2011. I will look at three decisions that have been key in changing the direction of the company and also in demonstrating a long term strategy that should continue to differentiate it from competitors.
The Express Scripts story:
WAG share price performed in line with the market (as represented by the S&P500 index, the red line in all graphs below), from the bottom of the last market crash in March 2009 to about the third quarter of 2011 (both up about 90% at that point). However, from there until mid-2012 the share price significantly underperformed and as of July 2012, WAG was less than 25% above the bottom while the market was still about 90% higher.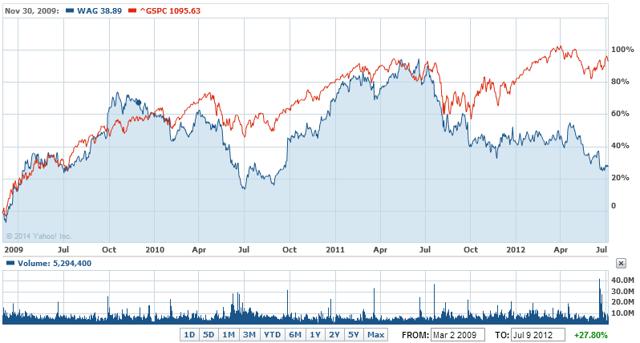 The culprit of such underperformance was clear. During the first half of 2011 management started disclosing concerns about negotiations with an important prescription management company Express Scripts (NASDAQ:ESRX) which represented about 13% of prescriptions sales for WAG (prescription business represents about two thirds of all sales). Later in the year, as properly warned, the company did not have good news regarding such negotiations afterward: from its Q1 2012 earnings report available here:
"Express Scripts Update. As announced on June 21 [2011], Walgreens does not plan to be part of the Express Scripts pharmacy provider network beginning Jan. 1 [2012] as a result of unsuccessful contract renewal negotiations."
Although management had been signaling for a while that negotiations were not going well, it still caught some investors by surprise as implied by the share drop in July 2011.
After thinking about it for some time, and after reading the earnings call Q&A's and other disclosures about this commercial decision, I concluded that management had made the right call. Moreover, the argument about the willingness to sacrifice short term results instead of accepting value destroying pricing that would hurt long term performance and future negotiations seemed interesting; even despite the markets initial assessment of the situation as indicated by the lagging share price. This seemed to be a triumph of the long-term view vs. the short term view so prevalent in most "stock-option-incentivized" management teams and imposed sometimes by "the market". I decided to stay put and gradually add to the position. As explained in the same Q1 2012 earnings document:
"The company believes that the long-term ramifications of accepting Express Scripts' below market proposal would be much worse than any short-term impact to its earnings………While we remain open to any fair and competitive offer from Express Scripts, we firmly believe that accepting their proposal was not in the best long-term interests of our shareholders, said Wasson." (Greg Wasson is the CEO)
For any retailer, comparable store sales is a key metric because it ignores growth though recent acquisitions or store openings or closings and represents what growth would be in a "steady state" for the retailer in question. Although there is no regulatory requirement to do so and some retailers have decided to stop reporting monthly sales figures, WAG still reports its monthly statistics. What happened after the contract expiration on January 1st was difficult to watch:
| | |
| --- | --- |
| 2012 | Comp sales % change vs. prior year |
| January | -2.3 |
| February | +1.5 |
| March | -4.3 |
| April | -3.7 |
| May | -1.6 |
| June | -6.8 |
| July | -3.7 |
| August | -4.5 |
| September | -7.8 |
| October | -2.1 |
| November | -3.9 |
| December | -4.0 |
But things started to gradually improve for the company afterward. Two key initiatives were announced in 2012 and 2013 that indicate management was executing a complex and previously undisclosed turnaround that included looking beyond the U.S.; something the company had not done before in any significant scale.
Alliance Boots:
In June 2012, eleven months after the Express Scripts non-renewal was disclosed, management announced a strategic partnership (in effect a two stage acquisition) of Alliance Boots (UK's version of Walgreens). The deal, in which WAG acquired 45% of Alliance Boots and a right to the rest of the company by 2015, signaled a strategic shift in the company's direction. Management had been seeking to establish a global platform to allow for better leverage with supplier negotiations. It also sought to emulate Alliance Boots' success with own-brand beauty products, which have very high margins and import this know-how into the US.
This transaction is again getting a lot of coverage recently in the financial press. It is clear management is seriously considering moving forward with executing the option for the rest of Alliance Boots and in conjunction with this second step - this is the new and controversial bit - to change its domicile for tax purposes from the US to Switzerland, were Alliance Boots is domiciled. This has generated some concern with US legislators primarily and management needs to decide whether the potential backlash is worth foregoing very significant savings on corporate income tax (current effective tax rate is above 35%).
AmerisourceBergen:
The other significant transaction was announced in March 2013. Walgreens and Alliance Boots announced a strategic partnership with AmerisourceBergen (NYSE:ABC), a pharmaceutical wholesaler. The partnership had three characteristics: i) a 10-year expanded distribution agreement, to include generic and branded pharmaceutical products, enhanced supply chain management and daily deliverables, ii) ABC gained access to global supply chain opportunities on Walgreens Alliance Boots platform and international expertise in pharmaceutical wholesaling and iii) Walgreens was granted the rights to acquire up to 23% (7% in open market purchases and warrants with a fixed strike price of about $50/share and expiration sin 2016 and 2017 for the remaining 16%).
This transaction will align the companies and achieve a vertically integrated arrangement that can potentially save substantial costs. It also sets up a possible second large scale acquisition in the future. It is another piece of evidence that shows management is working toward a clear strategy of creating the first global scale pharmacy system.
Does "the market" like this strategy? The answer is yes. WAG share performance since Jul 2012 has handily beat the market, up about 140% vs. 40% for the S&P500. This outperformance has more than made up for the less than stellar year of 2012.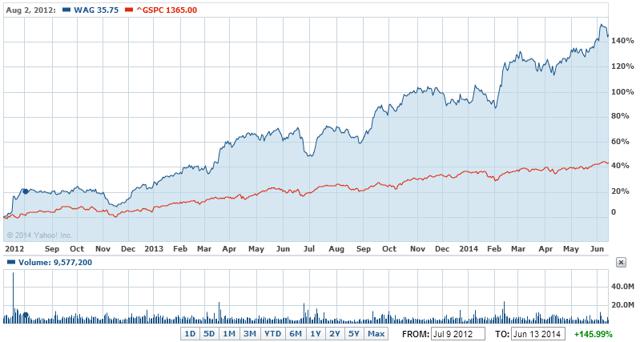 Concluding remarks:
Despite the current uncertainty around the tax "inversion" decision discussed above, I believe the company has attractive characteristics that warrant a close evaluation. One issue worth looking out for is the financing for the transactions, as debt has increased on its balance sheet and will continue to do so as cash from operations is not sufficient to fund the share purchases.
On a macro perspective, an aging population in U.S. and Europe and greater accessibility to healthcare in the U.S. should support sales growth for the industry. But the main reason, in my mind, to stick with the company is the job Management is doing. In particular, it has demonstrated its ability to execute the transformational transactions that were required to set up a global platform envisioned in its strategy and it has demonstrated a preference for long term outperformance at the expense of short term impacts, (the Express Scripts situation got resolved too, in the end). Management now has the complex task of evaluating the implications for all stakeholders of a move expressly designed to save on taxes. But I am confident they will make the right call - and happy I'm not the one who has to make it.
Disclosure: The author is long WAG. The author wrote this article themselves, and it expresses their own opinions. The author is not receiving compensation for it (other than from Seeking Alpha). The author has no business relationship with any company whose stock is mentioned in this article.