When I want to get a cycle count on the dollar index, I always look at where we are with the euro presently. Intermediate bottoms are much easier to spot than intermediate tops. When you look at a chart of the euro, it would appear we have a confirmed intermediate bottom which took place on the 5th of June. It appears that the euro had its last daily cycle low on the 5th of June. On this date, the euro was trading at 1.3663 relative to the dollar. However, since then the euro has rallied to almost 1.37 which is a higher high. Therefore, I believe that since we are in the timing band for the euro to start a new intermediate cycle, June 5th marked the intermediate bottom for the euro.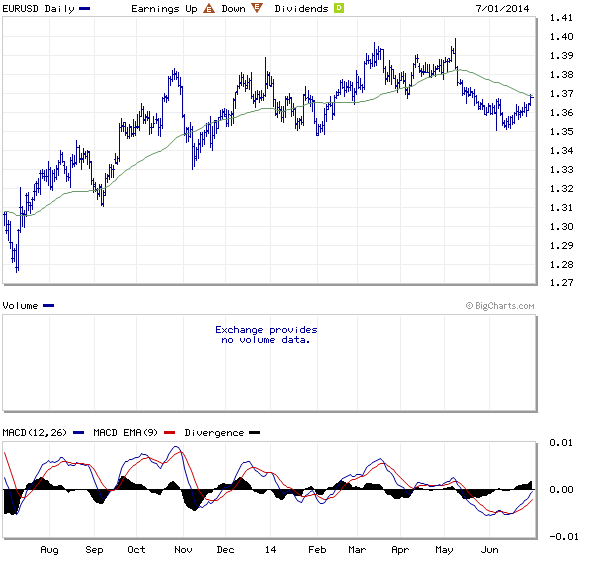 If the euro is going to continue rallying from here, this will cause the dollar to turn over. Moreover, since precious metals are priced in dollars, a weak dollar will definitely help the precious metals sector. We may have the perfect scenario developing for the mining stocks in front of our eyes. Look at a chart here of Newmont Mining Corp. (NEM)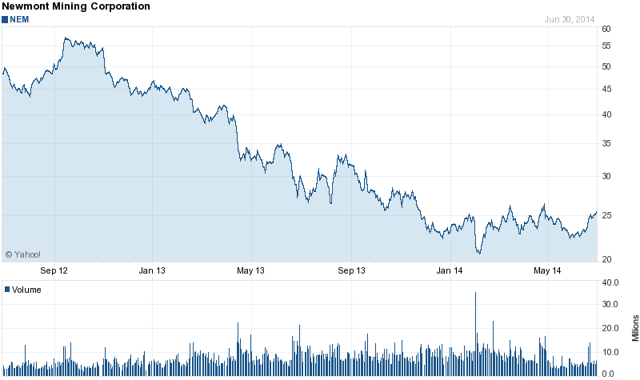 This is one of the best basing patterns I have seen in the mining sector. This stock has basically more than halved in value since October 2012. I believe the next firm increase in volume in this stock will mark the final bottom for this stock as long as the February lows are not violated. Newmont Mining Corp. is a preferred pick for me as it's an established miner with big volume. There are so many miners out there that could make you rich or bankrupt you. Newmont has been around for decades and I believe you can trust it, meaning if the gold price rockets, this miner should also move in parallel with it.
Finally, Market Vectors Junior Gold Miners ETF (GDXJ) contains a basket of junior miners and should return you better gains than the standard Gold mining ETF (GDX). There will be unbelievable gains in the miners once the gold price starts to move. There are many miners out there under $10 a share, but GDXJ gives you the security that an ETF in theory can never become worthless.
Disclosure: The author is long GDXJ. The author wrote this article themselves, and it expresses their own opinions. The author is not receiving compensation for it (other than from Seeking Alpha). The author has no business relationship with any company whose stock is mentioned in this article.