Earnings growth rates at Microsoft (NASDAQ:MSFT) are concerning, and this article helps identify those concerns in a more tangible way. To do this, we use two different charts, both of which evaluate earnings growth, but in slightly different ways.
The first graph is a comparison of earnings over a trailing 12-month period, quarter by quarter. If the quarter we were evaluating today was the fourth quarter, then our evaluation would be for the full calendar year, and then, when we evaluate the first quarter of the following year, it would include the three previous quarters, the fourth, the third, and the second, comprising a trailing 12-month observation. This observation includes any seasonal influences, because in every observation, entire seasonal cycles are included.
As shown in the chart below, the trailing 12-month growth rates on a quarter-by-quarter basis have been declining steadily since 2010, and recently, the growth rates for Microsoft have actually turned negative.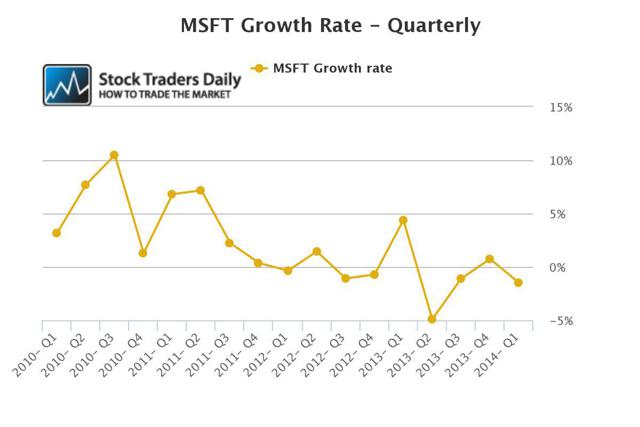 In the second graph, we review the same data, but in a slightly different way. We take trailing 12-month data from the current quarter and compare that to trailing 12-month data from the same quarter a year ago, which effectively tells us what the growth rate of the company was at the same time last year. From this observation, we can also see that the growth rate for Microsoft has been steadily declining, after bouncing back from a 2009 low.
When looking at the graph below, keep in mind that the 2009 data is included, although it does not show on the graph. The 20% growth rates shown for 2010 reflect data from 2009, and initially, the bounce back in earnings growth was solid, as we can see, but since then, earnings growth has been declining and that is a concern.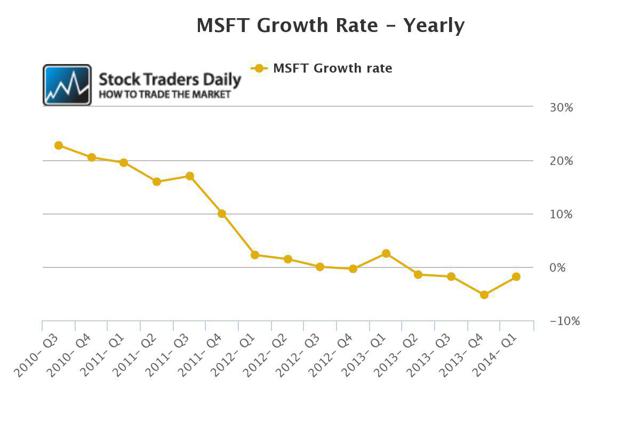 The interesting part of this observation is that the stock price continues to increase. Although Microsoft has had no earnings growth recently, and although earnings growth has been deteriorating since 2010, recent events have inspired investors and the stock has moved up. It now trades over 15 times earnings, but earnings growth has recently turned negative.
Investors should pay attention to the divergence between stock price and earnings growth in Microsoft. Our real-time trading report for MSFT helps identify technical changes as well.
Disclosure: The author has no positions in any stocks mentioned, and no plans to initiate any positions within the next 72 hours.
Business relationship disclosure: By Thomas H. Kee Jr. for Stock Traders Daily and neither receives compensation from the publicly traded companies listed herein for writing this article.