Avis Budget Group Inc. (CAR) expects impressive third quarter results, thanks to the cost-saving initiatives as well as higher demand for its products. The company plans to announce its third quarter financial results early next month.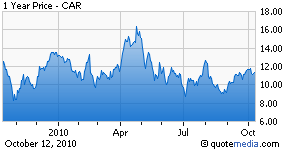 Avis expects its revenues to increase to about $1.5 billion in the quarter (up from $1.47 billion in the year-earlier quarter) and anticipates earnings before interest, taxes, depreciation and amortization (EBITDA) in the range of $210 million to $220 million (up from $165 million in the year-ago quarter).
The Zacks Consensus Estimate for third quarter 2010 earnings is 76 cents per share. For full-year 2010 and 2011, the Zacks Consensus Estimates are a respective 84 cents and $1.16 per share.
Pre-tax income, excluding certain items, is expected to range between $145 and $155 million. Moreover, the company also expects all three operating segments to report increases in revenues and adjusted EBITDA in the third quarter. Avis accounted the improvement in revenue in the Domestic Car Rental segment to an increase in rental days, but this was offset by a decline in time and mileage revenue per day.
Based on preliminary data, the company expects its cash balance to exceed $600 million and its corporate (non-vehicle-related) debt balance to be approximately $2.1 billion as of September 30, 2010.
Although Avis' balance sheet is fairly debt-heavy, the company sold $400 million of debt to fund its potential acquisition of Dollar Thrifty Automotive Group Inc. (DTG). The notes due in 2019 yield 8.25% and will be classified as senior unsecured debt of subsidiary Avis Budget Car Rental LLC.
Avis has offered $53 per share in cash and stock for Dollar Thrifty. This includes $45.79 per share in cash and 0.6543 shares of Avis for each share of Dollar Thrifty. Last month, Avis Budget raised its offer from $40.75 as bidding with rival Hertz Global Holdings Inc. (HTZ) intensified.
We believe Avis' strong focus on cost reductions will help it to achieve its goal of higher operating margins. With stabilization in travel volume, the combination of pricing and cost actions of the company will likely enhance its growth.
The quantitative Zacks #3 Rank (short-term Hold rating) for Avis indicates no clear directional pressure on the shares over the near term.