We've just received word of how many Tesla (NASDAQ:TSLA) Model S cars sold in Norway in June. There were 536 vehicles sold. This is obviously a massive drop from the 1493 shipped in March and which allowed Tesla to meet/beat its Q1 2014 delivery guidance.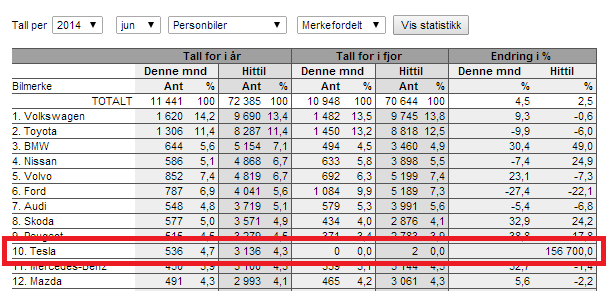 With these numbers, Tesla shipped 1080 Model S cars to Norway in Q2 2014, versus 2056 in Q1. This is a 47.4% sequential drop, and leaves Tesla with a 976 Model S deficit which it has to make up elsewhere.
That elsewhere is China
Tesla started taking pre-orders for the Model S back on August 22, 2013. Nearly one year ago. This built up a backlog of orders much like elsewhere. Thus, this quarter Tesla started delivering Model S heavily into China.
In May, Tesla imported 532 Model S cars into China, and in June that number was likely surpassed by far. Tesla thus leaned heavily on China to again meet its deliveries guidance, much like it had done with Norway the quarter before.
Tesla is running out of countries
Tesla has thus been playing this game where each quarter the backlog of an existing country allows it to meet or beat its own deliveries guidance (which stands at 7,500 vehicles for Q2 2014).
Of course, as I have explained, the next two quarters have much higher implied deliveries. With H1 2014 having had deliveries of 13,957 Model S cars, H2 2014 needs to see 21,043 deliveries to meet the 35,000 yearly guidance. This means deliveries have to jump from the current 7,500 to around 10,500 per quarter.
With each quarter being fed by existing backlog from some countries, it now looks that Tesla will have difficulty meeting the need to increase deliveries. There's still Japan and the U.K. to feed, but at this point these don't seem like major markets.
The U.S. has gone flat, and Europe has gone flat or worse with Norway's drop. China is being fed this quarter. How is Tesla going to produce massive growth in H2 2014? It doesn't seem likely.
Conclusion
We have just received data from Norway, Tesla's largest European market by far, accounting for more than 2/3rds of Tesla's deliveries in Q1 2014. In Q2 2014 Tesla saw a significant drop in deliveries in Norway, deliveries were almost halved.
While China might yet be enough to plug the gap in Q2 2014, doubts remain as to where growth will come from in Q3 2014 and Q4 2014. This problem should become evident with deliveries guidance for Q3 2014, since a major increase in guidance needs to occur to keep up with the yearly objective.
Disclosure: The author has no positions in any stocks mentioned, and no plans to initiate any positions within the next 72 hours. The author wrote this article themselves, and it expresses their own opinions. The author is not receiving compensation for it (other than from Seeking Alpha). The author has no business relationship with any company whose stock is mentioned in this article.