Viper Energy Partners LP (NASDAQ:VNOM) - Buy Recommendation - Price Target $35.80
The 25-day quiet period on underwriter research for VNOM will expire on July 12, allowing the firm's IPO underwriters to publish research reports on July 13. VNOM's IPO priced well above its expected range, saw an impressive 24.4% first day return, and has since bounced between $32 and $34 per share.
While domestic oil companies remain more stable bets than their foreign counterparts; we recommend VNOM as a Buy at this time.
The 25-day quiet period on underwriter research that began with the June 17 IPO of Viper Energy Partners LP will expire on July 12, allowing the firm's IPO underwriters to publish research reports on the Permian Basin oil and gas E&P and likely generating at least a brief increase in the price of VNOM shares two days prior to the event.
After Impressive First-Day Return, Bouncing Prices
VNOM's IPO blew away its expected price range of $19-$21 per share with a pricing of $26 per share, and the stock made an impressive 24.4% first day return. The price has since bounced between $32 and $34 per share; VNOM closed at $32.25 per share on July 1st.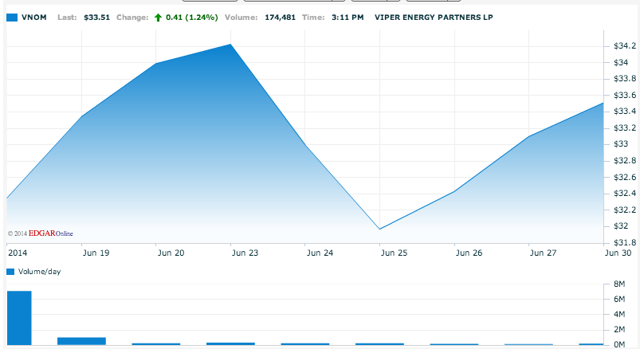 (Nasdaq.com)
Solid List of Underwriters
VNOM's IPO underwriters, including Barclays Capital Inc.; Wells Fargo Securities, LLC; Credit Suisse Securities LLC; Northland Securities, Inc.; Robert W. Baird & Co. Incorporated; Raymond James and Associates, Inc.; Scotia Capital Markets; Sterne, Agee and Leach, Inc.; Simmons and Co. International; Stifel Nicolaus & Company, Incorporated; Wunderlich Securities, Inc.; and Tudor, Pickering, Holt & Co. Securities, Inc., will seek to push VNOM prices to even greater heights through the release of positive analyses beginning at the conclusion of the quiet period.
Strong Underwriters Can Help Open Buying Opportunities
The Journal of Finance (VOL. LVIII, NO. 1; 2003) explains that share prices generally start to increase days before the quiet period has expired, as investors buy up shares in anticipation of the forthcoming positive underwriter reports.
Lead author Dan Bradley, PhD, CFA, of the University of South Florida and his colleagues note that analysts initiate coverage of 76% of firms at the conclusion of the quiet period, typically with a 'Buy' or 'Strong Buy' rating. Bradley and his colleagues also state that firms with coverage initiated experience abnormal positive returns of 4.1% in the two-day periods before and after coverage initiation. Returns have been found to rise even higher when more than one analyst initiates coverage-to 6.4%.
Bradley's conclusion aligns with the work of Carter, Piwowar, and Strader (2001), who state that the mean analyst rating at the expiration of the quiet period is a "Buy," and that higher ratings correlate with higher returns.
Investors' purchases in the run-up to the quiet period expiration generate the perception of rising demand, leading to increasing share prices before the quiet period has expired and creating a short-term buying opportunity.
Bradley et al also find a significant correlation between the reputation and number of IPO underwriters and rising share prices near the end of the quiet period.
Our own research over the past three years has led to data that support the conclusions of the above academic publications.
VNOM: Spin-off of Diamondback Energy
VNOM is a spin-off of Diamondback Energy (NASDAQ:FANG), formed to exploit and acquire North American oil and natural gas properties. Diamondback owns and control VNOM's general partner, which holds approximately 93% of VNOM's common units. The firm's initial operations are focused on the Permian Basin.
VNOM holds the mineral interests underlying approximately 14,804 acres in the Permian Basin; as of March 2014, these acres held 210 producing vertical wells and 22 producing horizontal wells for an average net production of some 2,197 net BOE/d. The firm's estimated proved reserves of 10,270 MBOE consist of some 70% oil, 18% natural gas, and 11% natural gas liquids.
The mineral interests entitle VNOM to a 21.4% royalty interest on the acreage's production. Diamondback operates about 50% of these interests, and as of March 31, Diamondback had identified 73 potential vertical drilling locations based on 40-acre spacing and 184 potential vertical locations based on 20-acre downspacing as well as 322 potential horizontal locations on the portions of the acreage that it operates. RSP Permian, Inc. (NYSE:RSPP) operates the majority of the rest of the interests.
See our IPO preview of VNOM here for further information.
Competitors
VNOM competes with other oil and gas firms operating in the Permian Basin for personnel and desirable acreage. Major firms operating in the Permian Basin include Abraxas Petroleum Corp. (NASDAQ:AXAS), ConocoPhillips (NYSE:COP), Anadarko Petroleum Corporation (NYSE:APC), and El Paso Corporation, among many others. Some of these competitors have access to significantly greater financial assets than VNOM.
Management With Strong Industry Experience
Travis D. Stice serves as the CEO of VNOM's general partner and the CEO of Diamondback, a position he has held since January 2012. He also previously served as Diamondback's President and COO.
Mr. Stice has previously worked as Vice President and Secretary of MidMar Gas LLC, as a Production Manager of Apache Corporation, as a Vice President of Laredo Petroleum Holdings, Inc., and as a Development Manager of ConocoPhillips/Burlington Resources Mid-Continent Business Unit.
Mr. Stice received a B.S. in Petroleum Engineering from Texas A&M University and is a registered engineer in the State of Texas.
Conclusion: Strong Start, Favorable Macro Trends Lead To A Buying Opportunity
VNOM is off to a strong start on the market, and aggressive investors should consider taking advantage of the upcoming quiet period expiration to get a piece of this firm.
VNOM should have access to steady revenues from its mineral interests, and will likely be able to leverage its relationship with Diamondback to find new assets on favorable terms.
So long as the Middle East and Russia remain in political turmoil, domestic oil companies will make for attractive buys.
We invite readers wishing to join the discussion on IPO Quiet Period Expirations to click the +FOLLOW button above the title of this article-and those looking for the latest updates to click +Get real time alerts.
Disclosure: The author is long VNOM. The author wrote this article themselves, and it expresses their own opinions. The author is not receiving compensation for it (other than from Seeking Alpha). The author has no business relationship with any company whose stock is mentioned in this article.