540 job positions were slashed by Bank of America (NYSE:BAC) last Wednesday at Gateway Village on West Trade Street in Charlotte, North Carolina. This latest layoff is having a negative impact on many families with children.
This drastic move cut the bank's operating expenses in their mortgage sector without much concern over the welfare of the employees and their families, many of whom had held key positions in Gateway Village, also known as Legacy Asset Servicing.
History of the Cut Division
This division was created in 2011 as a special unit to focus on past due mortgages after the bank acquired Countrywide Financial Corp three years earlier. In 2012, the division employed 42,000 full time workers. At that time, the bank was processing over a million mortgages classified as past due. This particular group of employees worked on loans that were due and not paid, in need of an update, problematic, or listed in foreclosure status.
However, US government investigators in recent years have been looking into the bank's unethical lending practices, and the mortgage business declined because the banks were coerced to offer customers mortgage modifications among other compensatory measures. Another reason for the decline of the mortgage business was the large number of wholesale loan sales, short sales, and foreclosures.
PR Spin Falls Short
Bank of America spokesman put a PR spin on its public announcement about the mass layoffs, saying that the reason they were necessary was because of an improved economy and improvement in the bank. Token sympathy and appreciation was extended to the two-thirds of the bank's division, who had worked hard to help the bank's customers.
Bank of America's Charlotte market president, Charles Bowman, made statements to the effect that workers who were now being laid off should feel proud of the work that they had done, because their efforts had resulted in the bank becoming better off.
The layoffs were announced by Bank of America managers to large groups on Wednesday afternoon, although impending signs of the employment calamity about to hit the city of Charlotte were actually brewing when the bank made massive job cuts in their mortgage divisions in California, Dallas, New York and Florida.
Severance, Assurances of Rehiring Not Quite Enough
In an attempt to minimize employees' shock and disappointment, as well as meet the legal requirements of U.S. Department of Labor, which has provisions in place to protect employees from sudden job loss for no fault of their own, the bank will issue a severance pay.
The bank also promised other forms of assistance, like looking into rehiring employees, moving workers into different positions and units, or giving workers positive referrals to get jobs outside the company.
However, these promises of mitigating the impact of the sudden layoffs was not much of an assurance as the bank is still implementing cost-cutting measures and is planning to lay off employees working in other departments.
Real Reasons Behind The Cuts
The bank says that the main reasons behind such a movement are to make the bank's operations more efficient and secure profitability through decreasing the general expenses of the Legacy Asset Servicing Unit, founded 3 years ago. The latest share amount on Wednesday reached $15.47.
Prior to the announcement, the bank has shown in its records a major decrease in mortgage numbers, which fell from a peak point of 1.4 m to just 227,000.
However, while the bank's public relations position was that the mass layoffs were due to an improvement in the economy requiring less people to process delinquent mortgage issues, we are inclined to wonder if the bank laid off the wrong people--after all the management team and the compliance department were the ones responsible for numerous problems faced by the bank.
BAC's Building History of Poor Management Decisions
CEO Brian Moynihan's 2014 raise to a $14 million compensation package is approximately equal to half or more of the combined salaries of those laid off in the call center and in branches throughout Charlotte.
However, things have not gone well for Bank of America. They have had poor earnings, created a negative environment for some big banks, offered investors poor dividends, and been involved in many regulatory issues and legal penalties.
Here are just three examples when things went terribly wrong for the bank:
One, the bank reported a $4 billion error in its books to the Federal Reserve. As a consequence, it had to suspend a share buyback and its planned spike in quarterly dividends.
Two, the bank has faced investigation into foreign-exchange trading violations.
Three, the bank had to agree to pay $9.5 billion in fines to the Federal Housing Finance Agency. The civil lawsuit alleged that the bank had defrauded Fannie Mae (OTCQB:FNMA) and Freddie Mac (OTCQB:FMCC) by misrepresenting $57.5 billion worth of mortgage securities, an event that precipitated the financial crisis.
Bad Outlook For BAC Investors
Bank of America's stock price in 1994, 20 years ago, at ~$14 is nearly the same as it was at the close on June 30th, $15.37.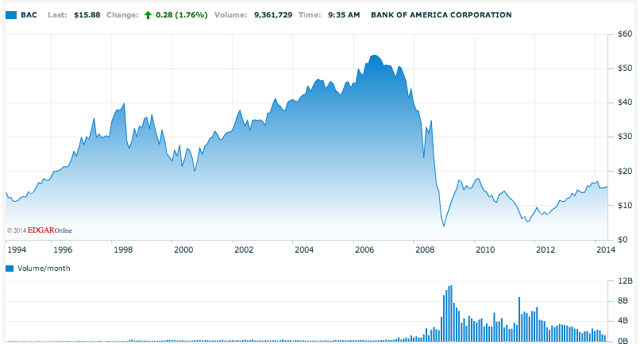 (Nasdaq.com)
With BAC stock not showing significant signs of improvement post-financial crisis, when Moynihan took over a management role, it is questionable if he will be able to steer the bank back on track.
With a 17% pay jump in 2014, the board seems to think he has performed well; however, with little except scandals and losses to show for this reward, now including the loss of over 500 employees in Charlotte-investors might wonder if this was the right manner of cost-cutting.
We remain negative on the BAC common stock in 2014 and suggest investors take profits immediately.
We suggest Wells Fargo (NYSE:WFC), which recorded over $36 billion in mortgage lending during the first 3 months, and Heritage Insurance (NYSE:HRTG), a top pick of ours and a fast-growing industry leader, for the second half of 2014.
We invite readers wishing to join the discussion on Heritage to click the +FOLLOW button above the title of this article and those looking for the latest developments to click the +Get real time alerts.
Disclosure: The author has no positions in any stocks mentioned, and no plans to initiate any positions within the next 72 hours. The author wrote this article themselves, and it expresses their own opinions. The author is not receiving compensation for it (other than from Seeking Alpha). The author has no business relationship with any company whose stock is mentioned in this article.