Foresight Energy LP (NYSE:FELP) -- Buy Recommendation - $21.00 Price Target
The 25-day quiet period on underwriter analyses for FELP will come to an end on July 12, allowing the firm's underwriters to release likely positive research on July 13. Although FELP has performed inconsistently post-IPO, investors should consider buying into the firm with the upcoming quiet period expiration. Though the long-term outlook for coal is concerning with tightening environmental regulation, coal remains a critical source of power in the U.S. and abroad; FELP is poised to capitalize at present.
The 25-day quiet period on underwriter analyses initiated with the June 17 IPO of Foresight Energy LP will come to an end on July 12, allowing the firm's IPO underwriters to release research reports on the Illinois Basin coal producer. This will likely lead to at least a brief rise in the price of FELP shares approximately two days leading up to the expiration and lasting for two days after the event.
Market Performance To-Date
FELP's IPO priced at the midpoint of the expected price range, at $20 per share, and made a modest loss of 5.0% in its first day of trading. The stock has since performed inconsistently, bouncing between $19 and $20 per share; FELP closed at $20.15 per share on July 1st.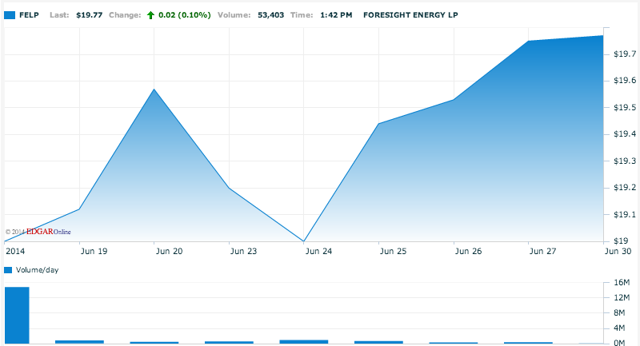 (Nasdaq.com)
Strong Underwriters
FELP's IPO underwriters, including Barclays Capital Inc.; Morgan Stanley & Co. LLC; Citigroup Global Markets Inc.; Credit Agricole Securities Inc.; Goldman, Sachs & Co.; Deutsche Bank Securities Inc.; J.P. Morgan Securities LLC; Stifel Nicolaus & Company, Incorporated; PNC Capital Markets LLC; and The Huntington Investment Company, will seek to push FELP towards an upward trend by publishing positive research reports on the firm beginning with the expiration of the quiet period.
Quiet Period Expirations And Buying Opportunities: Insight From Several Studies
The Journal of Finance (Vol. LVIII, No. 1; 2003) describes the process through which share prices generally begin to rise days in advance of the quiet period expiration, as investors anticipate positive underwriter analyses and begin to purchase shares.
Lead author Dan Bradley, Ph.D., CFA, of the University of South Florida, and his colleagues explain that analysts initiate coverage of 76% of firms at the expiration of the quiet period, nearly always with a "Buy" or "Strong Buy" rating. Bradley and his colleagues also indicate that firms with coverage initiated experience abnormal positive returns of 4.1% in the two days preceding and the two days following coverage initiation. In cases when multiple analysts initiate coverage, returns have been found to rise even higher - to 6.4%.
This conclusion is supported by the work of Carter, Piwowar, and Strader (2001), who also note that the mean analyst rating at the time of the quiet period expiration is a "Buy," and that higher returns correlate with higher ratings.
Share purchases made by investors in the run-up to the quiet period expiration create an atmosphere of rising demand, leading share prices to rise before the quiet period has expired and producing a short-term buying opportunity.
Bradley et al also find a significant correlation between the number and reputation of IPO underwriters and increased share prices near the conclusion of the quiet period. With FELP's very powerful backing in this regard, shares could be boosted even higher.
Our own research over the past three years has generated data that back up the conclusions of the above academic publications.
Overview of FELP
FELP is a spin-off of coal mine developer and operator Foresight Reserves.
The firm produces bituminous thermal through its operations in the fast-growing Illinois Basin region. FELP is among America's largest reserve holders, controlling over three billion tons of coal that primarily sit in three contiguous regions.
The firm currently has three longwall mines in operation, and plans to have a fourth in operation by the end of June 2014. FELP has submitted permits for two additional longwall mines, and believes that it may ultimately be able to place as many as nine total longwall mines to work its reserves.
FELP produced 18.0 million tons of coal in 2013; as the firm brings more longwall mines into operation, its productive capacity will rise. FELP estimates that productive capacity would be approximately 67.2 million tons per year, if it were able to operate all nine of the possible longwalls.
For further details, click here.
Major Competitors In the Coal Industry
FELP faces competition for equipment, personnel, and customers with other coal producers in the Illinois basin. Major competitors include Peabody Energy (NYSE:BTU), Hallador Energy (NASDAQ:HNRG), Alliance Resource Partners (NASDAQ:ARLP), Armstrong Coal, and Murray Coal.
Experienced Management
President and CEO Michael J. Beyer has over 30 years of experience in the energy industry. He previously worked as president of AEP Coal, Inc., vice president of Business Development at Enron Corp., and as senior vice president and manager of the Natural Resource Department at PNC Bank.
Mr. Beyer received an undergraduate degree in Mining Engineering from Pennsylvania State University and an MBA from Duquesne University.
Conclusion: A Short-Term Buying Opportunity
Though FELP has been slow out of the gate, investors should consider buying into the firm with the upcoming quiet period expiration.
The firm should be able to capitalize on increasing demand for thermal coal generated by the rise of scrubbed coal power plants; the Illinois Basin is located in appealing proximity to many such plants in the eastern U.S.
Though the long-term outlook for coal is concerning in an era of tightening environmental regulation, coal remains a critical source of power in the United States. According to the U.S. Energy Information Administration, coal accounted for 39% of the country's electricity generation in 2013.
We invite readers wishing to join the discussion on IPO Quiet Period Expirations to click the +FOLLOW button above the title of this article - and those looking for the latest updates to click the +Get real-time alerts button.
Disclosure: The author is long FELP. The author wrote this article themselves, and it expresses their own opinions. The author is not receiving compensation for it (other than from Seeking Alpha). The author has no business relationship with any company whose stock is mentioned in this article.