A previous article (here) explained one of the simplest and safest strategy mixing the two strongest and best documented market anomalies: momentum and seasonals. This one reports how I mixed the same anomalies in a more sophisticated tactical allocation strategy. Details on the rules and indicators are not unveiled here. However, the structure, design process and trading cost evaluation may help investors to build their own robust ETF core portfolio.
Strategy structure
The strategy is composed of four models. Three models are momentum-based, the last one is seasonal:
Country model: picks the best country ETFs in a list.
Sector model: picks the best sector or industry ETFs in a list.
Region model: picks the best regional ETF in a list.
Season model: picks 2 or 3 index ETFs based on a seasonal pattern.
Models that "pick the best ETFs in a list" are based on relative strength measures. Indicators are similar to those of my previous article on DIA and IEF, used in a more sophisticated way. The Country, Sector and Region models have market-timing rules switching to bond or short ETFs (TLT, DOG, SH) when it is supposed necessary.
Depending on market conditions, the four models may hold a total of 1 to 7 ETFs. If the number is 5 or more, ETFs are ranked on their risk-adjusted performances on a recent period, then only the 4 best ones are selected. The risk-adjusted performance is measured by a Sharpe-like ratio. Holdings are in equal weight. If only one ETF is selected, which may happen in very bad market conditions, 50% of the capital is invested and the second half is kept in cash. The portfolio is rebalanced weekly. On average, a ticker is held about 3 weeks. In my real trading, I rebalance position sizes only when the difference between the smallest and the biggest position goes above 15%, so as to avoid useless transaction costs.
As examples, here are a few ETFs that have been successively or simultaneously in the portfolio in the last 6 months (the list is not exhaustive): iShares S&P Europe 350 Index (NYSEARCA:IEV), SPDR S&P MidCap 400 (NYSEARCA:MDY), iShares MSCI Sweden Index (NYSEARCA:EWD), iShares MSCI New Zealand (NYSEARCA:ENZL), SPDR S&P Oil & Gas Exploration & Prod (NYSEARCA:XOP), iShares Nasdaq Biotechnology (NASDAQ:IBB), Market Vectors Semiconductor ETF (NYSEARCA:SMH).
I have followed this strategy since the second half of 2011, and I have tracked separately the strategy return since 1/1/2012. There were two changes on the way: it started in 2011 with 3 holdings of the Country and Sector models. The Season model and the 4th position were added on 12/30/2012, then the Region model in the second half of 2013. These modifications are not supposed to improve the expected return, which stays roughly the same in simulations, but to reduce the risk in terms of drawdown and standard deviation. In this portfolio, countries and sectors are alpha generators, regions and seasons are volatility absorbers.
Expected and real performance
With the limit of ETFs inception dates, simulations show that the portfolio has a historical annualized return above 30% and is much less volatile than SPY. Simulated annual returns are between 6% (2011) and 64% (2005), with no negative year since 2002.
The following equity curve is a backtest result with the current version of the strategy, taking into account a 0.2% rate per trade for commission fees and slippage: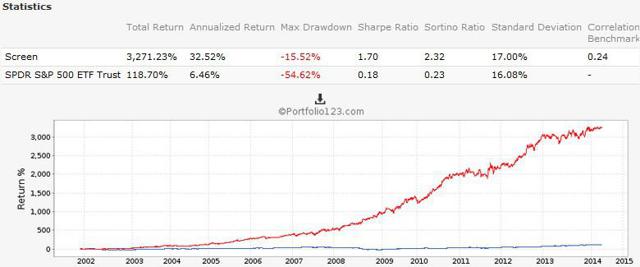 A note of caution: some ETFs were not available on the whole period. However, simulations with restricted ETF sets give similar results, and I don't want to forego using some very good products created last 10 years. No representation is being made that any account will or is likely to achieve profit or losses similar to those shown. Studying past data is not a way to predict the future, it is just the best way to plan it.
The next table shows the returns (unaudited) published in my reports for subscribers, compared with two benchmarks: the SPDR S&P 500 (NYSEARCA:SPY) and the Cambria Global Tactical ETF (NYSEARCA:GTAA), a fund managed by the tactical allocation expert Mebane Faber.
| | | | |
| --- | --- | --- | --- |
| | 2012 | 2013 | 2014 1st half |
| CoreETF | 25.5%* | 8.2% | 13.1% |
| SPY | 16.1% | 29.4% | 7.4% |
| GTAA | 7.5% | 0.9% | 5.3% |
* Return with 3 holdings and 2 models. It would have been 31.2% with 4 holdings and 4 models.
It represents real money for me, readers should take this as a forward out-of-sample test. Looking at the total return on 30 months, the CoreETF portfolio beats GTAA by a wide margin (53.6% vs. 14.2%), but lag behind SPY (61.3%). Tactical allocation gives an edge to obtain a superior risk-adjusted return on the long term, but it may underperform in a bull market.
Because of commission fees, I consider that the minimum capital for this portfolio is $8K. With $2K per position and Interactive Brokers flat fee, the cost is about 0.05% per trade, and 1.7% per year on average.
The portfolio had a weak year in 2013 compared with the U.S. stock market. No strategy can beat the market every year in all conditions. Investors should stick to a methodology with a long term vision. Micro-management based on recent performance is the best way to take bad decisions at bad times, skipping from a strategy to another. The right way is to invest in various strategies based on different rationales in terms of assets, logic, and time frames. The tactical ETF allocation described in this article is just one of them. A next article will give an overview of an all-weather portfolio, with year-to-date real returns for each strategy.
Disclosure: The author is long MDY, ENZL, XOP. The author wrote this article themselves, and it expresses their own opinions. The author is not receiving compensation for it (other than from Seeking Alpha). The author has no business relationship with any company whose stock is mentioned in this article.
Additional disclosure: The author is long ETFs and stocks not mentioned in this article.