ORBCOMM, Inc. (NASDAQ:ORBC) is an attractive-looking company; when one looks closer, however, there seem to be some issues which, if I'm to be honest, give me reason for pause. That is not to say that an investment here would be inadvisable, but that it might be a better idea, in my opinion, to sit on the sidelines for the time being.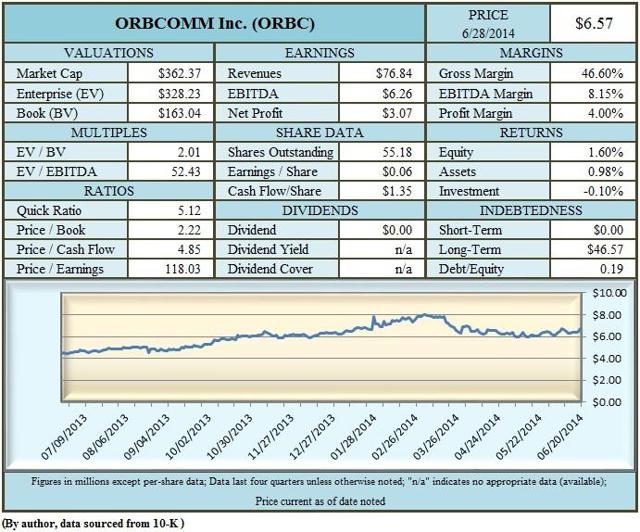 The Company
Founded in 1993 as ORBCOMM Global L.P. - which went bankrupt and whose assets were acquired by the current operators - ORBCOMM is a technology company providing machine-to-machine, telematic ("M2M") data communications services. To accomplish this, the company:
operates a constellation of 27 low Earth orbit (LEO) satellites;
maintains cellular communications systems;
produces hardware to be used for communications through its systems;
and develops software solutions for clients' specific needs.
These resources enable the Company to provide the following services:
Tracking assets: trucks, heavy equipment, rail, oil rigs and cargo containers can be tracked both for position and motion.
Security: ships, equipment and cargo containers can be secured and monitored by devices that can alert clients of security breaches as they happen, around the world.
Monitor operating conditions: assets and cargo can be monitored to insure efficient operating conditions (fuel use, temperature control, operational metrics).
Manage Remote Assets: enables the client to interact with the remote device to request status, activate events and optimize control of inventory.
Provide global automatic identification system (AIS): enables the identification and tracking of sea-going vessels.
The range of functionality of ORBCOMM's capabilities enables it to offer services to the following industries:
Transportation and distribution
Maritime
Oil/gas
Heavy equipment
Government
ORBCOMM currently has over 860,000 subscribers. Among the customers served by the Company are:
Caterpillar Inc. (NYSE:CAT)
Komatsu Ltd. (OTCPK:KMTUY)
Hitachi Ltd.
Hyundai Heavy Industries Co.
Volvo AB CI B ADS (OTCPK:VOLVY)
Carrier, a subsidiary of United Technologies Corp. (NYSE:UTX)
Tropicana Products, Inc., a subsidiary of PepsiCo (NYSE:PEP)
Target Corporation (NYSE:TGT)
The following graph reflects the history of the Company's stock price:1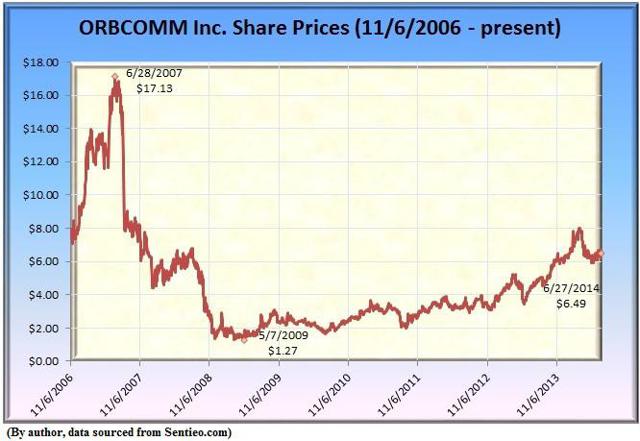 New Satellite Constellation
ORBCOMM's current constellation of satellites (OG1) was originally designed to have a life span of nine to twelve years.2 The OG1 satellites were deployed in 1999, meaning they have been in operation for approximately 15 years. In 2009 the Company lost contact with five of its satellites and had to deploy two reserve satellites to compensate. In 2013 another satellite was lost.
By minimizing the stress placed on the satellites' power subsystems, and utilizing transmission capabilities of the Earth-bound Gateway system, ORBCOMM has been able to extend the useful life of the satellites, although the system is experiencing gradual degradation.3 However, the constellation has built-in redundancies to it, due to the number of satellites and their orbits. As a result of these considerations, 20 operational satellites have been able to maintain an aggregate average availability of 98.2%, with each individual satellite being available 87.5% of the time.4
ORBCOMM is currently in the process of launching its OG2 constellation of LEO satellites. There will ultimately be 17 satellites in the OG2 series, to be launched in 2014. The satellites - developed with the cooperation of Sierra Nevada Corporation, ITT Corporation (NYSE:ITT), Boeing Company (NYSE:BA) and its wholly owned subsidiary Argon ST, Moog Inc. (MOG.A/MOG.B), and L-3 Communications Holdings, Inc. (NYSE:LLL) - will each have at least six times the traffic-handling capacity of the OG1 yet will use less power, reducing drain on batteries.5
Moreover, unlike the OG1, OG2 satellites will each be equipped with AIS capabilities, greatly enhancing the service provided by the two AIS-only microsatellites launched by the Company in 2011 and 2012. The microsatellites were developed and deployed by OHB AG (DE :OHB) and its affiliate, LuxSpace Sarl.
The OG2 satellite launchings will be carried out by SpaceX.6
Ground Facilities
Essential to any satellite-based communication system is a network of ground stations through which communications with the satellite constellation can be maintained. ORBCOMM operates its Gateway Earth Station ("Gateway") network in five states (Virginia, Arizona, Georgia, New York and Washington) and twelve countries (Argentina, Australia, Brazil, Curaçao, Italy, Japan, Kazakhstan, Malaysia, Morocco, Norway, South Africa and South Korea). The recently completed Sterling, Virginia facility is the Company's Network Control Center.7
In order to expand its services and provide reliable communications the company is pursuing regulatory approval from other nations, particularly China, India and Russia.8
Cellular Services
In addition to the satellite network maintained by ORBCOMM the Company has partnered with six cellular carriers to provide global data communications for its clients. The companies that have partnered with ORBCOMM are:9
Clients may opt to use either the satellite system, cellular services, or both.
Hardware Technology
ORBCOMM offers a range of hardware that may be used to track asset location and movement, provide security, transmit operational data, and provide satellite communications capabilities. The company also makes available proprietary chipsets and developers kits for use by clients that seek to manufacture their own function-specific devices.10
Acquisitions and Partnerships
ORBCOMM has been aggressive in pursuing the means by which to grow its business. Since 2011 the Company has acquired:11
StarTrak Systems, LLC
PAR Logistics Management Systems, a subsidiary of PAR Technology Corporation (NYSE:PAR)
GlobalTrak
MobileNet, Inc.
Sensor Enabled Notification System ("SENS") Asset Tracking Operations, from Comtech Telecommunications Corp. (NASDAQ:CMTL)
Euroscan Holdings, B.V.
In addition to the above acquisitions, which strengthened ORBCOMM's satellite, GPS and tracking technologies, the Company entered into partnerships with Inmarsat Plc (LON :ISAT) and Globalstar Inc. (GSAT:QBB) - two companies operating satellite constellations. These partnerships will help secure continuous, reliable satellite communications with customers' remote assets.
Software
Some of the acquisitions listed above have augmented ORBCOMM's software offerings. While the company can provide for customized software integrations, it also offers a range of readily available software solutions:12
CargoWatch, which provides fleet owners to fully monitor the operation of their assets;
ReeferTrak, enabling companies to monitor refrigerated transportation assets;
IMB (acquired from GlobalTrak), providing companies with security, supply-chain automation, and ability to monitor and correct anomalies in real-time;
FleetEdge (acquired from MobileNet), allowing management to access the status and location of their fleet;
AssetView, for use in the oil and gas industry to monitor and measure flow, tank level, compressors and remote equipment.
AIS
ORBCOMM was awarded a contract to provide AIS services for the U.S. Coast Guard in 2004; the Company further developed its AIS capabilities until, in 2010, it was able to fully commercialize its AIS services. As mentioned above, the system was augmented by the deployment of two AIS-only microsatellites in 2011 and 2012. The new OG2 satellites will add 17 more satellites to the AIS system, making ORBCOMM a formidable competitor.
ORBCOMM currently provides AIS services for over 100 commercial business fleets and government agencies, keeping track of more than 120,000 unique sea-going vessels. Access to AIS enables companies and government agencies to monitor maritime traffic, locate specific vessels, detect possible acts of piracy and engage in search-and-rescue missions.13
Financials
As the table at the beginning of the article shows, ORBCOMM is a micro-cap to small-cap company. The company went public in 2006, and did not manage to turn a profit until 2012. Its revenues are reflected in the graph below:14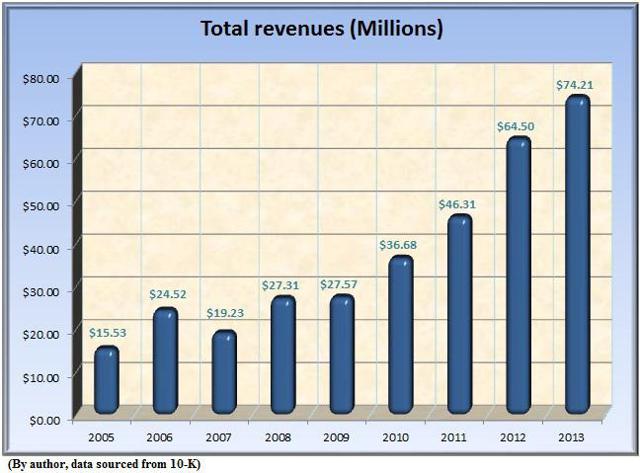 While it has been growing its revenue at a reasonable rate - 39.27% from 2011 through 2012, and 15.07% from 2012 through 2013 - and it maintains a good gross margin of more than 45%, the Company's EBITDA and net profit margin have been on the low side, as shown in the following graph: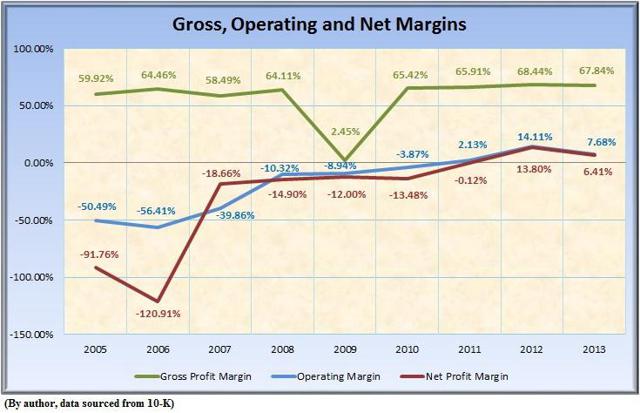 The rather dramatic dip in gross margin in 2009 reflects the Company's loss of five of its satellites and the need to replace them through the deployment of two backup satellites; otherwise, ORBCOMM seems to have a steady, and steadily improving, COGS.
Operating costs have been a significant burden, with the operating margin reaching above zero for the first time in 2011; as a result, profits for the company have proven elusive, as the following graph illustrates: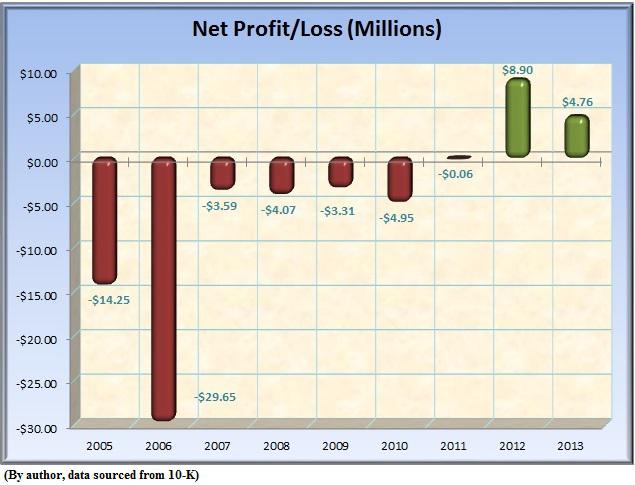 Concerns
To this point, it would seem that ORBCOMM is a growing company that seems to be trying to establish a wide moat for itself in the M2M industry. Its OG2 constellation, its enhanced commercial AIS services, the availability of cellular communications, the range of hardware and associated software capabilities, and its Gateway network, put the Company in a leading position in its industry.
However, there are matters that give me reason to want to caution the investor about committing too many resources to this company just yet.
First, while the Company has seen net profit for the past two years, and while 1Q14 total revenues were greater than 1Q13's by nearly 4% ($14.43 million, compared to $13.39 million), it registered an EPS of -$0.01, compared to last year's EPS of $0.02. The main reason for the drop in earnings appears to be costs incurred in the acquisition of Euroscan. The loss seems all the more troubling when one considers that ORBCOMM executed a public offering of 5.5 million shares of common stock in January, 2014,15 and issued $45 million in 9.5% senior notes in January, 2013.16
More generally, there are uncertainties about the Company's valuation. Its enterprise-value-to-book-value ratio (EV/BV) is only 2.01, which would seem to make the company an attractive target for acquisition; its lack of consistent profitability, however, would seem to undercut any attempt to evaluate ORBCOMM's enterprise-value-to-EBITDA ratio of 52.43 - not to mention a P/E ratio of 118.03 - a figure that is high for the industry.
Indeed, if we compare ORBCOMM's P/E to that of its competitors, it seems far too excessive. In the graph below, I've compared ORBCOMM to Inmarsat and Globalstar (both of which would seem to be its principal competition) and
Iridium Communications, Inc. (NASDAQ:IRDM)
KVH Industries, Inc. (NASDAQ:KVHI)
NumereX Corp. (NASDAQ:NMRX)
Pendrell Corp. (NASDAQ:PCO)
RRSat Global Communications Network Ltd. (RRST)
Telephone & Data Systems Inc. (NYSE:TDS)
Towerstream Corporation (OTCQB:TWER)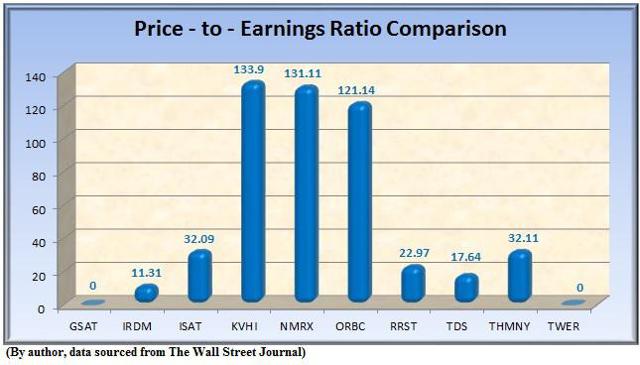 Neither Globalstar nor Towerstream had positive EPSs. Of the competing companies, Globalstar and Inmarsat are the two that have the closest range of operations. Clearly, ORBCOMM (along with KVH and NumereX) exceeds the EPS of the other five profitable companies. At the same time, it is hard to argue that the company is overpriced, given its price-to-book-value ratio of 2.22.17
Profitability is a major concern for ORBCOMM, as it has managed a profit in only two years since its initial public offering in 2006, and this concern is reiterated in the Company's most recent 10-K.18 The OG2 constellation and related upgrades are expected to cost approximately $200 million, with over $100 million already paid.
With total revenues for 2013 at $74 million, and first quarter revenues up by approximately 4% YOY, one might project 2014 revenues to be in the vicinity of $77 million. The company has now acquired a burden of approximately $4 million annually in interest for its senior note. The company has yet to complete payment for the $200 million OG2 infrastructure. ORBCOMM would seem to be at the mercy of its operating costs, and it is not clear to me that the Company has a substantial grip on those.
The deployment of the OG2 satellites is a matter of some concern, as the launching of the first group of satellites has been postponed at least three times - it is currently scheduled for July 14, 2014, with a backup date of July 15. Weather and technical issues have caused the delays. Given the fact that the OG1 constellation is past its expected lifespan, excessive delays in deploying OG2 leaves the Company in a vulnerable position. It is not clear if the plan to deploy all 17 satellites will be achieved this year as expected.19
The delays encountered in deploying OG2 highlight a major risk factor in ORBCOMM's business: the need to establish and maintain an expensive infrastructure of satellites and ground stations. While many potential issues in operating satellites can be dealt with by programming the satellites via ground control, other issues involving physical defects or malfunctioning - not to mention the possibility of damage caused by debris - leave the system vulnerable in a way that ground-based systems are not.
Of course, it has already been shown that the OG1 constellation has been able to function effectively even with the loss of multiple satellites, due to redundancies arising from the satellites' coverage and orbits. Nevertheless, the loss of operational satellites constitutes a significant risk to the Company as a whole.
Insurance can be purchased to cover some contingencies of operating a satellite system, but there are limitations to the coverage, and the cost of the coverage can become expensive. Moreover, the insurance may not fully cover the expense of replacing a disabled satellite and would not cover lost revenues.20
Appraisal
ORBCOMM is clearly a company with tremendous potential. Unfortunately, much of that potential rests in the development of its satellite constellation, and its satellite constellation is in the process of transition from the 15-year-old OG1 satellites to the yet-to-be-deployed OG2 satellites.
To the extent that the company lacks direct control over the deployment of its satellites - not to mention the satellites' ability to function once deployed - the company, its profitability and its shareholders face a significant degree of uncertainty and risk.
The company's recent aggressiveness in acquisitions and the need to replace its satellite network are placing significant stress on its profitability. In some ways, ORBCOMM is like its competitor Globalstar, which was also based on a bankrupted company, and which launched 24 second-generation satellites between 2010 and 2013.21 Globalstar has yet to turn a profit.22
This is not to say that ORBCOMM will follow the same path as its competitor, but it is reasonable to question whether the losses realized by the company in 1Q14 were a fluke, or whether they were indications of an extended period of unprofitable operations.
Teton Advisors, Inc. (OTCPK:TETAA) has holdings of 431,106 shares of ORBCOMM in its Mighty Mites Fund (MUTF:WMMCX), the shares valued at $2.95 million.23 Barron's notes that the fund, which invests in micro-cap companies, has a history of seeing companies among its holdings being the targets of takeovers.24 ORBCOMM has an enterprise value of approximately $330 million, roughly double the company's book value; it would seem to be an excellent bargain for a potential buyer, from that standpoint.
Conclusion
If one places great credence on the likelihood of a company moving to acquire ORBCOMM, this might be an excellent value. However, one would also need to keep in mind that Globalstar, which has many of the same benefits as ORBCOMM, is also out there. The company's position with regard to AIS is a major advantage, however, and makes ORBCOMM a temptation.
In general, I believe it would be most advisable to delay any purchase of shares in this Company until (1) they have successfully deployed the OG2 satellites, and (2) they make significant effort to make the company profitable, either by reducing current debt and payables or by dramatically increasing their customer base.25
Disclaimers
This article is for informational use only. It is not intended as a recommendation or inducement to purchase or sell any financial instrument issued by or pertaining to any company or fund mentioned or described herein.
All data contained herein is accurate to the best of my ability to ascertain, and is drawn from the Company's SEC filings to the extent possible. All tables, charts and graphs are produced by me using data acquired from pertinent SEC filings; historical price data from Sentieo. Data from any other sources (if used) is cited as such.
All opinions contained herein are mine unless otherwise indicated. The opinions of others that may be included are identified as such and do not necessarily reflect my own views.
Before investing, readers are reminded that they are responsible for performing their own due diligence; they are also reminded that it is possible to lose part or all of their invested money. Please invest carefully.
1 Historical price data from Sentieo.
2 ORBCOMM 10-K 2013, p. 21.
3 ORBCOMM 10-K 2013, p. 21.
4ORBCOMM 10-K 2013, p. 21. "Aggregate average availability" is the amount of time a satellite is available to handle communications.
5 ORBCOMM OG2-2, available here.
6 ORBCOMM website, here.
7 ORBCOMM press release, April 16, 2014.
8 ORBCOMM 10-K 2013, p. 24.
9 ORBCOMM website, here.
10 ORBCOMM website, here.
11 ORBCOMM website, here.
12 ORBCOMM website, here.
13 ORBCOMM website, here. It is possible to view sea-going vessels via AIS on the Marine Traffic website.
14 All financial data for ORBCOMM drawn from 10-Ks filed with the SEC.
15 ORBCOMM press release, January 17, 2014. Shares were priced at $6.15.
16 ORBCOMM 10-K 2013, p. 29.
17 Competitors identified by ORBCOMM in its 10-Ks as well as by The Wall Street Journal. P/E data from The Wall Street Journal online.
18 ORBCOMM 10-K 2013, p. 28, for instance.
19 Attempts have been made to contact ORBCOMM to get more precise details on this and other matters, but no response has been forthcoming from the Company.
20 ORBCOMM 10-K 2013, p. 38-39 covers this issue in part. It is a requirement of the Senior Notes mentioned above that launch and first-year operations of the satellite be covered by insurance.
21 Globalstar Inc. website.
22 Per Globalstar 10-Ks as extracted by Sentieo.
23 Sentieo, here.
24 "4 Cheap Micro-Cap Stocks Ripe for Takeovers," Dimitra Defotis. Barron's, May 13, 2014.
25 Efforts were made to ORBCOMM to answer certain questions that are reflected in this article; no response has been received as of this writing.
Disclosure: The author has no positions in any stocks mentioned, and no plans to initiate any positions within the next 72 hours. The author wrote this article themselves, and it expresses their own opinions. The author is not receiving compensation for it (other than from Seeking Alpha). The author has no business relationship with any company whose stock is mentioned in this article.