Both longs and shorts alike trading NQ Mobile (NQ) showed their nerves yet again today, in another small chapter of the "waiting for the annual report" saga from the China based mobile company.
It's now been well over two months since NQ first noted that they were going to be filing their annual report. I'd love to have a sneak peek behind the scenes and see what's going on in Beijing. The annual report is likely going to catalyze a major upswing in the stock's price - if it's eventually filed with the corresponding audit.
Today's share price movement seemed normal out of the gate until, for seemingly no reason, volume started to pour in pushing NQ almost as high as 20% today. Traders I spoke with didn't seem to have an idea of what the action was about, nor did anyone posting on Twitter/message boards.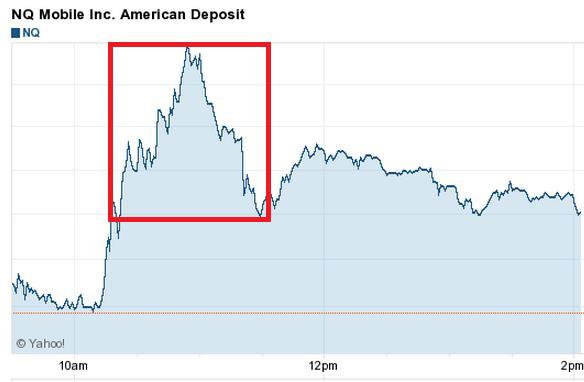 I spent the morning watching the stock being pushed up in a buyer's panic, searching Twitter and the web for an explanation as to what was catalyzing the move.
As I soon found out, rumors were abound on Twitter with regards to "good news coming out of China," and notably rumors about the company's audited financials being filed sometime soon.
Theflyonthewall noted:

But, what we soon found out was that there was no news out of China, and NQ had fallen victim to yet another unfounded rumor.
An NQ spokesperson came out and confirmed to Bloomberg that there was nothing new disclosed regarding the company's annual report. Of course, an IR representative would be forced to say this until news is officially disseminated by the company, but the statement cooled the stock off for the better part of the afternoon.
This movement today goes to show the extreme volatility behind this battleground stock. After whipping up 20%, the stock sharply sold back down to around the $6.85 region - all within a couple of hours - all based on a rumor.
This isn't the first time we've seen a rumor whip around NQ's stock price. What it is, though, is another stark reminder of the risk that's at hand no matter which way you're holding NQ stock.
Though the stock did come down off of its highs, it's currently heading into the last two hours of trading still holding about 7.5% of its gain today.
Once again, QTR advocates caution around trading NQ long or short, until the company is either exonerated or proven to be fraudulent as short sellers have claimed.
Best of luck to all investors.
Disclosure: The author has no positions in any stocks mentioned, and no plans to initiate any positions within the next 72 hours. The author wrote this article themselves, and it expresses their own opinions. The author is not receiving compensation for it (other than from Seeking Alpha). The author has no business relationship with any company whose stock is mentioned in this article.