In recent days, shares of biopharma company Geron (NASDAQ:GERN) have gone viral, up over 20% in a week. News of a clinical trial for an embryonic stem cell therapy aimed at spinal cord injuries has captured the imagination of investors. History should give them pause.

I've followed Geron off and on since the company went public. Hoover's reports that the IPO took place on July 31, 1996 at a price of $8 a share. 2 million shares were offered, with a total of 9.7 million shares outstanding after the IPO was completed. The result: a company with an $80 million market value and a pocket full of cash.

Today's market value of (plus or minus) $650 million might give the impression that early investors did well. Not quite.

In its 15th year as a public company, Geron doesn't yet have a viable product. In fact, the only thing the company has produced (in abundance) are newly minted shares. Shares outstanding now stand at around 100 million. Can you say DILUTION?!?

Just imagine buying shares at the IPO, holding the shares for 14 years, and realizing your stake is one-tenth the size and worth 20% less than you paid. Do they sell a drug for depression?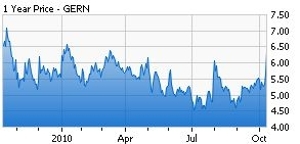 One doubts that yesterday's 12 percent gain is much consolation.
Geron is a science project. A pure speculation and the farthest thing from an investment. Nonetheless, investors periodically convince themselves that the company is finally on to something. First, it was going to cure cancer by inhibiting the growth of telomerase. Now it's stem cells and spinal cord injuries. Both capture the imagination, but have done nothing for investors.

Operating results? Well, in the last 8 years, the company generated $25 million in sales. At today's price, that's an "8 year trailing price-to-sales multiple" of 26.

During the Internet boom, I learned to be creative with my valuation metrics.

For the big numbers, you have to go to the bottom line. Over that same time frame (8 years), Geron has generated reported earnings of NEGATIVE $377 million. I'm sure free cash flow was better!

Suffice it to say, Geron's $100+ million cash balance and lack of debt isn't a result of anything approaching a profit. That pretty balance sheet is a tribute to gullible investors who continually gobble up GERN shares.

So forgive me if I'm not all that impressed that Geron is testing the "safety" of one of its products in Phase 1 trials. Testing the "effectiveness" of the treatment comes later. And all the while Geron will be burning cash.

Frankly, the treatment must succeed if Geron is to come close to justifying its current market value. While investors continue to wait, the company will continue to burn cash and issue stock to cover the losses. At least this formula has worked for the company.

For investors at nearly every stage of this company's life, it's been a long road, paved with mountains of stock certificates and tax losses.

At the very least the employees of Geron owe their shareholders a "thank you" note and a viable product.

In the meantime, my money is on GERN's investment bankers!

Disclosure: Author does not (and never has) owned GERN shares.