In its most recent quarterly report, offshore drilling contractor Seadrill (NYSE:SDRL) gave a rather sobering description of the current situation in the offshore drilling industry, particularly in the ultra-deepwater market. This description has been backed up by numerous Wall Street reports in which the authoring analysts are quite negative on the sector. This has seemingly been dragging on the stock prices of the sector, which have overall not been reflecting the overall performance of the underlying companies (because many companies have long-term contracts that would not be affected by short-term weakness). However, the future of the industry is much brighter than what the current lull in business would indicate and this may present an opportunity for investors.
First, we will take a few moments to discuss the observations that Seadrill made in its first quarter report. Seadrill notes that there are currently very few exploration projects taking place in the world's various deepwater and ultra-deepwater regions and what little activity is occurring is taking place in the so-called "Golden Triangle." This grouping consists of the three regions of Brazil, West Africa, and the U.S. Gulf of Mexico; three regions that have historically accounted for most of the industry's business. As most ultra-deepwater contracts are for exploration drilling, this low activity level means that there are a very limited number of contracts that are being awarded to those drilling contractors that have available rigs.
The reason that oil companies have decreased the number of exploration projects is because their cash flows have been constrained due to rapidly rising costs of productions. This is because producing oil from areas like North America's shale deposits requires the continual injection of cash in order for production companies to maintain their production levels. In addition, many of the larger oil companies return significant amounts of cash to their shareholders through either share buybacks or dividends. Cash that is returned to shareholders is cash that clearly cannot be spent to explore for oil.
Finally, Seadrill notes that those oil companies that do have cash available to spend on ultra-deepwater exploration are largely waiting until rig contracting dayrates bottom out before awarding contracts. This makes sense. After all, why contract an available rig now if it is likely to be cheaper to contract at some point in the near future? Seadrill does note though that it has been receiving an increased number of inquiries by these oil companies since the end of April or so, which could indicate that at least some exploration and production companies think that dayrates may be at their low point.
The long-term future of the ultra-deepwater drilling industry is quite strong, as I mentioned in the introduction. One of the reasons for this is that the production of oil in the world's ultra-deepwater environments is expected to accelerate rapidly between today and 2030. According to Rystad Energy, a leading consulting company to the oil services business, the world's production of liquids (mostly crude oil) from ultra-deepwater regions will grow at a compound annual growth rate of 1.3% over the 2012-2030 period.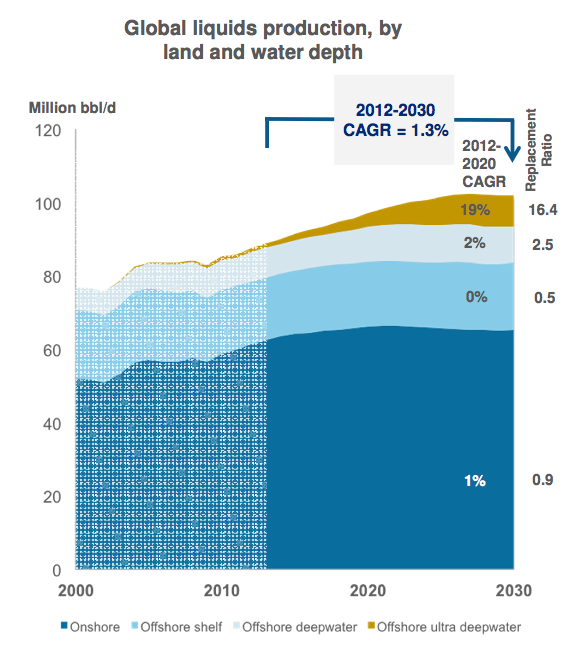 Source: Rystad Energy, Seadrill
This rate of production growth greatly exceeds the rate of liquids production growth from all other offshore environments. Although, with that said, all offshore environments are likely to see growing production going forward. This chart, also from Rystad Energy, shows the expected liquids production from the world's shallow-water, deepwater, and ultra-deepwater regions over the 1960-2040 period.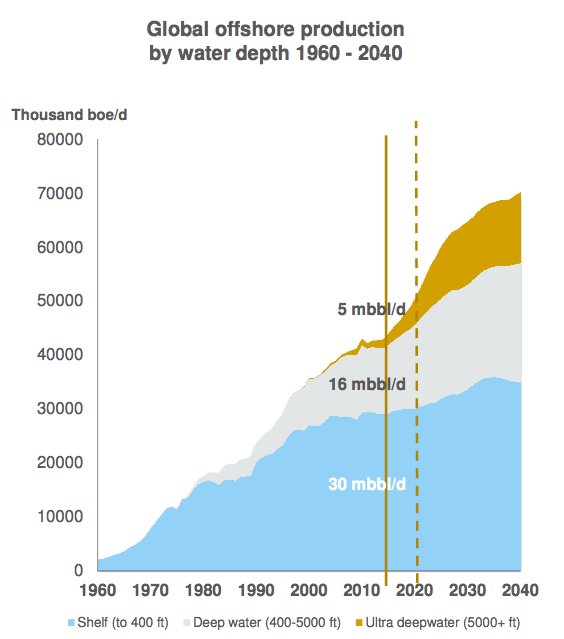 Source: Rystad Energy, Seadrill
There are reasons to believe that this growth story will play out. This is due to the sheer volume of resources that have been discovered offshore relative to onshore. Over the 2000-2012 period, a total of 485 billion barrels of oil equivalent was produced from all of the world's onshore oil fields. However, only 456 billion barrels of oil equivalent was discovered at all the various onshore sites around the world over the same time period. Thus, only 90% of the oil produced onshore has been replaced. This is, however, emphatically not the case with offshore deposits of oil. Over the same 2000-2012 period, a total of 227 billion barrels of oil equivalent was produced offshore from the shelf, deepwater, and ultra-deepwater environments in aggregate. Over the same period, a total of 239 billion barrels of oil equivalent has been discovered offshore. Thus, more oil was discovered offshore over the period than was produced.

Source: Rystad Energy, UCube, Seadrill
It thus appears that onshore oil may be in a depletion stage, forcing oil companies to move their operations offshore, which has been the only area where more oil has been discovered than extracted. Therefore, this may be a much more promising avenue of exploration as most of the largest discoveries over the past few years have also been located offshore. Also, note on the chart above that not enough oil was discovered in the world's shallow-water areas to replace all of the oil that was extracted from those areas. In fact, the only areas where more oil was discovered than produced were deep- and ultra-deepwater areas. In order to maintain their production and reserves, it seems likely that oil and gas companies will increase their exploration efforts in these environments going forward as they appear to hold the most promise.
In order to expand their exploration efforts into the world's deep- and ultra-deepwater areas, oil and gas companies are going to need to increase the number of rigs that they contract and use. In addition, those companies discussed earlier that have cash and are simply waiting for dayrates to bottom out will also hire rigs once they believe that prices are at their low point. These two factors will increase demand for ultra-deepwater rigs going forward. This increase in demand is likely to be strong enough to result in oil and gas companies wanting to contract more rigs than what exists today.
Unfortunately, for these oil companies, the current lull in business has resulted in offshore drilling contractors reducing their rig building activities. For example, there are currently seven ultra-deepwater rigs under construction that are scheduled to be completed in 2016 and only five ultra-deepwater, deepwater rigs that are scheduled to be completed in 2017. This compares to thirty ultra-deepwater rigs that were completed or are scheduled to be completed in 2014 and nineteen ultra-deepwater rigs that are scheduled for completion in 2015. Some of those reading this may note that there are still a large number of ultra-deepwater rigs coming online in 2014 and 2015. This is correct but keep in mind that it takes approximately two to three years to construct an ultra-deepwater floating rig. Thus, the large number of deliveries that are scheduled for this year and next are actually rigs that were ordered by the respective contractor over the 2011-2013 period when the offshore drilling industry was much stronger.
This long construction time allows for fairly accurate predictions of how many rigs will be in existence over the next few years. In addition, the shipyards that construct ultra-deepwater rigs can only construct a certain number of rigs over a given time frame due to capacity limitations. This allows for at least moderately accurate predictions of the world's total supply of rigs over the medium term. Over very long time periods, more shipyards could presumably be constructed or capacity at the world's existing shipyards could be expanded but this is not always practical. Therefore, there are definite limits on how rapidly the world's supply of rigs can expand.
There are no such limitations on the demand for ultra-deepwater rigs, save the money that oil and gas companies have to spend on exploration and development activities. Thus, it is easily possible for the demand for ultra-deepwater rigs to exceed the supply of such rigs. That is, in fact, exactly what is projected to happen as oil and gas companies increase their offshore activities.

Source: Rystad Energy, ODS Petrodata, Seadrill
As this chart shows, oil and gas producers are expected to demand the services of 455 ultra-deepwater rigs by 2020. However, the largest that the worldwide ultra-deepwater rig fleet will be by the end of 2016 is 340 units. That would mean that the industry would need to expand its fleet by more than 38 units per year in 2017, 2018, and 2019 to meet this demand and that is if we assume that there are no rigs retired over the period, which is unrealistic. That is a rate of construction much higher than anything achieved over the past decade.

Source: Rystad Energy, ODS Petrodata, Seadrill
This conclusion is further supported with projects from another industry-leading analytics firm, IHS-Petrodata. According to this firm, the demand for ultra-deepwater drilling rigs will exceed the supply of such rigs over the 2014-2016 period.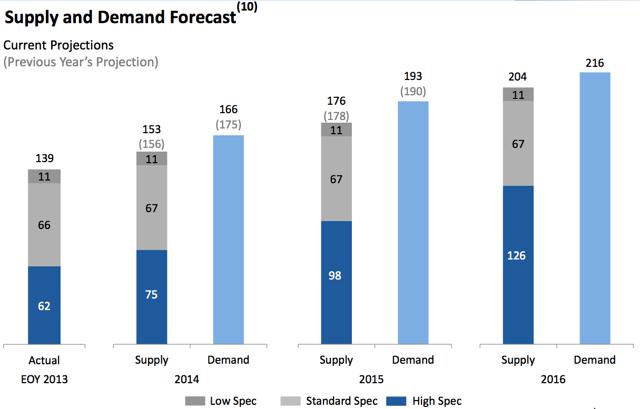 Source: IHS-Petrodata, Pacific Drilling (NYSE:PACD)
Some may point to the current lull in the industry as evidence that this chart is wrong due to it projecting a demand in excess of supply for the current year, but that is not the case. As I stated earlier, there are oil companies that are looking to contract ultra-deepwater rigs currently but are simply waiting until dayrates bottom. This still represents demand this year as these companies may begin to put these rigs under contract during the latter half of the year as dayrates decline.
There are reasons to assume that the demand projections above are somewhat accurate. This is because exploration projects, particularly ultra-deepwater ones, are very time-consuming projects just like building an ultra-deepwater rig is. For example, prior to even drilling an exploratory well, the oil company needs to both map the field and perform seismic surveys (and process this data). This is typically a two to three-year process. Thus, by looking at those companies performing this pre-exploration drilling work, a reasonable projection about future rig demand can be made. Of course, companies can always postpone contracting the actual rig that will perform the work, as some are doing now.
These trends are overall quite positive for the industry. This is because the demand for ultra-deepwater rigs being in excess of the supply of such rigs will eventually push dayrates up as exploration and production companies bid against each other to secure the drilling capacity that they need to achieve their goals. Furthermore, the only areas in which oil reserves are actually growing are offshore and, more specifically, are in the world's deep- and ultra-deepwater areas. Thus, these exploration and production companies will eventually have to expand offshore in order to maintain their reserves, providing continual upward pressure to demand. This ultimately provides support for higher dayrates, which results in higher profits for offshore drilling companies going forward.
Disclosure: The author is long SDRL, PACD. The author wrote this article themselves, and it expresses their own opinions. The author is not receiving compensation for it (other than from Seeking Alpha). The author has no business relationship with any company whose stock is mentioned in this article. The author has an established business relationship with a registered investment advisory firm whose clients may hold positions in any stocks mentioned. The author is personally long Seadrill and Pacific Drilling. No entities directly controlled or managed by the author have any positions in any stocks mentioned.