Kinder Morgan Energy Partners (NYSE:KMP) is the leading provider of natural gas pipeline transportation with natural gas accounting for 43% in its business mix. The rising demand and improved prices of natural gas has prompted KMP to substantially invest in and expand its natural gas assets. Moreover, the immense growth of U.S. natural gas production along with an increase in international demand further highlighted the growth prospects in the sector. Due to these efforts, the partnership is well prepared for the upcoming demand and is ready to reap the benefits. We believe natural gas segment will be a major growth driver for the partnership over the next few years and we will be focusing on this opportunity in this article.
Natural Gas Drives Future Growth
The industrial and electric power industry in the U.S. is shifting its focus from the conventional coal-fired power generation methods towards the latest environmental friendly and cost-effective natural gas power generation. According to EIA's Annual Energy Outlook, total natural gas consumption in the U.S. is estimated to grow from 25.6 trillion cubic feet [Tcf] in 2012 to 31.6 Tcf by 2040. According to the Interstate Natural Gas Association of America, U.S. companies need to build more than $600 billion of pipeline, storage and related equipment during the next 20 years. Almost every industry in the U.S. will increase its natural gas consumption in the coming years except residential sector, which will face a downtrend due to increased residential appliances efficiency and population shifts to warmer regions of the country, reducing residential natural gas demand.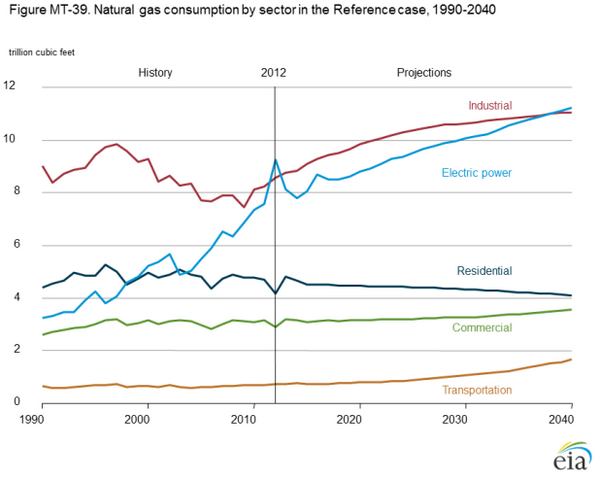 Source: EIA Annual Energy Outlook, 2014
However, natural gas consumption in the industrial sector is estimated to increase by 2.5 Tcf with an average increase of 1% each year. Power generation sector will also see an increase of natural gas consumption by about 2 Tcf, which accounts for 33% increase of the total natural gas consumption by 2040. Moreover, phasing out of the coal-fired power generation methods due to strict regulatory environment and age-related deterioration has also prompted the power generation sector to opt for natural gas. Further, electricity generation from natural gas accounted for merely 15% of the total production in 1998, which is expected to increase by over 40% of the total U.S. electricity generation by 2020. The growth in demand of natural gas in electric power and industrial sectors will result in upward pressures on prices, particularly during 2015-18, which increases the energy sector profitability margins in the coming years.
KMP, with its natural gas assets, is well-positioned to benefit from the rising natural gas demand in the coming years. The partnership has an extensive natural gas pipeline network across the U.S., and has a huge backlog of more than $15 billion worth of upcoming natural gas pipelines expansion projects. Since last year, KMP has entered into new firm transport capacity commitments for 2.3 Bcf/d, with majority of this capacity expected to come online between 2014 and 2017. Moreover, a significant portion of this capacity is to transport natural gas from Marcellus and Utica shale plays to growing demand centers on the Gulf Coast and the gas-hungry petrochemical industry. Further, the partnership can benefit from the huge potential growth in Mexico where the total growth is projected to be up by 2.1 Bcf/d by 2025. The increased demand is mainly due to the increased power generation demand growth in Samalayuca laterals and Sierrita which will benefit the available and planned capacity additions in the KMP assets.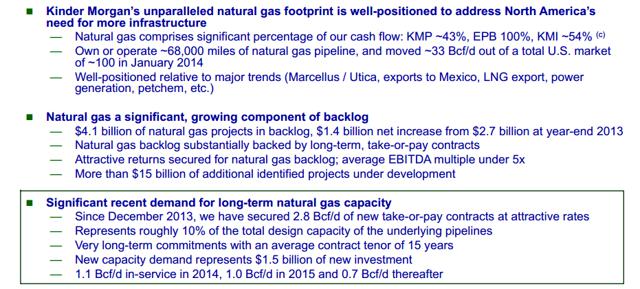 Source: JPMorgan 3Rd Annual Energy Infrastructure Corporate Access Day
KMP has distributed approximately $46 billion of growth capital investment under its asset umbrella, amongst which natural gas pipeline holds the largest share with $24.2 billion. This investment will enable the partnership to expand its assets under its four major regions including East, West, Central and Midstream. The partnership has a current backlog of around $16.4 billion with more than $15 billion of additional amount of potential growth opportunity is currently under development.
Moreover, the growing global demand of liquefied natural gas [LNG] also leaves KMP in a very advantageous position. Recently, KMP announced the expansion of its contract for an additional product tanker with an increased cargo capacity of 330,000 barrels with General Dynamics NASSCO. This petroleum product cargo carrier is expected to be delivered by the second quarter of 2017 and could also be converted to carry liquefied natural gas. KMP already has five similar carriers in its fleet along with four others which are under construction at NASSCO manufacturing facility. Moreover, KMP anticipates increased future demand to move petroleum products via water channels which will provide stable, fee-based cash flows to the partnership through long term contracts with major oil producers in the coming years.
Conclusion
The partnership is working to add to its already impressive natural gas pipeline footprint. The growth in natural gas consumption will be massive over the next few years due to the increased demand from the industrial sector. Furthermore, the fee-based assets will ensure the increase in cash flows. KMP unitholders will be able to benefit from the growth as most of this cash will be distributed to its shareholders. We believe natural gas will be huge growth driver for the partnership, and it will further strengthen KMP's position in the sector.
Additional Disclosure: This article is for educational purposes only and it should not be taken as an investment recommendation. Investing in stock markets involves a number of risks and readers/investors are encouraged to do their own due diligence and familiarize themselves with the risks involved.
Disclosure: The author has no positions in any stocks mentioned, and no plans to initiate any positions within the next 72 hours. The author wrote this article themselves, and it expresses their own opinions. The author is not receiving compensation for it (other than from Seeking Alpha). The author has no business relationship with any company whose stock is mentioned in this article.