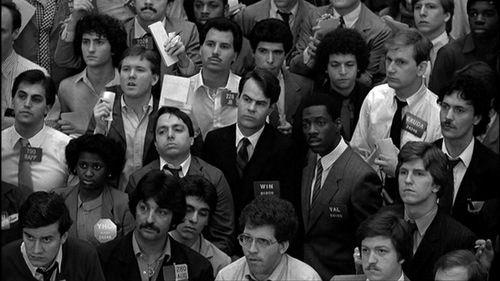 Molycorp Inc. (MCP) was down nearly 12% in pre-market trading, and down $0.23 to $2.34 per share (nearly 9%) mid-day on trading volume of 7 million shares. Average trading volume is about 5 million shares per day. Some may have attributed the drop to the article titled, Molycorp Is Worth 1.60 Per Share , which attempted to value the company based on [i] tangible GAAP book value, less [ii] the amount in which the company is currently under-capitalized. The article drew the ire of some longs who accused me of not having the purest of intentions:
The time your article came out, and the minimal volume in pre-market today is very possibly manipulated by you considering the lack of any real buyer/sellers. Yes, I have a suspicion you have nefarious intentions for this stock considering how much you post, the fact that you pay to post, and the obvious timing issues I stated below.
The fact is, I have been discussing the issues with the stock for some time now. This morning's article was the first time I put them all in one place. Below is my valuation of the company: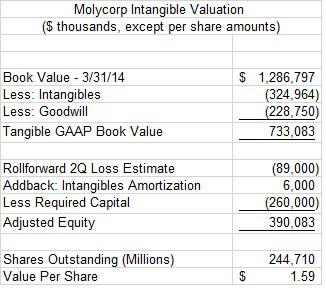 My interpretation of today's down day is as follows:
Molycorp's True Book Value
Since the company has been losing money for a while now, it is difficult to value Molycorp based on earnings. I started with the company's GAAP equity. Since its goodwill and intangibles are worthless, tangible GAAP book value is a better starting point for a valuation. Tangible book value of $733 million versus reported book value of $1.3 billion sort of drives the point home that Molycorp is worth a lot less than investors first thought.
Capital Hole of $260 Million
To sustain itself, I estimate that the company needs about six quarters of "run-rate" cash out flows or $360 million. That said, I believe Molycorp needs to raise about $260 million to ensure it does not have to return to shareholders again for more capital. Molycorp's competitor, Lynas Corporation (OTCPK:LYSDY), has also had to raise capital amid declining rare earth prices and operating losses. If the company raises capital by 3Q 2014, it will have been its third capital raise in less than two years. Given its capital shortfall, Molycorp is worth about $1.60 per share. Why would investors pay $2.57 per share (where the shares closed on Tuesday) today for a stock actually worth $1.60 per share?
Potential Dilution
The $1.60 per share valuation does not account for the dilution that will occur if the company raises fresh capital by issuing new shares. By holding onto your shares today, the company may or may not complete a turnaround successful enough to give investors a return on their capital. However, one thing is for certain, investors' shares will be diluted in any pending capital raise. At least if you bought Lynas at $0.13 per share today, you know what it's worth post-dilution. If you believe in Molycorp's stock and the story, it may be best to sell your shares today and buy them back at a lower price post-dilution.
Conclusion
The stock is down nearly 9% mid-day because investors are beginning to account for Molycorp's intrinsic value given its capital hole, and the potential for dilution from any capital raise. I advise investors to avoid the stock and wait for a more attractive entry point.
Disclosure: The author is short MCP. The author wrote this article themselves, and it expresses their own opinions. The author is not receiving compensation for it (other than from Seeking Alpha). The author has no business relationship with any company whose stock is mentioned in this article.