ITT Corp. (NYSE:ITT) is a manufacturer of highly engineered critical components and customized technology solutions for the energy, transportation and industrial markets. It is headquartered in White Plains, NJ and was founded in 1920.
ITT has a balanced and diversified business mix and is geographically well represented. It currently drives approximately 30% of revenue from emerging markets.
At a current price of $48/share, ITT looks to be attractively valued and is poised to deliver above average total returns long term.
The stock is in a solid uptrend now. It may be a touch overbought in the $48/share area, but still worthy of investment.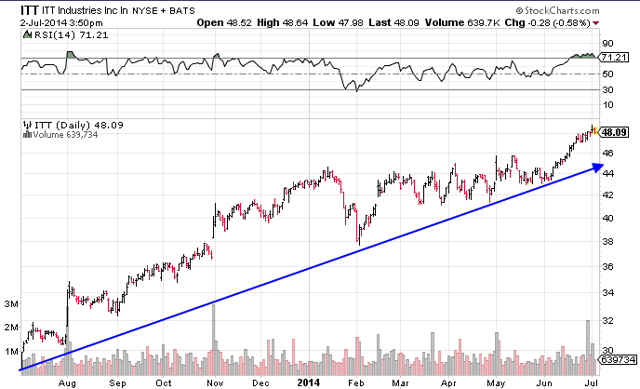 Let's look at the fundamentals. For comparison purposes, we will compare to Flowserve (NYSE:FLS) and IDEX (NYSE:IEX), both which operate in similar spaces.
Growth: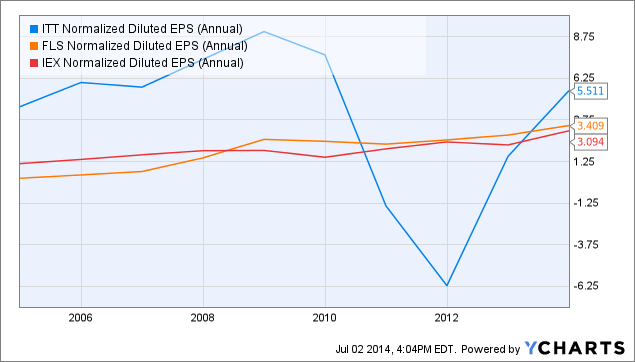 ITT Normalized Diluted EPS (Annual) data by YCharts
All three companies have grown their earnings over the past 10 years. In 2011, ITT spun off its defense and water businesses, resulting in the earnings volatility.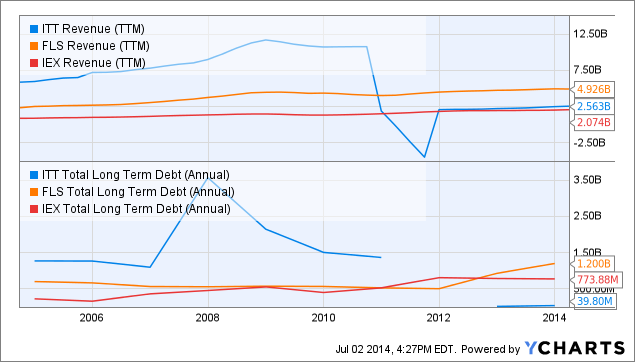 ITT Revenue (TTM) data by YCharts
Revenues for all three companies have been increasing for all three (minus spinoff), and long-term debt for ITT has been decreasing.
Valuation: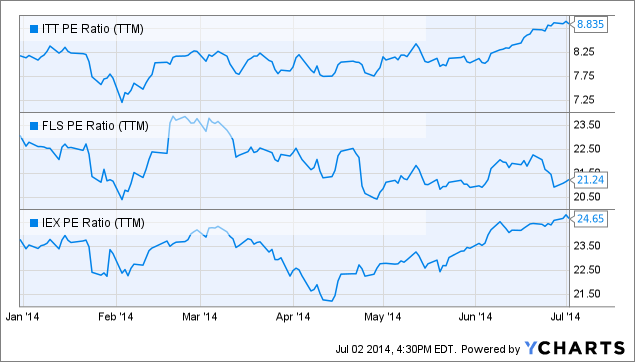 ITT PE Ratio (TTM) data by YCharts
ITT currently has a Trailing Twelve PE of 8.8, compared to 21 and 24.6 for FLS and IEX.
As shown below, ITT has a price to sales ratio of 1.73, well below IEX and FLS.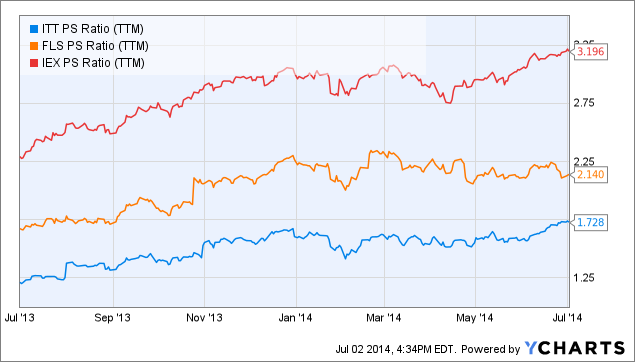 ITT PS Ratio (TTM) data by YCharts
Other meaningful comparisons (source Fidelity.com):
Forward EPS Growth Projections (3-5 yrs):
ITT: 13.43%
IEX: 15.00%
FLS: 14.20%
Operating Margin (Trailing Twelve) - All three are now higher than their 5-year average
ITT: 10.16%
IEX: 20.01%
FLS: 14.82%
Return on Sales (Trailing Twelve)
ITT: 19.58%
IEX: 12.95%
FLS: 10.06%
Return on Investment (Trailing Twelve)
ITT: 45.17%
IEX:10.87%
FLS: 16.54%
Return on Equity (Trailing Twelve)
ITT: 47.63%
IEX: 17.35%
FLS: 27.35%
Total Debt/Equity (Trailing Twelve)
ITT: 5.10%
IEX: 50.97%
FLS: 63.86%
Dividend Yield:
ITT: .91%
IEX: 1.38%
FLS: .86%
ITT and IEX both increased their cash holdings year over year by 7.3% and 34.4% respectively. FLS decreased their cash by 2.96%.
Currently, ITT has approximately $6.32 per share in cash.
On a technical basis, ITT stock price looks strong. Relative strength is good and it is above its 50- and 200-day SMA. A pullback to around $47/share at the 25-day EMA would be a solid entry point for long-term investors.
The margins are solid and have been improving, and ITT is trading at a more attractive valuation than its direct competitors. It is low in debt and has a slowly growing cash balance.
Using a DCF analysis, 12% earnings growth (forecasts are for 13.43%) and a 10% benchmark investment, we have a current value of $52.66, which is about 9% above the current price.
The risks are a widescale market sell off, and an overall slowdown in the global economy, specifically the emerging markets. Additionally, rising interest rates usually hurt industrial companies as this sector is normally capital intensive and economically sensitive. ITT has less debt than others, but will not be immune to a sector sell-off.
In summary, ITT is trading at a reasonable if not slightly undervalued price, has a solid balance sheet, and growing margins. The forecasted earnings growth rates are double digits and if they can deliver, a stock price of $47-$48 is an attractive entry point for patient investors.
Disclosure: The author has no positions in any stocks mentioned, and no plans to initiate any positions within the next 72 hours. The author wrote this article themselves, and it expresses their own opinions. The author is not receiving compensation for it (other than from Seeking Alpha). The author has no business relationship with any company whose stock is mentioned in this article.
Additional disclosure: In addition to writing for Seeking Alpha, the author also owns a discretionary money management firm, and clients may or may not own the mentioned stocks at any given time. The author has no intention of trading on any of the mentioned stocks in his own or in clients accounts over the next 72 hours as a result of this article.