The fastest growing smartphone markets worldwide are the countries often referred to as BRICS -- Brazil, Russia, India and China. The success of all vendors for the next decade essentially depends on their success in these markets.
There is plenty of evidence that Android OS devices hold the lion's share of these key markets, as illustrated by this chart from MixPanel from February 2014. Android held 74% of the market in Brazil and Russia; 72% in India and 68% in China. There seems little doubt that Android devices will continue to benefit from the surging growth in BRICS markets for smartphones.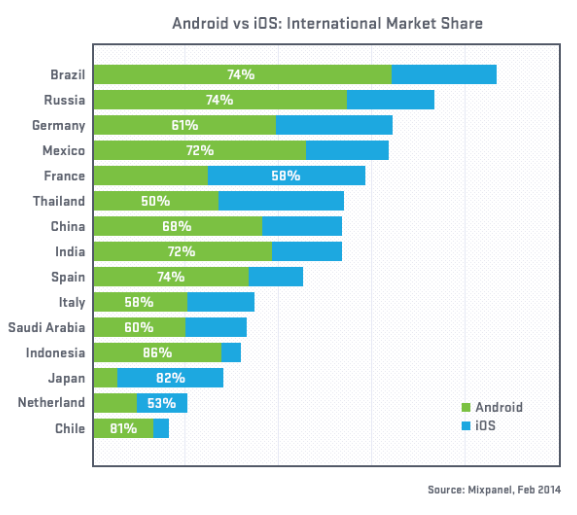 The relentless surge of Android has not only put pressure on Apple (NASDAQ:AAPL) but also relegated alternatives to the Android-iOS hegemony to a tiny fraction of the market where BlackBerry (BBRY), Windows OS, Samsung's (OTC:SSNLF) Tizen OS, and Firefox OS struggle to carve out enough volume to be relevant. It is an interesting space to watch if you want to speculate on whether any of those operating systems can climb high enough up the food chain to mount a credible challenge to either Android or iOS, and at first blush it would seem unlikely that any will or could succeed.
Regardless, BRIC countries make up the growth segments in my view. Apple needs success in each to meet investor expectations for future growth.
Brazil
About 21 million smartphones were sold in Brazil in 2013, and most expect this number to exceed. In Brazil, Windows OS phones are showing real traction. Sharing virtual non-existence with BlackBerry in Brazil as recently as the fall of 2013, Windows phones have surged to a 6% market share in Brazil in the fourth quarter of 2013, according to IDC data, displacing both the iPhone and most of what little share BlackBerry held in 2012.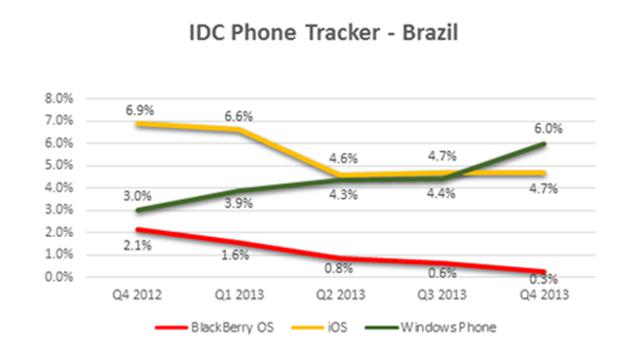 Source: WM Power User
Apple countered the foray by Microsoft (NASDAQ:MSFT) by selling deeply discounted iPhone 4S units into the Brazilian market in early 2014, but it is too early to see whether this effort will halt or even materially slow the growth of Windows phone in Brazil.
Russia
Russia has not been a major market for the iPhone, which held about an 8% share of market in 2012 while Samsung surged to over 42%.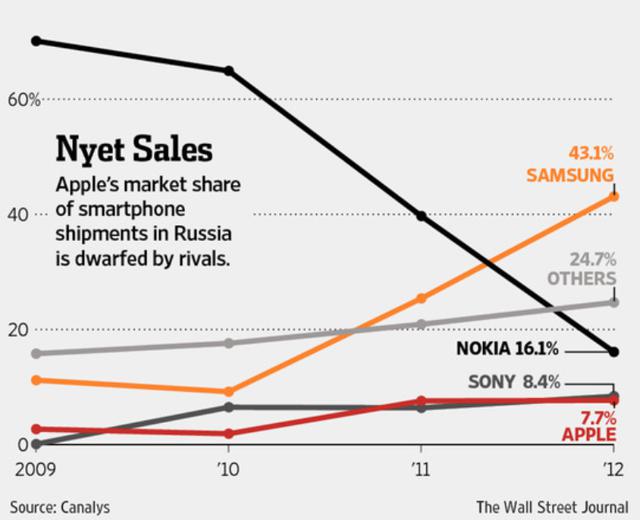 Source: Wall Street Journal
Russia comprised a 17.5 million unit market for smartphones in 2013 and may well grow to 25 million or more this year. Apple reportedly doubled iPhone sales in Russia in 2013 to 1.6 million units, although the bulk of these sales were highly discounted iPhone 4 and 4S models.
India
Smartphone sales in India in the first calendar quarter of 2014 totaled 14.5 million units, up 219% from last year.

Source: CyberMedia Research
Samsung holds 39% of the smartphone market in India, followed by Micromax with 19%, Karbonn with 7%, Lava at 6%, Nokia at 5%, and the iPhone with 2%. With India on track to make up a market of 50 million to 60 million smartphones in 2014, Apple's 2% to 3% share suggests sales for the iPhone will be less than 1,800,000 units -- important but not enough to make a meal out of with Apple's worldwide iPhone sales in the 40 million range quarterly.
China
The real key to Apple's success in the BRIC countries has to be China. Now the world's largest smartphone market with IDC estimating unit sales of 420 million this year, success in the Chinese market may be make or break for both Apple and Samsung, neither of whom can really afford to see volumes of their high-end phones fall by tens of millions over the next year or two.
One headwind they both face is an apparent move by the Chinese authorities to force the carriers to cut back on subsidies. The cut in subsidies might hurt, but Apple is by no means backing off in China, but rather is planning to triple the number of retail outlets it operates in the country within two years. Apple says it already has 40,000 points of sale for iPhones in China.
Apple's real foe in the China market may be upstart Xiaomi, which is surging ahead in share and volume. China Mobile's April report for new users on its network tagged Xiaomi as the lead at 1.75 million units, Samsung in fifth place with 1.29 million units, and Apple's iPhone back in 11 with sales of 297,000 units.
Xiaomi reported its first half 2014 unit sales were 26.1 million smartphones, up 271% from 2013. Xiaomi is also targeting foreign markets including Russia, India and Indonesia.
Apple can't really afford to fail in China and I expect will pull out all of the stops to ensure its presence is felt.
Summary
Investors have bid up the price of Apple stock substantially since it released results for its March quarter, which showed a 5% year-over-year increase in sales and a 3% year-over-year increase in net income. The enthusiasm seems to have been rooted more in aggressive moves to buy back stock, hike the dividend, and split the stock seven for one.
The inescapable fact is that Apple's growth in revenue, profit and net income has pretty well stalled.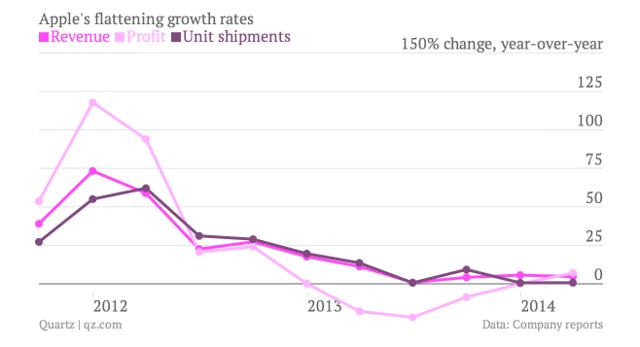 Source: Quartz.com
The latest Kantar data show that iPhone market share dropped over 9 percentage points in May in both the United States and China in the month of May 2014 from May 2013.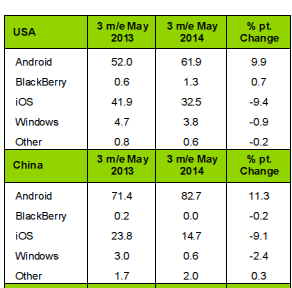 Source: Kantar Worldpanel
No doubt much of the share loss reflects the lull that always precedes the launch of a new device with users deferring their purchases to await what they see coming. Nonetheless, the United States and China made up over half of Apple's revenues in its second quarter and are vital markets for its future success.
The loss of 20% to 30% of unit volume for a single month in these markets translates into a million or two million less iPhones sales, and whatever volume is lost in May will have to be made up in later quarters for Apple to meet is goals. If customers are deferring sales to await the new iPhones, Apple volumes through the summer could look pretty bleak.
To sustain the recent market momentum for its stock, Apple needs to demonstrate an ability to grow. That growth could be hard to come by if the current indicators are any guide. If it does come, it can only come from a larger share of the burgeoning BRIC markets, because that is where the industry growth is taking place.
While the BRIC countries may be the next wave of growth for the smartphone industry, they are unlikely to contribute a lot of growth for Apple. Apple's annual iPhone volume was 151 million units last year, and forecasts for its fiscal 2014 are in the 170 million range. By my estimation, iPhone sales in BRIC countries this year for Apple could be somewhere around 43 million units.
Brazil- 1.5 million
Russia - 1.8 million
India - 1.8 million
China - 37.8 million
While these forecast sales show growth, they are unlikely to offset slowing demand in America and Europe, and if Chinese demand falters, the outcome could be punishing for Apple shareholders.
I am short the stock.
Disclosure: The author is short AAPL. The author wrote this article themselves, and it expresses their own opinions. The author is not receiving compensation for it (other than from Seeking Alpha). The author has no business relationship with any company whose stock is mentioned in this article.
Additional disclosure: I am long BlackBerry calls.