Below is an article in what we hope will become a regular series of interviews of our App Providers - the companies and people that develop the amazing stock market Apps on the App Platform we launched last week.
In this series, we'll get App Providers to describe their applications in their own words, tell us which aspects of their apps they're most enthusiastic about, and share some of their future plans. Please use the comment stream below to share your own experiences with the featured App, and feel free to suggest to the Providers any improvements or changes you'd like to see (or write a review!)
Our first interview is with Carlos Diez of MarketGrader - whose App, "renders complex financial reports into measurable grades to help you find the top stocks in the best performing industries."
Note: Our App Platform team has arranged a 30% discount for anyone who subscribes to MarketGrader this week. Use coupon code MarketG30off.
And now, the interview:
Tell us a little about your "Stock of the Day" feature. How are stocks selected?
Our Stock of the Day selection is based on our sentiment indicator, which was designed to help investors track factors that affect the demand and supply for a company's shares irrespective of its underlying fundamentals.
In today's rapidly changing market, stocks are often moved by factors and events outside of a company's control. These could be sector or industry related, or they could be based on the behavior of large institutional investors or traders or on market rumors.
Our sentiment indicator follows some of these changes - alerting our clients and helping them navigate volatile markets in the short term. Stock of the Day, in particular, is one of the ten stocks in MarketGrader with the most improved sentiment in the last four weeks, which we have found to be a good predictor of short-term price performance. Together, these top ten stocks make up our 'Movers & Shakers' list, which is available in our free app, and is updated daily.
Can a short pick qualify for a Stock of the Day?
The Stock of the Day is based only on companies with improving sentiment and therefore, will not include short picks. However, our 'Movers & Shakers' list does show short candidates based on stocks with declining sentiment. These are stocks with the biggest drops in sentiment over the last four weeks.
Do you follow up Stock of the Day picks during the following days, weeks and months?
Our Stock of the Day is never re-issued within a two-week period from the day it was first highlighted in the MarketGrader app. However investors may track the performance of each one by clicking on the 'Top Down' analysis page in the MarketGrader Premium app, entering the ticker and looking at the two year grade and sentiment history chart, where we show how our Fundamental rating and our sentiment rating have performed during that time.
(Click all images to enlarge)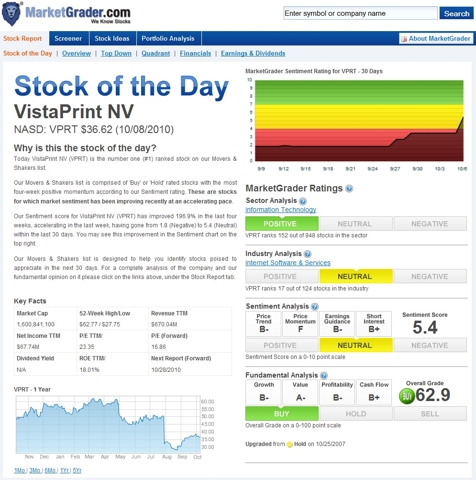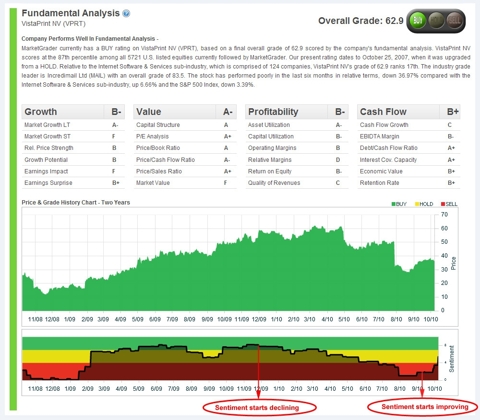 A recent example of a Stock of the Day that has been profitable for our clients is Syngenta AG (NYSE:SYT). The stock's Sentiment score started climbing on July 31, jumping overnight from 3.56 to 3.67. Although this may seem like a small increase, it was just the beginning of a bigger climb. By the time MarketGrader highlighted SYT as the Stock of the Day, on August 26th, its Sentiment score had increased 53% to 5.45, having moved from 'Negative' to 'Neutral.' The night before the stock had closed at $45.37. Today (10/14/10), the stock's Sentiment score is 6.72, less than three tenths of a point from having a 'Positive' Sentiment rating, and the stock closed at $57.25. This represents a 26% increase since it was named the Stock of the Day.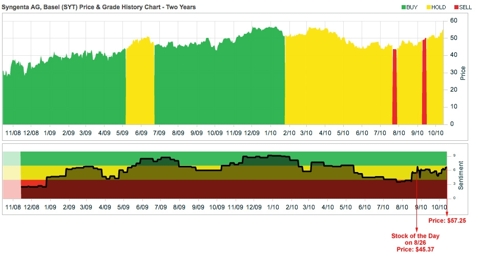 Your Stock Screener seems to have a robust set of parameters. How does it differ from other stock screeners? Are there any filters in MarketGrader's stock screener that cannot be found anywhere else?
Our Stock Screener is indeed quite robust; it is modeled on our Fundamental Analysis indicators, which determine our individual stock ratings. Under the fundamental filters our clients may find the same variables and numbers used in our own analysis across our Growth, Value, Profitability and Cash Flow indicator categories.
Our own indicators, across our Top Down and Bottom Up analyses, can be used as filters themselves, making our Screener very different from others. For example, a user may search for stocks with a MarketGrader Overall Balanced Grade between 60 and 100, Positive Sentiment, more than $5 billion in cash on hand, and dividend yield above 3%, as illustrated nearby. The options are nearly endless.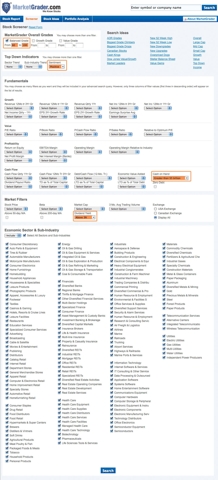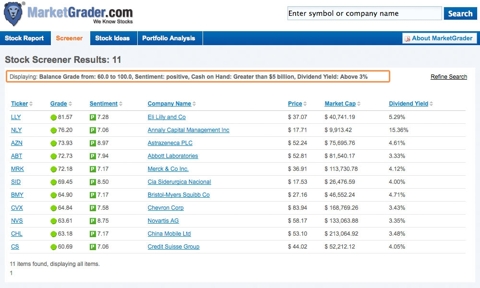 Our Screener includes a list of pre-built 'Search Ideas,' which are updated every morning. This is a good place to find overlooked opportunities for traders or investors both on the long and short side. Stocks with improving and declining sentiment, such as those featured in our 'Movers & Shakers' list, are found here as well as companies with improving and declining fundamentals.
Give us an example of a time when a well-designed stock screen helped you to find a 'diamond in the rough.'
An example of a good short-term opportunity found among our stocks with improving sentiment was 3Par (NYSE:PAR), which was recently the subject of a much-publicized bidding war between Hewlett-Packard (NYSE:HPQ) and Dell (NASDAQ:DELL). While the stock had been trading in a tight range around $9.00 to $9.50 a share since the beginning of the year, right until it was first put in play on August 16th when Dell announced its intention to buy the company for $18 a share, our sentiment indicator started rising as early as one month before.
MarketGrader's sentiment indicator first jumped from 3.89 to 4.17, in the process moving from Negative to Neutral. On July 24th it jumped again to 5.28, where it remained until July 31st when it increased to 5.70. And on August 7th, our sentiment indicator score for PAR increased again to 6.42, followed by yet another increase to 6.64 on August 14th, two days before Dell's initial announcement.
Thus, our sentiment rating improved by 65% from the moment it started climbing, following a long period of stagnation, until the day Dell announced it was acquiring the company for almost twice as much as what it had been trading. As HPQ and DELL continued to outbid each other, our Sentiment indicator continued to climb all the way to 8.28, when HPQ finally won the bidding, agreeing to pay $33 per share. When all was said and done, PAR had risen 254% from the moment our sentiment indicator started rising. The chronology of 3Par's sentiment improvement can be seen in the chart nearby.

How does your Improving/Declining Sentiment stock idea generator work - that is, how do you measure sentiment?
MarketGrader's sentiment indicator is based on four individual indicators designed to anticipate the behavior of a stock in the short term, mainly by measuring factors that affect supply and demand for a company's shares.
The first indicator, called 'Price Trend,' uses technical analysis in order to determine if the stock is in a positive or negative price trend, through the use of moving averages, emphasizing recent prices over older ones.
The second indicator, called 'Price Momentum,' combines a measure of the stock's underlying price trend with a relative strength rank of all the stocks followed by MarketGrader. For example, an investor may find a stock whose price is moving in a positive direction, or positive trend, within the context of an overall bullish market. The stock's positive trend may not be as strong as that of other stocks moving with higher conviction, earning it a poor relative rank despite a positive trend.
The third sentiment indicator, called 'Earnings Guidance,' tracks the rate at which a company's estimates are collectively adjusted by the Street, up or down, as economic conditions change or as the company issues guidance ahead of its official releases.
The last indicator, called 'Short Interest,' is the one that most closely tracks the actual supply and demand for a company's shares, and it tracks ongoing changes and trends in short interest as a percentage of float.
Is the general idea that one should be buying stocks with improving sentiment and selling stocks with declining sentiment - or is this tool best used as a contrarian indicator?
The idea behind our Sentiment indicator is to buy the stocks with improving sentiment and sell those with declining sentiment, or at least be aware of underlying sentiment within the context of a given fundamental rating.
An investor focused on 'Buy' rated stocks, who is also concerned about short term volatility, may want to use the sentiment indicator to identify good entry points or to take profits from stocks that have had a good run and might be running out of steam.
Besides our 'Movers & Shakers,' our 'Stock Ideas' page includes a list designed for investors, which helps them identify companies undergoing fundamental changes that are likely to affect the stock in the medium to long term. This 'Changing Fundamentals' list works similarly to our 'Movers & Shakers', but it is based on MarketGrader's overall grade.
We track changes to every company's grade every day and calculate the speed at which the changes are taking place in a four week span and list the companies with the biggest improvements or declines on our 'Stock Ideas' page. While many of the companies in the 'Improving Fundamentals' list may have a 'Sell' rating, the goal is to identify overall fundamental improvements, or turnarounds, early enough to have plenty of upside as the company continues to report improving financials.
Conversely, the list of companies with 'Declining Fundamentals' will include 'Buy' rated companies that may be seeing a deterioration in their business and are starting to suffer from declining fortunes, helping investors identify them early enough to pare back their exposure or sell them altogether.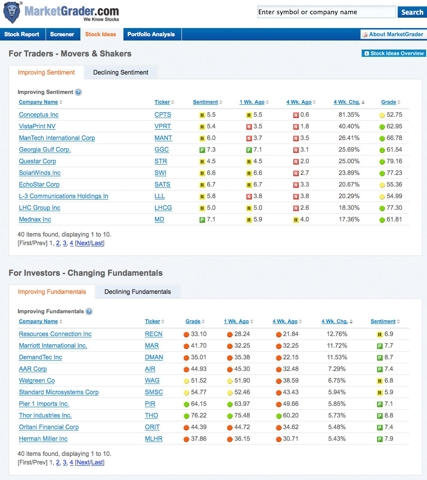 Your portfolio tool looks interesting. I notice it pulls my portfolio straight from my Seeking Alpha account, and gives it a grade. How can I measure my portfolio (which scored 56.27) against those of other MarketGrader subscribers; put differently, how can I objectively know if my score is any good? Is it possible to grade more than one portfolio?
The grade assigned by the MarketGrader App to your portfolio is based on the average of all the underlying components. It provides you with a quick snapshot of its overall fundamental quality, as well as the overall sentiment across all your holdings. While the App doesn't yet allow you to compare your portfolio's grade against those of other investors, this is a very interesting idea, which we'll likely develop soon. The same goes for grading multiple portfolios, which the current app doesn't support. The Portfolio Analysis, in general, offers plenty of room for growth from a development standpoint. For example, in the works is an alerting system that will allow clients to set up MarketGrader alerts, based on our own indicators, grades, ratings and signals to track their portfolio holdings.
Your company description is 'We Know Stocks.' How did your knowledge of stocks impact the design of your application?
We think it's important to recognize that no matter how experienced you are or how proficient at analyzing stocks, whether you are a professional or an individual trader or investor, it's impossible to keep track of the entire stock market effectively in a way that is cost efficient.
There are too many companies reporting too many numbers, and too many stories affecting stocks every single day. At MarketGrader, it is no different. There isn't one single person that can claim to know everything there is to know about stocks. This is why the MarketGrader system was designed. To help investors understand the stocks they own or follow intelligently and efficiently.
Since the system isn't dependent on analysts or research teams, and since it crunches thousands of numbers every day, it has a unique perspective on all the companies it follows and on the market in general. This system is at the service of our clients, so that they can have the tools they need to follow the market and the companies they own. So, essentially, what we mean by 'We Know Stocks' is that, through MarketGrader, 'You Know Stocks.' You have the tools within your reach to make smart investing decisions. MarketGrader is your research team.
What is your favorite MarketGrader tool - the one that stands out among all others?
My favorite MarketGrader tool is the Fundamental Quadrant™ because it presents a large amount of information in a simple and elegant format. When you first land on the Quadrant you're able to see, at a glance, the fundamental health of the company you're analyzing before you even start drilling down to the numbers, grades and indicators.
You may see, for example, if a company is very strong in 'Growth' but very weak in 'Value,' making you wonder whether the growth story is already baked into the stock price. You can then click on the 'Value' quadrant and read about the company's valuation relative to its fundamentals and to the rate at which its earnings are growing. This is just one example; the Quadrant is a very helpful tool to help you identify companies' strengths and weaknesses very quickly, saving you time, and pointing you in the right direction for further analysis.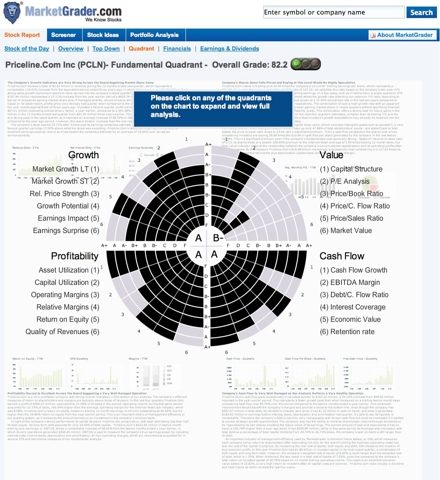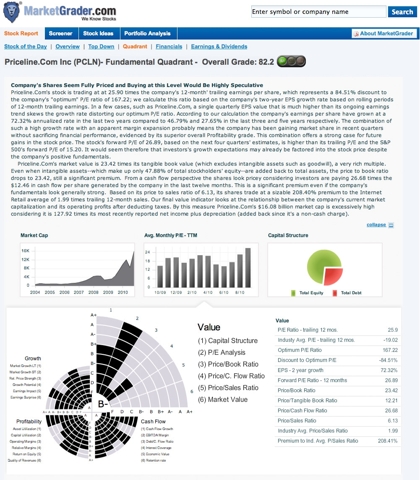 Thanks Carlos, that was great!
Have any thoughts, suggestions, or comments for Carlos and his team? Tell them, and other SA readers, what you think in the comment stream.