I regularly screen for high ROA (ROA > 15%, the closest screenable metric on finviz.com to ROIC) businesses whose stocks have declined recently (price below 200 day simple moving average). Tim Hortons (THI) has been coming up on the screen for a while now and since I am somewhat familiar with the company, I've been meaning to take a look at it.
Tim Hortons is one of the largest quick service restaurant chains in North America, with its most significant presence and roots in Canada. The menu consists mostly of breakfast and lunch foods and centers on coffee, but includes the following as provided by the company:
premium blend coffee, espresso-based hot and cold specialty drinks (including lattes, cappuccinos and espresso shots), iced cappuccinos, specialty and steeped teas, cold beverages, fruit smoothies, home-style soups, chili, grilled Panini and classic sandwiches, wraps, yogurt and berries, oatmeal, breakfast sandwiches and wraps, and fresh baked goods, including donuts, Timbits®, bagels, muffins, cookies, croissants, Danishes, pastries and more.
The business has a pretty interesting history that includes being founded by a Canadian hockey player in the 1960s and spun off by Wendy's (NYSE:WEN) in 2006. Check out the Business section of the 10-K and this link if interested.
There are currently about 3600 Tim Hortons in Canada and 900 in the US, essentially all operated by franchisees but mostly owned at least in part by the company.
Positives
Personal Preference - I've never actually shopped at a Tim Hortons, but the company has an extensive presence in the Buffalo region where I attend school and my girlfriend loves the food and service. I pass several restaurants daily when I walk to class and they are always very busy. I am also aware of the customer loyalty program, Timbits, etc. and just find the brand and stores to be very engaging and customer-friendly. All else being equal, I'd much rather invest in a business I like as a consumer than one I don't.
Diversified Revenue Stream - I like that the company makes money in a variety of ways: distribution sales, franchise rent, royalty revenue, manufacturing income, and equity income. I maintain an extremely concentrated portfolio (2-3 positions), so I like to look for businesses that are handling the risk management aspect for me. It simplifies portfolio management a great deal.
Dominance in Canada - The company is the number one quick service chain in Canada and 'enjoy unparalleled market leadership, consumer reach and loyalty.' According to the K:
15% of Canadians over the age of 15 visit Tim Hortons at least once a day, and we command approximately 42% of traffic in the QSR sector.
This sort of lead brings with it all sorts of competitive advantages.
Small Format Stores - The company's restaurants average just 1000-3080 sq. ft. That's pretty tiny and lends itself to high returns on capital for both franchisees and the company, which brings me to my next point.
Strong ROIC - ROIC is the best quantitative metric of business quality in my opinion and THI sports a very high 22.3% after-tax by my calculations.
Somewhat Timely - I generally like to buy stocks at relative lows and from that view, THI stock looks pretty timely right in the middle of its 52 week range and below its 200 day simple moving average, especially for a company whose stock has appreciated pretty consistently over the long term.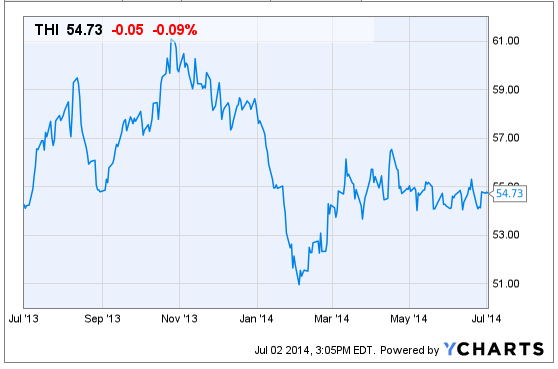 Strong LT Growth and Value Creation - Since 2007, FCF has grown 24% annually and EPS 12% annually. Since 2006, the stock has appreciated about 10.3% annually; that while also paying a dividend.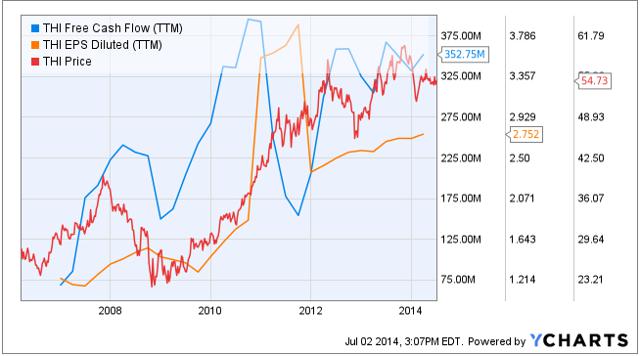 Shareholder-Friendly - The company pays a nifty dividend (2.1% yield currently) and repurchases a ton of stock ($1 billion of share repurchases between August 2013 and April 2014!). I've had good luck with companies that return lots of capital to shareholders.
Reasonable Compensation and Good Incentives - It seems to me that THI execs are paid a very reasonable amount and in a way that incentivizes performance. In 2013, over 70% of executive pay was contingent on performance and not guaranteed. The company also has share ownership requirements that extend down from the CEO to Vice Presidents:

Source: 2014 Proxy
Performance is based on EBIT which is slightly disappointing. I always like to see ROIC in there.
Decent Recent Performance - Many of the companies I look at are facing short-term operational headwinds but it seems like THI is doing okay. Comps were up a bit in Q1:

Source: Q1 Press Release
Growth in other metrics seems reasonable, and the focus of executive management seems to be on growing and improving rather than fixing.
Reasonable Price - By some metrics, THI looks a bit pricey, but I tend to think the stock is reasonably priced. It's not extremely cheap, but I wouldn't expect a fire sale price for a company of THI's quality. I calculated the following relevant valuation metrics:
20x LTM EPS
20.9x LTM FCF
9.1x LTM EBITDA
17.5x LTM after-tax return (EBITDA - Capex - CIWC)
16.9x 2014E EPS
15.2x 2015E EPS
The company is targeting $2B in cumulative FCF from 2015-2018. The stock trades for 14.7x a quarter of that. The company is also targeting 11-13% EPS growth over the next few years. Coupled with the 2.1% dividend and considering the high 22% ROIC, that seems to justify the above metrics.
History of Innovation - Much of the company's success as a market leader is owed to a focus on creativity and innovation such as 'Timbits,' double lane drive-thru ordering, and a credit card with buttons on it.
Secular Tailwinds - The company benefits from the secular shift to quick service & fast casual as well as continued growth in the coffee industry as the world moves at a faster and faster pace and humans require more and more caffeine to stay productive. There is a lot of truth to this quote by Syracuse University professor Bob Thompson:
You could say this nation runs on two dark liquids - petroleum and coffee.
Negatives
High Quality Competition - I would certainly consider THI a high quality company but I could just as easily say the same for the company's competition: Starbucks (NASDAQ:SBUX), McDonald's (NYSE:MCD), Dunkin Brands (NASDAQ:DNKN). SBUX and MCD are also capital-advantaged. This is especially problematic for THI considering how central US expansion is to the company's growth plans.
Heavy Debt Load - The company is heavily leveraged with $1.4B CAD in debt and capital leases outstanding most recently. The company is creditworthy though with investment grade credit ratings and a reasonable 5.5% weighted average cost of debt by my calculations.
Retail is Tough - I found myself saying the same thing in my last article but it is just as relevant here so I will repeat it:
I say this in all my articles on retail companies and I will never stop saying it. I lost 1/6 my capital late last year fooling around with an apparel retailer (NASDAQ:BODY) that quite literally went from having what appeared to be a very strong balance sheet (no bank debt, good amount of cash) one quarter, to warning of potential bankruptcy within 12 months the next quarter. The restaurant industry is probably less prone to changing customer preferences than apparel, but not much by much. It is just extremely difficult to differentiate, maintain success, and reverse failure in retail and that should never be forgotten.
This has increased importance for THI because it seems like much of the company's success is driven by how loyal its customers are and its brand strength. These are factors that can change and often do in retail.
Saturation in Canada - With the company eying expansion in the US and considering its already enormous market share in Canada, it stands to reason that the company may be nearing market saturation in Canada and have trouble deriving much more growth from the country.
Conclusion
Tim Hortons is a company I really like and I was generally impressed with what I found from research to this point. I did not find enough to rule out an investment but have other ideas on my plate right now and would like to see the stock a bit cheaper. I will have to give it more thought and see if shares move lower in the months ahead.
Disclosure: The author has no positions in any stocks mentioned, and no plans to initiate any positions within the next 72 hours. The author wrote this article themselves, and it expresses their own opinions. The author is not receiving compensation for it (other than from Seeking Alpha). The author has no business relationship with any company whose stock is mentioned in this article.