Late last month, Linn Energy (LINE) announced a major $2.3 billion transaction, where it would acquire 275 MMcfe/d of mostly natural gas production from Devon Energy (NYSE:DVN). The company plans to finance this deal via selling its Granite Wash assets, though it is using a short-term loan in the interim.
As I noted in a recent article, this acquisition marks a return to form for Linn Energy. The company had been mostly quiet on the acquisition front since the completion of its massive Berry merger, which faced a number of challenges mostly revolving around persistent short-attacks and the resulting low share price of sister stock LinnCo (LNCO).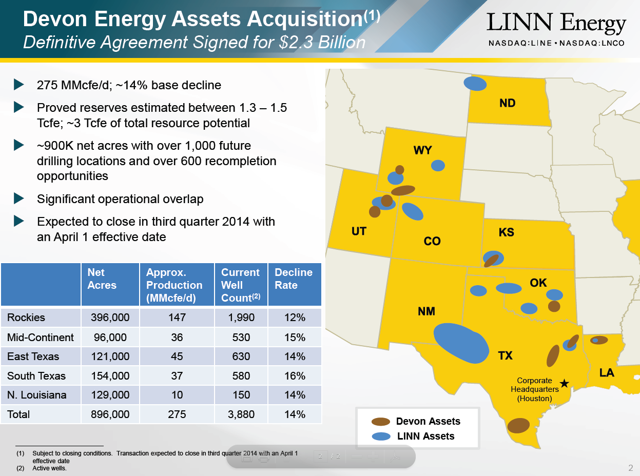 Who got the better deal? The analysts weigh in
The debate rages on as to who got the better deal here. Some firms believe Linn Energy stands to benefit, while others believe the company is overpaying for Devon's production. Below is a summary of those opinions.
Raymond James: A win-win for both companies
According to analysts Kevin Smith and Jeff Schmidt from Raymond James, Linn Energy stands to greatly de-risk its cash flows from the proposed transactions.
The firm does not believe that Linn Energy will need to tap the debt or equity markets to fund the transaction besides the already announced interim financing.
By essentially swapping its Granite Wash holdings for Devon's, the company should see its capital intensity decline, thanks to a much lower decline rate (14% versus 40%).
Furthermore, the firm argues that Linn Energy will benefit from lower maintenance capex, estimated to be only 20% of EBITDA versus 40% for the Granite Wash properties.
To summarize, the firm sees Linn Energy saving nearly $400 million per year as result of the swap, much of which should trickle down directly into DCF increases.
Wells Fargo: Devon got the better end of the stick
On the other hand, Wells Fargo's David Tameron thinks Devon got the better end of the bargain. From the Barron's recap:
…headline number ahead of expectations; the transaction went off at ~5.1x 2013 EBITDA for majority gas assets (275 MMcf/d, ~1.2 Tcfe of reserves). Not surprised the deal beat our $1.1B estimate which we viewed as conservative, but based on recent conversations with investors, proceeds also above high-end of expectation range (we think Street was modeling $1.2$ 1.4B). The divestment helps further delever Devon Energy's balance sheet; management expects to reduce net debt by ~$4B by year-end. Overall, we view the transaction very favorably as it should be wrapped up sooner (we modeled Q4) and at a higher price than expected. As a reminder, we recently upgraded shares to Outperform and we continue to recommend the name.
Tameron later updated his note with the following:
We received a few questions following our thoughts on DVN's transaction. Primary question was on the EBITDA multiple; to clear up any confusion, the 5.1x we referenced below was based on aftertax proceeds. Using the $2.3B pretax figure, which is more appropriate, results in a 6.6x multiple (based on 2013 EBITDA provided by DVN).
Basically, Wells Fargo's case is that Devon got a good price (almost $1 billion above estimates) for its production from Linn Energy. I will not argue with that point.
However, it appears that the estimates for the Devon asset sales may have not factored in the subsequent surge in price for natural gas. In addition, as I noted in my earlier article, this production is still dirt-cheap at 5.1x EBITDA (6.6x pre-tax).
Hedgeye: Mostly smoke and mirrors
Over on Twitter, Hedgeye energy analyst Kevin Kaiser is firmly in the bearish camp in regards to the transaction.
To summarize, Mr. Kaiser argues that Linn Energy overpaid for the production, citing the Wells Fargo note. He argues that Linn Energy is just using "smoke and mirrors" by moving around assets to "distract people".
Furthermore, Mr. Kaiser wonders if the numbers provided by Linn Energy are too optimistic. In particular, he cites the projected decline rate as problematic, with the company's claim of 14% lower than the 24% provided by Devon. In addition, Mr. Kaiser argues that the 1000 future drilling locations are not economically viable due to historically low well returns.
Lastly, Mr. Kaiser reaffirmed his belief that Linn Energy will eventually collapse given that its distribution is mostly funded by debt and equity. However, he tempered this by noting that the deal "may push that day of reckoning out."
Final Thoughts and Conclusion
"They're basically building a fortress around their dividend"
Via this swap, Linn Energy is further reducing its capital needs, both maintenance and growth, which leaves much more cash flow available for the distribution. However, it will need to find a buyer for the Granite Wash assets or else face the need for an equity/debt offering.
Much like with the Permian acreage swap with Exxon Mobil (NYSE:XOM), Linn Energy is essentially trading long-term growth potential for short-to-medium term dividend/distribution safety.
I think this is a good strategy given the current precarious nature of energy markets. With the current yield at nearly 9%, the stock still offers a decent risk/reward ratio for investors.
Disclaimer: The opinions in this article are for informational purposes only and should not be construed as a recommendation to buy or sell the stocks mentioned. Please do your own due diligence before making any investment decision.
Disclosure: The author has no positions in any stocks mentioned, and no plans to initiate any positions within the next 72 hours. The author wrote this article themselves, and it expresses their own opinions. The author is not receiving compensation for it (other than from Seeking Alpha). The author has no business relationship with any company whose stock is mentioned in this article.