Let's cut to the chase (if you want a recap of the long thesis for Harbin (NASDAQ:HRBN) check out these write-ups here and here). What is a fair price to take Harbin Electric private? My guess is that the CEO and Baring Private Equity Asia Group's argument that $24/share is fair goes something like this. Despite everything the company has going for it, it is likely never to receive the valuation it deserves because of the bias against US listed China small caps, especially those who became public through reverse merger. $24/share values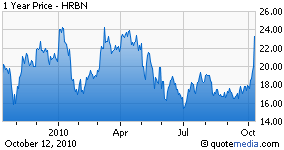 HRBN at roughly 8x 2010 EPS estimates - arguably on par, or slightly above, the norm in the space currently.

I would argue that line of reasoning is hoping to take advantage of temporarily extremely depressed valuations and ignores factors why HRBN is deserving of an above average valuation among US listed China small caps which became public through reverse merger ("China RTOs").

Current depressed valuations will not last

There is no denying that valuations for China RTOs have always been lower than Chinese companies which listed on US exchanges through an IPO. However I believe that current valuations for China RTOs are abnormally low, even given the recent rally. Short sellers took advantage of negative market sentiment and high risk aversion in recent months to attack many China RTOs. This, combined with real problems at some other companies in the China RTO space, caused shorts to indiscriminately pile into the sector. However, I feel that this imbalance is just beginning to be corrected.

We are entering what has traditionally been the stronger half of the year for stocks (November through April). Additionally, this is a mid-term election year, which has been well documented as being especially good for stocks (with the DOW averaging 20% gains in mid-term elections years counting from October 1st). I believe we are also seeing the decoupling theory being proven true with the strength being witnessed in emerging markets while prospects in advanced economies worsen.

With these winds at the backs of China RTO's sails, the shorts that indiscriminately piled into the sector are now having to cover.

To see the powerful upward pressure this can exert on share prices, one need only look at China MediaExpress (OTCPK:CCME) over the last few trading days.

And although it came public through an IPO rather than an RTO, another indication that the tide has turned is that even a negative article by a high profile short seller on China New Borun (NYSE:BORN) failed to cause that stock to close down for the day, despite the fact that BORN has more than doubled in the past month and was due for a pull-back anyway.

As I wrote about here, the compression of China RTO PEs to below 10 began around the last quarter of 2008 – the onset of the financial meltdown. Prior to that there was greater dispersion among China RTO PEs (differentiation based on company specifics), and thus a healthier range of multiples, with about 15x ttm EPS appearing to be about the norm. That suggests that once confidence returns, those China RTOs with better fundamentals will be able to achieve higher multiples.

Premium valuations are possible for China RTOs

As I also wrote about in that article, there have been examples of China RTO stocks which have been able to achieve premium valuations. Synutra International (NASDAQ:SYUT) at one point reached a $2.5 billion market cap and traded above 50x ttm earnings before being implicated in the melamine milk scandal. Other China RTOs, such as American Dairy (NYSE:ADY), China Automotive Systems (NASDAQ:CAAS), and Smartheat Inc (NASDAQ:HEAT) had managed to maintain ttm PE ratios in the high 20s to 30 for periods of time.

So I believe it is possible for a China RTO to achieve a premium multiple if it has the right qualities. I have always felt that those China RTOs which had sufficient competitive advantages, and which could grow from small caps to mid caps, would see the perception of their companies change from 'risky speculative company' to 'stable attractive growth company'. Along with that they would attract more institutional investment and analyst coverage, and thus garner higher valuations. For the reasons I list below I feel that HRBN has those advantages and is on the cusp of making that leap to the next level.

Sufficiently high revenue level


At a relatively low revenue level, the market may believe a company operates in too small a niche, has too narrow a product range, is too susceptible to competition, etc. At $400 million in annual sales, I believe HRBN has reached sufficient scale.

Sufficiently high net income


Of course even more important than sales is income. Many China small caps sport impressive income growth rates, but they are growing from a small base. It is one thing to grow annual earnings from $10 million to $20 million to $40 million, it is another to be able to grow earnings from $40 million to $60 million to $100 million, which is what I think may be required before China RTOs start getting some respect. HRBN is now at a $100 million annual earnings run rate, which is certainly among the highest in the China RTO space.

Significant catalysts for continued, higher margin growth

HRBN has achieved the above levels of sales and net income without their highest margin businesses (linear motors and automotive specialty micro motors) reaching close to full potential. Linear motor sales should receive a large boost when the company's motors for subway trains finish testing and begin production. Automotive specialty micro motor sales should receive a boost with the recovery underway among the North American auto parts suppliers (see here and here). Prior to The Great Recession, HRBN was predicting $200 million on sales from automotive specialty micro motors. Of course the recessions changed everything, but that demonstrates the potential that exists.

Sufficiently developed in terms of managerial depth, sales channels, R&D capability, geographic coverage, product offerings, customer set, investor relations, market sophistication, etc.

I think it helps if the market gets the general sense that a company is of impressive size and scope. HRBN's customers include some very big names. Customers/partners in the linear motor segment include Daqing Petroleum and Changchun Railway. HRBN's customer/partner in the automotive specialty micro motors business is Magna International. Management has demonstrated the ability to identify, acquire, and integrate accretive acquisitions.

High profile projects

When production of linear motors for subway trains begin, the stories of HRBN having the only domestically produced linear motor technology for subway trains will bring the company a higher profile. There are even rare earth and green technology elements to HRBN's story. Rare earth elements such as neodymium, dysprosium and terbium go into making powerful magnets which in turn go into linear motors, which are the company's highest margin products. China is restricting the export of rare earths because it wants to benefit domestic producers and ensure the manufacturing jobs stay in China. HRBN is a direct beneficiary of this policy. HRBN's linear motors could go into electric vehicles, wind farms and more, making it a potential green technology play.


Sufficiently high market cap and stock price


It may seem silly, but I think simply having a high market cap and high share price is fairly important. Certain funds or institutional investors may not buy stocks trading below a certain market cap or price per share. Stocks above $15/share can gain extra exposure from appearing on IBD's list. And there just seems to be a psychological factor involved. If you see a company whose stock is at $50 or $100 you kind of subconsciously think 'that's a good company', while if you see a company whose stock is below $5 you kind of subconsciously think 'oh that company may not be around in a few years'. Having a market cap above $500 million and a share price above $20 I feel will only further help HRBN separate itself from the general negative perception of China RTOs.

Ability to grow with minimal dilution

Along with sufficient scale as determined by the factors above comes the ability to grow with less dilution. Dilution at companies of smaller scale can be severe. At larger scale greater operating cash flow and access to credit can allow for growth with less dilution. Short interest in HRBN dropped by 1 million shares after HRBN announced it had received a loan, lessening fears of further dilution.

I have checked the 80 or so China RTOs in the Halter China Index, and I cannot find another company that ranks as highly as Harbin Electric as far as the totality of the factors described above. As such, I feel that HRBN is a prime candidate to experience multiple expansion, just as the other China RTOs I mentioned have experienced in the past.

Valuation analysis

So given all the above, what could be considered a fair valuation for HRBN today? While not in exactly the same segment, the three China RTO auto parts suppliers closest to HRBN in size are Sorl Auto Parts (NASDAQ:SORL), Wonder Auto Technology (OTCPK:WATG), and China Automotive Systems (CAAS). SORL trades at 10x 2010 EPS estimates, WATG at 12x, and CAAS at roughly 16x 2010 EPS estimates. If you take the average of the three of 12.7x 2010 EPS and multiply by HRBN's expected $2.91 in EPS for 2010, that results in a price target of $37.

Alternatively, we could look at HRBN's historical PE ratio. Below is a chart format I developed which shows in shades of red trailing twelve months EPS times various multiples. The green lines are quarterly and trailing twelve month year over year EPS growth rates, and the purple line is the PEG ratio. A return to merely 10x trailing twelve months EPS would result in a price target around $28. A return to 15x ttm EPS, which HRBN traded at during the latter part of 2009, would result in a price target above $40.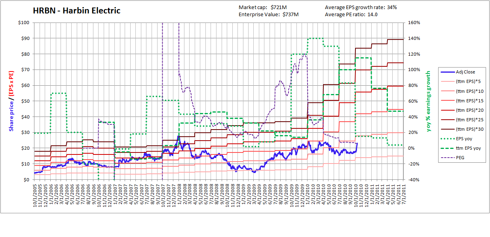 If you start to look towards 2011 earnings, consider the upside potential from the higher margin subway motors and specialty micro motors, and consider the potential for further multiple expansion due to the factors I outlined above, you can reach much higher target prices.
Disclosure: Long HRBN, no position in other stocks mentioned