Michael Kors (NYSE:KORS) is a leading designer brand retailer in North America and the stock has been performing exceptionally well since its IPO in December 2011. Michael Kors' stocks surged about 270% while one of its primary competitors in the U.S., Coach (COH), plunged -40% during the same period (see image below).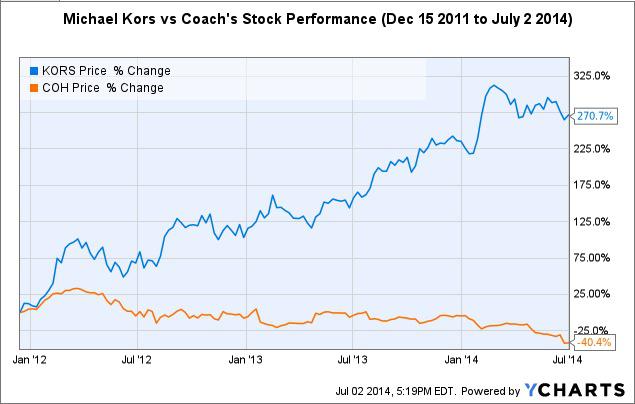 Both companies have very similar business models and compete for the same customers (mid-to-high level income customers who buy brand name products) in the same markets. I believe that Michael Kors is a much better long-term buy than Coach because 1) Michael Kors (the brand) is much more popular than Coach and because 2) Kors is experiencing enormous revenue growth in North America as well as in the international market.
Fashion Trends Precede Company Earnings
In the luxury goods industry, fashion and consumer trends always precede company earnings. This means that you can often find out whether a designer brand company's business, such as Michael Kors and Coach, is growing by visiting its stores to observe its traffic and by looking at what people around you (especially female consumers) are buying. This method is much more useful than most Wall Street analysts' earnings forecasts because you are examining fashion trends and consumer behaviors in real-time that can often tell you about a company's business performance even before the company releases its earnings.
For example, I purchased Michael Kors' stock six months after the company debuted its IPO in December 2011. The stock traded at a premium at the time of purchase since it had already surged about 55%, but I still invested in the stock for three reasons: First, I noticed that the new Michael Kors stores in my city were getting a lot of traffic that were comparable to Coach's. Second, I asked my female colleagues about their thoughts on Michael Kors, and many of them informed me that they loved their designs, especially their accessories. Third, I also noticed that more females were wearing Michael Kors products. In the end, Michael Kors' earnings had outperformed most analysts' expectations throughout 2012 and mid-2014, which led the stock to increase by about 270%.
Michael Kors' vs. Coach's Earnings Performance
Another reason that I believe Michael Kors is a better buy than coach is because Kors' revenue is growing at a much faster pace. This is evident in both companies' latest earnings releases ended on March 29, 2014 (see image below):

In almost every financial metric (total revenue, net income, EPS, & comparable store sales growth (comps)), Michael Kors outperformed Coach for the quarter ended on Mar. 29, 2014. Moreover, Kors' total revenue ($907.50 million) was almost as high as Coach's ($1,099.60 million) when it operated only 555 stores while Coach operated 1,011 stores, according to their earnings releases (source: Michael Kors and Coach).
What is more impressive is Kors' revenue and net income growth that grew by more than 50% in almost every quarter since its IPO in December 2011. In comparison, Coach's revenue and net income grew at a much lower pace during the same period. In the latest quarter ended on March 29, Coach's total revenue, net income, EPS and comparable store sales had declined, while Kors' business had grown substantially. Interestingly, Coach's management stated the following to explain their underperformance in its North American business (source: Q3 2014 Conference Call):
"For perspective, we estimate that the rate of growth of the North American premium women's handbag and accessories market decelerated slightly reflecting the overall retail slowdown from weather and the Easter shift, but still rose at a high single digit rate in the March quarter.

As was the case industry-wide, in-store traffic continue to decline with the ShopperTrack retail traffic index which includes also lifestyle and outlets malls down 16% for the quarter, impacted by weather as well as the Easter shift to April."
I believe that Coach's underperformance is largely due to the increasing competition from Michael Kors instead of the "overall retail slowdown from weather and the Easter shift," as explained by Coach's management. Increasing competition is usually the biggest factor that affects a company's comparable store sales (not weather or holiday shifts), especially for retailers like Coach.
Michael Kors vs. Coach's Valuation

Coach seems to be much cheaper than Michael Kors in terms of trailing P/E (see image above). However, Michael Kors seems to be a better buy, according to its forward P/E (18.85), which is lower than its trailing P/E (27.86). Moreover, Kors' PEG ratio (0.95) suggests that the stock is likely fairly valued or slightly undervalued at the time of writing. Even though Coach is trading at a lower trailing P/E and market cap, its PEG ratio is quite high because the market expects that its earnings growth over the next 5 years will be very low.
The Bottom Line
In the upcoming quarters, I believe that Michael Kors' business will continue to outperform with double-digit revenue growth rates, while Coach will likely continue to underperform with either flat revenue growth or single-digit revenue declines. Michael Kors' brand is becoming increasingly popular in the U.S. as well as in the international market, which is evident in Kors' comps growth and exceptionally high revenue growth. In my opinion, Coach's brand is not as popular as Michael Kors' in the luxury goods market. This is evident in the company's declining comparable store sales and retail traffic in recent quarters.
Sources: Michael Kors 2014 Annual Report & Earnings Release, Coach's latest 10-Q Report & Earnings Release, Conference Call, Yahoo Finance, SA Transcripts and Intelligent Stocks.
Disclosure: The author is long KORS. The author wrote this article themselves, and it expresses their own opinions. The author is not receiving compensation for it (other than from Seeking Alpha). The author has no business relationship with any company whose stock is mentioned in this article.