Digital Advertising Sector
Digital advertising is a growing sector as content consumption shifts online. At the same time "offline" content will become harder to find as TVs are now internet enabled and dumb TVs can be turned smart with products like Chromecast.
Research site eMarketer forecasts digital ad growth in the low-teens through 2016.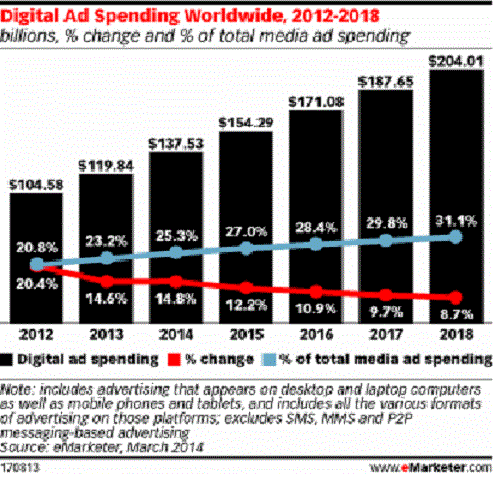 While the sector's rising tide has buoyed the valuations of most digital ad stocks, CNVR is still an under-valued play in the space.
Company Overview
Conversant (NASDAQ:CNVR) operates as a digital ad agency with two business segments - affiliate marketing and media.
Affiliate marketing is where a business offers an affiliate - essentially any website - financial compensation for selling their product, finding them leads, or driving calls to them. For example, Sam's Sunglasses wants to drive sales by offering Barry's Beach Blog 2% of revenue for each pair of sunglasses they sell. Conversant operates the affiliate network Commission Junction (NYSEMKT:CJ) where the two parties can easily find each other while CNVR earns a commission similar to the affiliate (Barry's Beach Blog).
The media segment is one-to-one advertisement targeting via multiple mediums and channels. Ever notice how the swim suit you looked at last week on Amazon keeps showing up as a banner ad when you surf the web? That is what CNVR does, they target ads directly to you. They do this with anonymous user profiles and complex data analyzing methods. CNVR has a history of acquiring companies in-line with emerging trends.
Across both segments CNVR works with roughly 70% of the top retail, auto, pharmaceutical, and travel companies.
Narrowed Focus
CNVR spun-off their owned and operated (O&O) segment in late 2013 while changing their name from ValueClick to Conversant in the same period. These two moves signal a narrowed focus.
This allows CNVR to focus on higher margin segments with stronger growth potential. Margin expansion will be delayed due to one-time re-branding and realignment costs.
Market Leader in Affiliate Marketing
With 52% of top 500 internet retailers using CJ, CNVR dominates the segment. Affiliate marketing is a $4B industry with growth expected similar to digital advertising as a whole. The best part for CNVR is the margins in affiliate marketing - 62% operating margin in 2013 sans corporate overhead.
Key Financials
| | | |
| --- | --- | --- |
| | 2012 | 2013 |
| Affiliate Revenue | $150M | $163M |
| Media Revenue | $390M | $410M |
In 2013, affiliate revenue grew 8.7% and media grew 5.1%. This is below cumulative growth of 9.9% in the past 3 years. Growth should ramp back up to this past average as CNVR narrows its focus with a boost in revenue from its acquisition of SET Media, a video ad company.
Note: Affiliate marketing only accounted for 28% of revenue in 2013, but it contributed 40% of total EBIT.
CNVR's operating margins were 29% in 2013 excluding O&O. Margins have potential to expand long-term given cost cutting from O&O sale, and affiliate growth above media growth.
CNVR has a strong track record of levered cash flow growth at 12.6% CAGR in past 8 years. This cash flow has been put to use through acquisitions and share buy-backs. Since 2006, management has reduced outstanding shares from 101.7M to 67.4M. The buy-backs continued into 2014 with 758,000 shares repurchased in Q1. There is $61.5M remaining in their current buy-back program.
CNVR has a healthy balance sheet with net cash of $1.65 per share.
Valuation
CNVR is trading at 10.5x EBIT compared against their average multiple of 11.9x from '09-'13. Traditional ad agencies (OMC, PUBGY, WPPGY) are trading at 12.2x while digital ad players Google (GOOG, GOOGL) and AOL (NYSE:AOL) are at 21.2x and 14.2x respectively.
To make sure EBIT is not a red herring, look at P/FCF of 10.5x and P/E of 13.7x.
Assuming affiliate growth of 10% and media at 6.5% in 2014 (Q1 is in-line with estimates), no margin movement, and a fair EV/EBIT of 11x; CNVR's 2014 fair value is $31.26 - or estimated return of 22.6%.
The Risk
CNVR is a small player dominated by the likes of Google and Facebook (NASDAQ:FB). While CNVR operates in market niches, they still compete with the larger players. For example, affiliate marketing competes with Google AdWords. AdWords has limits in partnership choices and only offers pay-per-click, but a few tweaks to AdWords could deliver a hay maker for CNVR.
Another risk is the dynamic landscape of technology. We are seeing the beginnings of drastic advances in technology; look up the internet of things, robotics, 3D printing, etc. It is entirely possible that new data and methods to analyze it could render CNVR's approach obsolete.
Conclusion
Ride the digital ad wave and buy CNVR given their low absolute value, digital ad growth, narrowed focus, and dominance in affiliate marketing; BUT beware of the juggernaut that is Google.
Disclosure: The author has no positions in any stocks mentioned, and no plans to initiate any positions within the next 72 hours. The author wrote this article themselves, and it expresses their own opinions. The author is not receiving compensation for it (other than from Seeking Alpha). The author has no business relationship with any company whose stock is mentioned in this article.