Early this year, I offered Seeking Alpha readers a group of 8 stocks that I believed harbored unusually bright prospects. At that time, I wrote an article about each one, outlining an investment thesis based upon fundamental research and analytics.
These stocks were aligned with 3 equity investment strategies I suggested would play out favorably in 2014:
Understand the current phase of the business cycle and overweight stock sectors that historically outperform;
Identify and seek contrarian stock values; "the most hated names of 2013";
Maintain discipline when evaluating securities in a market that's run up 30%; don't chase the hot tickets
The specific picks included: Eaton Corp., PLC (NYSE:ETN), Union Pacific Corp. (NYSE:UNP), International Paper (NYSE:IP), Apple Inc. (NASDAQ:AAPL), Energy Transfer Equity (NYSE:ETE), Intel Corp. (NASDAQ:INTC), Caterpillar (NYSE:CAT), and Annaly Capital Management (NYSE:NLY).
When presented previously, these stocks were classified into 2 broad categories: those aligned with my view that North America was transitioning to the mid-cycle phase of the economic business cycle, and shares that appeared to be contrarian value plays.
Following is a table summarizing the 2014 first-half performance of all 8 stocks: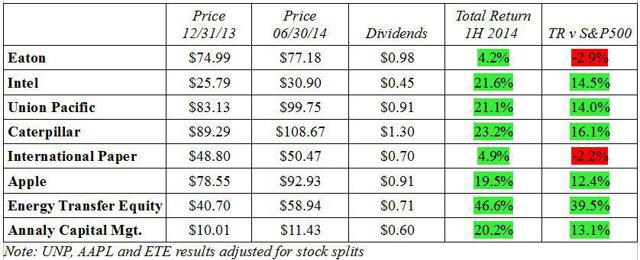 In aggregate, this group provided investment returns almost triple of those corresponding to the 7.1% total return of the S&P 500.
All these stocks represent significant core positions in my portfolio.
In Part 1 of this series, we will review the performance of those shares I selected based upon businesses best aligned with the mid-cycle phase of the economic business cycle.
What's the Economic Business Cycle?
This EBC is an historical template indicating, by using prior evidence, how corporate profits may rise and fall as related to general economic conditions and interest rates. Opportunistic investors may use the cycle to identify and overweight stock sectors (and individuals stocks) that should follow suit. The cycle follows a natural rhythm.
In the early phase, marked by initial post-recessionary growth, Financial, Industrial, Consumer Discretionary, and Tech stocks outperform. Interest rates are kept low.
The second, or mid-cycle phase, is noted by continued and sustained economic growth. Typically, cyclical stocks in the Industrial, Tech, Materials and Energy sectors stocks outshine the broader market. The Fed often begins tightening credit during this period.
The third phase, or late-cycle, is marked by a final blow-off after a mature economic expansion. Materials and Energy stocks continue to do well, although investors begin rotation into secular growth names in the Consumer Staples and Health Care sectors. Credit is usually tightened further to prevent the economy from overheating and stem inflation.
Finally, a new recession begins. Investors bid up shares of defensive stocks residing in the Consumer Staples, Health Care, Utility and Telecom sectors. The Fed lowers interest rates.
Savvy investors know that no two economic cycles play out the same way. However, the general playbook is valid. It's oft reinforced by "big money" self-induced prophesy.
The Rubber Hits the Road
Preliminaries aside, let's perform a snapshot performance review and future prospects for the 4 identified "business cycle" stock picks.
Eaton Corporation: Industrial sector conglomerate Eaton logged a positive 1H return, but lagged the overall market by ~3 percentage points. First quarter earnings were hampered by unusually bad U.S. weather, knocking back earnings by 3 cents per share. Nonetheless, the North American Electrical Products and Electrical Systems segments, the company's largest units, still managed to do well. CEO Sandy Cutler noted improvement in the EU business climate.
Investors were disappointed when 14.5% reported 1Q operating margins were well below the stated 2014 target of 15.75%. Traders fretted it will take some doing for Eaton to "catch up." Management tried to reset expectations by forecasting 55% of 2014 EPS would be realized in the second half of the year. Such an earnings distribution would tilt higher towards the 2H versus the previous 2 years.
My view is the shares are taking a breather after strong runs in 2012 and 2013. A combination of the fundamentals and valuation metrics gave traders plenty of cover for the shares to tread water. A 15-year F.A.S.T. graph illustrates the situation.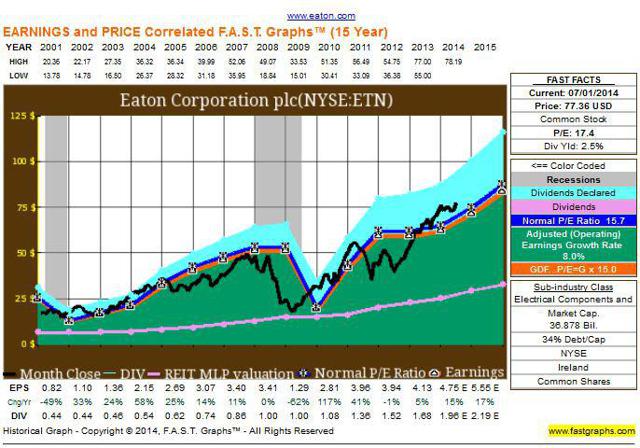 As we get into the second half of the year, I suspect the shares could catch a bid on renewed execution and sharpened interest in 2015 operating earnings expectations. Currently, these are forecast to grow by 17%.
Union Pacific: UNP shares staged a 21% first-half return, easily besting the benchmark. Railroads are uniquely positioned to benefit from a growing U.S. economy. Of the rails, I contend Union Pacific is the best-situated. The company dominates the western two-thirds of the country, and compounds this strength with multiple gateway exchanges to Mexico and intermodal west coast ports. UNP is a big mover of lumber and building materials (reinvigorated U.S. housing), oil / frac sand (mid-continent energy boom), automobiles / parts (increasing auto sales), and agriculture (a 2013 bumper crop). Coal shipments are also up, driven by low inventories; though Union Pacific does not rely upon coal transportation to the extent some of its peers do.
Nonetheless, these Industrial sector shares are looking a bit stretched after the huge run-up. Recently, I explored this in the S.A. article, "Premier Companies but Overpriced Stocks." It would not surprise me if the stock failed to outperform the averages in the second half of the year. The following F.A.S.T. graph highlights how the shares appear above historic fair value, currently trading about $100 each while the FV target on 2015 EPS is only $104. Not much upside there.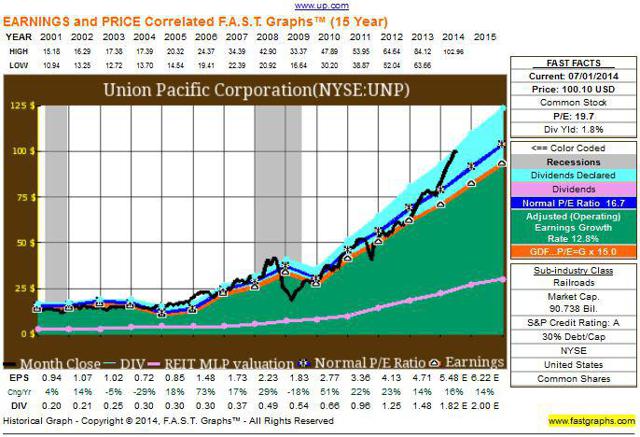 International Paper: This Materials sector stock finished the first half in the green, but fell 2.2 points below the broad averages. North American weather crimped 2014 1Q earnings by $0.10, and forex cost the company another dime; its Russian JV operations took a currency hit during the Ukraine crisis. Nevertheless, margins remained robust and International Paper continued to keep its debt-to-EBITDA ratio below a stated 3x marker.
A recent article by Barron's sparked a late 2Q rally in the shares. The article highlighted International Paper stock is undervalued, and expectations for renewed momentum is forthcoming on the heels of enormous free cash flows. For investors doing their homework, it's old hat. Bankable CEO John Faraci and his management team have been repeating this tome for several years, then backing up the words with sound execution.
Indeed, Materials sector stocks tend to do best during mid-and-late cycle recoveries. IP's recent Temple-Inland merger made the company the biggest paper and packaging gorilla. Moreover, the deal allowed the business to sop up excess containerboard capacity; long dogging prices. Since 2006, Faraci envisioned a re-tooled International Paper running for cash, and he promised to return much of that dough with shareholders. He's just doing what he said he would do.
It matters little to me the shares have lagged for the past several months. I remain bullish.
For perspective, a 13-year F.A.S.T. graph is found below. This chart marks Faraci's tenure as CEO, beginning in 2003. It also measures price as a function of historic cash flows per share. Of late, the P/CF multiple has run about 7x. I project a one-point multiple expansion to 8x, as shown by the pink line, is likely if a mid-cycle expansion begins.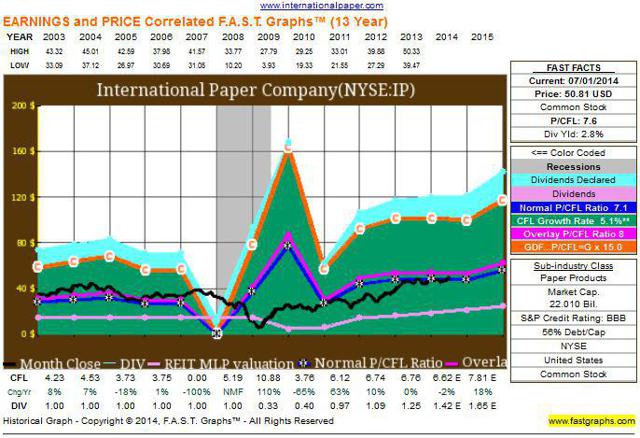 If we accept cash flow will rise to $7.81 per share in 2015, and utilize the revised 8x multiple, we get price target of $62. This is a slick 25% kicker, sans dividends, on the recent $50 per share price.
Investors may also note the company created value when it spun off shares of Veritiv Corporation (NYSE:VRTV), which began trading July 2. The new ticker represents the resultant merger of International Paper's xpdex distribution solutions business with UWW Holdings. IP retains 51% ownership in the new company.
Energy Transfer Equity: The biggest recent gainer of the lot has been Energy sector MLP, Energy Transfer Equity. CEO Kelcy Warren has had grand visions for the Energy Transfer family of companies for a long time, and it's all coming to fruition. For those who follow my work here on Seeking Alpha, I have been bullish on Energy Transfer Equity units for some time. Having closely followed the corporate narrative for years, the path has been winding and often complex. Since Wall Street hates complexity, it's taken the Street awhile to fully appreciate the story line.
ETE obtains multiple income sources from various associated MLPs. At its core, Energy Transfer Equity has General Partner and IDR interests in Energy Transfer Partners (NYSE:ETP), Regency Partners (NYSE:RGP), and Sunoco Logistics (NYSE:SXL). However, there's more to the deal than just those GP interests and IDRs. I've included a presentation slide from the June 2014 Credit Suisse Energy Conference to capture the span of the enterprise and just how many ways this company can make cash.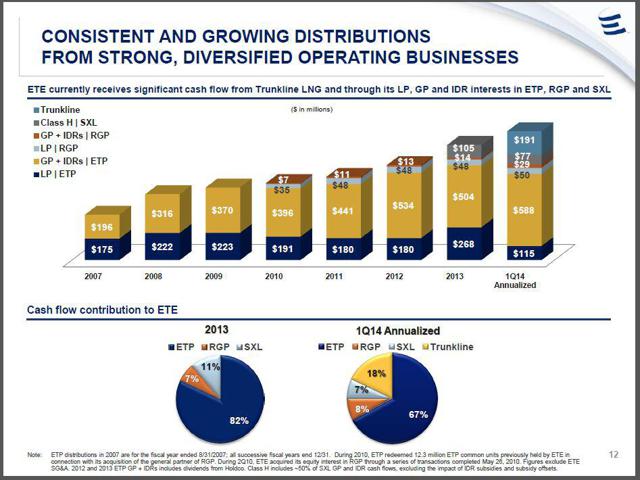 Despite the stellar returns, I believe the equity units remain cheap. I believe units can generate $7.50 cash flow this year. An historic 10.5x multiple on that indicates a $79 stock. Units are priced under $60 now.
I premise cash flows will continue to increase for the next several years, thereby continuing to provide investors with healthy capital appreciation and cash distributions.
In the following installment (Part 2) of this series, we will review the 4 "contrarian" stock selections.
Please do your own careful due diligence before making any investment. This article is not a recommendation to buy or sell any stock. Good luck with all your 2014 investments.
Disclosure: The author is long ETN, UNP, IP, ETE. The author wrote this article themselves, and it expresses their own opinions. The author is not receiving compensation for it (other than from Seeking Alpha). The author has no business relationship with any company whose stock is mentioned in this article.