Eclipse Resources Corp. (NYSE:ECR). -- Buy Recommendation -- Price Target $25.50
Thesis: July 14 marks the expiration of the SEC-enforced 25-day quiet period for ECR. On July 15, ECR's underwriters will likely release positive reports on ECR into the market. Academic studies show an increase in share price beginning two days before the quiet period expiration and lasting two days afterward, for companies with research reports released. Although ECR has not performed well post-IPO, its powerful list of underwriters could give ECR a boost on July 15; energy stocks have also been successful in recent months. We suggest ECR's quiet period expiration as a potential buying time for aggressive investors.
July 14 will mark the expiration of the SEC-enforced 25-day quiet period on underwriter research that began with the June 19 IPO of Eclipse Resources Corp.
At the conclusion of the quiet period, the IPO underwriters will be allowed to begin publishing research reports on the Appalachian Basin oil and gas E&P, likely leading to at least a temporary increase in the price of ECR shares.
The price increase often occurs two days prior to the expiration and continues until two days afterwards.
Relatively Weak Post-IPO Performance
ECR's IPO priced at the low end of its expected range at $27 per share, and lost 4.6% in a weak first-day performance. ECR continued to gradually lose ground until June 24, when the stock closed at $24.53 per share. Share prices have since trended slightly upwards; ECR closed at $25.51 per share on June 27.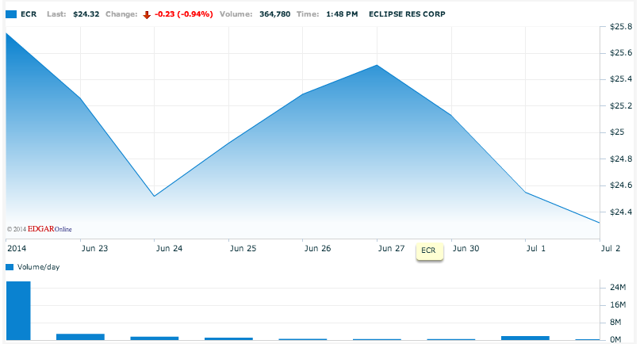 (Nasdaq.com)
Influential Underwriters
ECR's IPO underwriters, including Citigroup Global Markets Inc.; Morgan Stanley & Co. LLC; Goldman, Sachs & Co.; BMO Capital Markets Corp.; Barclays Capital Inc.; Capital One Securities Inc.; Johnson Rice and Co. LLC; Jefferies LLC; KeyBanc Capital Markets Inc.; Scotia Capital Markets; RBC Capital Markets, LLC; Simmons and Co. International; and Wells Fargo Securities, LLC, will attempt to accelerate the stock's recent positive progress through the release of positive reports beginning at the conclusion of the quiet period
Evidence That Quiet Period Expirations Can Open Buying Opportunities
The Journal of Finance (Vol. LVIII, No. 1; 2003) explains that rising share prices typically emerge several days before the quiet period has expired, as investors purchase shares in anticipation of forthcoming positive analyses.
Lead author Dan Bradley, Ph.D., CFA, affiliated with the University of South Florida, and his colleagues state that analyst coverage is initiated immediately for 76% of firms at the expiration of the quiet period, generally with "Buy" or "Strong Buy" ratings. Firms with coverage initiated see abnormal positive returns of 4.1% for the two days preceding and following the date of initiation.
Dr. Bradley's conclusion is further substantiated by the work of Carter, Piwowar, and Strader (2001), who state that the mean analyst rating at the end of the quiet period is a "Buy"; higher ratings correlate with higher returns. Returns have also been found to rise significantly when multiple analysts initiate coverage - to 6.4%.
Early share buys generate an atmosphere of rising demand, leading to increasing share prices before the quiet period expiration, and creating a short-term buying opportunity.
Bradley et al also find a significant correlation between the visibility and quantity of IPO underwriters and an increase in share prices at the end of the quiet period. For ECR, the firm's very powerful list of underwriters could have a strong influence in boosting the share price.
Data generated through our past three years of research align with the conclusions of the academic publications.
Business Overview
ECR is an independent E&P with operations based in the Appalachian Basin. As of March 31, 2014, the firm's position included some 227,239 net acres located in Eastern Ohio.
Approximately 96,240 acres of the firm's position are located in what ECR describes as the most productive part of the Utica Shale fairway; approximately 25,740 additional net acres are prospective for the liquids-rich Marcellus Shale.
ECR operates some 81% of these two high-potential areas. As of March 31, the firm had identified 863 net horizontal drilling locations within the two areas. ECR and its partners had initiated the drilling of three gross wells within its Marcellus acreage and 72 gross wells within its Utica acreage as of the same date. ECR's acreage is expected to predominantly produce natural gas and natural gas liquids.
For more information, see our previous article on ECR here.
Strong Competition In The Appalachian Basin
ECR competes with other E&P firms operating in the Appalachian Basin for personnel, equipment, and desirable acreage. Some competitors are established firms with access to much greater financial resources than ECR.
Potential competitors include Chevron Corporation (NYSE:CVX), Gulfport Energy (NASDAQ:GPOR), Antero Resources Corp. (NYSE:AR), Rex Energy (NASDAQ:REXX), Petroleum Development Corporation, and Triana Energy.
Management: Former US Army Captain
Benjamin W. Hulburt, co-founder of ECR, has served as chairman, president and CEO of ECR since the firm's inception.
He previously co-founded and served as the president and CEO of Rex Energy. He also served as the CFO of Douglas Oil & Gas Limited Partnership.
Mr. Hulburt served as a commissioned officer in the United States Army for four years, attaining the rank of Captain.
Mr. Hulburt received a B.S. in Finance from The Pennsylvania State University.
Positive Conclusion For Aggressive Investors
Though ECR has not performed especially well on the market thus far, energy stocks have continued to see success in recent months, and investors may wish to consider buying into the E&P with the approaching quiet period.
ECR's combination of experienced leadership and potentially productive leadership is certainly enticing; though more conservative investors may prefer to invest in more established firms, we believe that ECR is a strong option for more aggressive investors.
ECR's strong underwriters could very likely support the stock's increase around the time of the quiet period expiration.
We invite readers wishing to join the discussion on IPO Quiet Period Expirations to click the +FOLLOW button above the title of this article - and those looking for the latest updates to click the +Get real-time alerts button.
Disclosure: The author is long ECR. The author wrote this article themselves, and it expresses their own opinions. The author is not receiving compensation for it (other than from Seeking Alpha). The author has no business relationship with any company whose stock is mentioned in this article.
Editor's Note: This article covers one or more stocks trading at less than $1 per share and/or with less than a $100 million market cap. Please be aware of the risks associated with these stocks.