There's no doubt as to which corner I stand in when it comes to the Tesla (NASDAQ:TSLA) debate - I've been calling the company a "buy" since I've been writing about it in late 2013. My track record with the company has been a series of buy recommendations as the stock continues its ascent upwards. As I've stated in past articles, I'm a Tesla bull until the company gives me a reason not to be. So far, so good.

Those that follow along with my calls on TipRanks can also see that the last six or so pieces I've written on Tesla have all been bullish. I've been calling the stock a "buy" since it was at $170 in October of 2013, through its pullback to $120 after earnings, and now towards its highs of near $230. Today, I'm reaffirming bullish on the heels of this week's news, which sent shares off by about 5% in heavy trading yesterday.
If you've been watching the stock move, you've noticed that Tesla has once again eclipsed and held the $200 level with some authority. Even with its recent dip, the technical picture looks to be holding up well. Tesla's support to the downside is at its 50DMA, and its resistance to the upside is around the $260 level, representing its previous all-time highs.
Those that have been in for the last 12 months have yielded an astounding 99% at these levels. Those that bought to start the new year are up a cool 52.5%.
After today's jobs number, and barring the major markets not correcting, QTR thinks that Tesla still has room to roll on.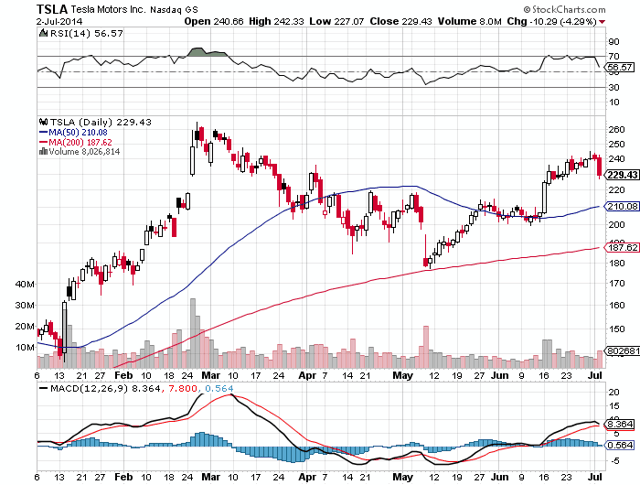 Most recently, my piece "Tesla: I'm Not Interested In Barclays' Analysis, I'm Staying Bullish" stated why I wasn't yet ready to give credence to Barclays' analysis of Tesla not meeting its Q2 production goals.
Today, I'm skeptical of recent news headlines that are trying to draw a straight line between a drop in sales numbers in Norway to missed production goals for Q2. For me, one doesn't necessarily mean the other, and the sell off in Tesla's stock could have been unwarranted.
The Tesla headline this week is about the company's sales in Norway tapering off for June. Paulo Santos came out a couple of days ago and wrote about Tesla's drop off in Norway:
We've just received word of how many Tesla (TSLA) Model S cars sold in Norway in June. There were 536 vehicles sold. This is obviously a massive drop from the 1493 shipped in March and which allowed Tesla to meet/beat its Q1 2014 delivery guidance.

With these numbers, Tesla shipped 1080 Model S cars to Norway in Q2 2014, versus 2056 in Q1. This is a 47.4% sequential drop, and leaves Tesla with a 976 Model S deficit which it has to make up elsewhere.
Paulo himself goes on to point out that deliveries made in China could help the company meet its deliveries guidance for the quarter, despite the Norway numbers.
The fact is that the amount of vehicles delivered for Tesla isn't 100% indicative of the current demand for the automaker's products. Tesla has always been a company that's had a bit of a noose on production, compared to the amount of vehicles that were in demand. Since one of the company's conference calls I listened to last year, Musk has made it very clear that he didn't mind having a continued backlog for Tesla's products at these beginning stages. As one country's interests become bigger (i.e. China), another country's delivered vehicles could be likely to suffer. Remember, China's distributor network for Tesla is hardly built to its fullest - so there's a chance that even if Tesla is addressing demand in China, it could still be bigger than the numbers show. We'll have to wait on clarity regarding this from the company's Q2 call.
So, was this Norway data a product of demand or lack of production?
Paulo also claims that "Tesla is running out of countries." I couldn't disagree more. What is happening is that Tesla is "running out of countries to introduce its brand to." Just like Ford (NYSE:F) doesn't "run out of countries" when sales in the U.S. taper and then pick up in China and vice versa - Tesla is simply "getting to know" the world, too. Herbalife, on the other hand is a prime example of a company that's "running out of countries" - big difference.
Tesla is going to continue to build new models and sell them as models turn over in every country - "running out of countries" makes the foolish assumption that the company is only going to sell one vehicle, per country, per person, ever.
Tesla has always been a "show me" stock for me. Those that have been reading the pieces I've penned about the company know that. It could be easy to jump on the bearish bandwagon here and lend credence to what appears to be the obvious - but, scratching the surface a bit shows me that the "truth" may not be as clear as some bears think.
Put simply, until Tesla comments in their Q2 report and gives us a company approved look into sales and deliveries, I'm not buying the Norway nonsense.
I remain bullish on Tesla here, and wish the best of luck to all investors.
Disclosure: The author has no positions in any stocks mentioned, and no plans to initiate any positions within the next 72 hours. The author wrote this article themselves, and it expresses their own opinions. The author is not receiving compensation for it (other than from Seeking Alpha). The author has no business relationship with any company whose stock is mentioned in this article.