Before discussing GoPro (NASDAQ:GPRO) as a fundamental short, it is worth spending some time to understand why, if the stock shot up nearly 100% in the first 5 days, do I have a basis to short now and not in 3 months...
Demand vs. Supply
For many retail investors, the justification to invest lies predominantly in the story, the narrative and then justify their bias with the various news articles or research they have done. On the whole, the market should reflect a fair-ish valuation of the company.
If a much loved company comes to market offering only a very small free-float (17.8m shares out compared with 123m shares total), there are simply not enough shares to go around and buyers begin playing 'hot potato' as they pass the stock onto their buddies at higher and higher prices. Unfortunately, once the game stops turning (as it did yesterday), those left with the hot potato will see the stock plummet to reasonable levels again.
Under what basis you say?
Only once in the last three years have I seen an IPO trade more shares than were outstanding, this was KOOVS (KOOV LN), an AIM listed UK stock, which aims to replicate ASOS (OTCPK:ASOMF) in India.
In this example, of the 24.1m shares outstanding, only 675k shares were offered to investors. On IPO, 661k shares traded, the next day 3.7m share traded. Imagine the entire share class exchanging hands multiple times per day.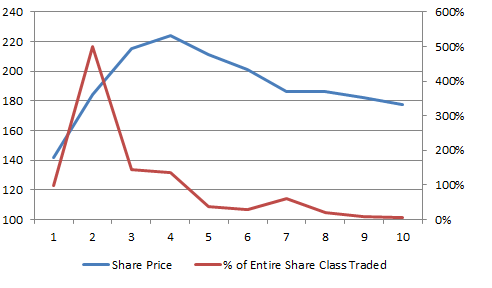 In this case, the stock went from 140 to 220 in four days. Where is it now you ask? 141.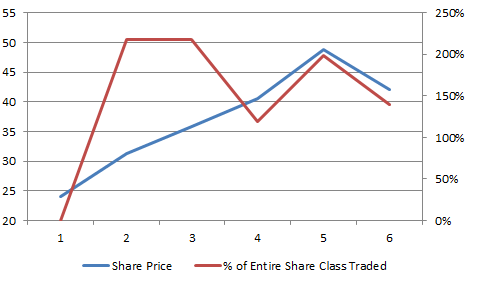 GoPro shares this exuberant story trading more than its entire public share base on five separate days.
Putting that into perspective, Twitter (NYSE:TWTR) managed to exchange 25% of its share base on IPO.
Yesterday I recommended to short GPRO on open and I think there is more to go, especially as volume settles down.
You are Currently Trading an IPO, not a company
When companies IPO, there tend to be a significant amount of punters and flippers, leading to volatility and extreme price moves when liquidity is low. Even if you really like GoPro as a business, buying a share now isn't buying a share in the business at fair value. But this leads me to my next point in that I believe GoPro's market to fill out with competition and damage both revenues and margins.
At 60x PE (even 40x PE) I would be short this company...
1. Growth Already Slowing (Actually negative!)

The main source of concern from the prospectus was the Quarter over Quarter numbers which has been explained as a product launch in 1Q13 (very high comparable) and supply side issues. For a company that is growing their topline near 100% per year, these issues may dampen the growth rate but to reverse it entirely is another matter.
I'm happy to accept that another product launch will likely speed up sales but not to the level that the current valuation requires.
As is the case with many hardware companies, sky-high margins have already begun to reverse dropping 600 basis points on the gross margin quarter over quarter. Is this a worthwhile trait for a high growth company?
Some commentators have pulled out the following from the prospectus:
"We do not expect to continue to grow in the future at the same rate as we have in the past and profitability in recent periods might not be indicative of future performance."
I don't believe this to be much of a worry for GoPro bulls as companies simply don't double every year.
2. It's a camera!
The technology has been around for years and innovation seems to come from size alone. Optimizing a camera for use in extreme sports has obviously opened up a marketplace and GoPro has done extremely well to monetize it in a very short space of time but at the end of the day, there is no protection against cheaper, better quality competition. Indeed, competitors have wasted no time in entering GoPro's market with much lower price points.
The Sony (NYSE:SNE) Action Cam for instance is around $100 cheaper than a GoPro and although I believe GoPro will still command a premium for the brand, I believe this price competition will only get worse.
Many bulls point to Apple (NASDAQ:AAPL) as a shining beacon of margin retention but forget to consider that their captive iOS maybe the reason behind the margin. Looking at the software, and considering the existence of third party providers, there is little protection in offering film editing software, which again has been around for a long time.
3. It's a niche market.
Sit back and consider how many surfers, skiers, sky divers there are in the world. These are obviously not the only natural customers but extreme sports, although growing, will always stay niche. If I wanted to share my life experiences with my friends, I have a perfectly good camera in my pocket at all times and guess what, it can call them too, check my emails, browse the internet and play music and videos.
The market is limited to occasions where a phone camera simply won't do and therefore, the full demand may be oversupplied by the sheer number of "action cam" manufacturers that have begun to trade. A Snow Sports group estimated that 7% of Americans take part in snow sports.
If one billion people live in the developed world and we assume 7% of the entire group ski, we have 70m skiers. If we assume 10% will use an action cam, we have a 7m camera market. If we assume they replace their camera every 3.5 years, we have a 2m camera market. If we assume GoPro takes 50% of the entire market, we have 1m cameras sold each year, or $300m.
Considering the bull case (does 7% of the Middle East ski?) of the skiing sub-market gives $300m of sales, what is the peak earnings potential of GoPro?
4. Is the media idea enough?
GoPro CEO has discussed the fact that they aren't simply a hardware company, but a media company. Indeed, they paint this picture with a variety of stats, such as 7.2m likes on Facebook and over 450m video views.
While this appears to be an exciting revenue stream, remember that GoPro aren't creating the content, their customers are and so the company would have to give a decent portion of this revenue to their content providers, which would of course limit profitability.
Concluding
I intend to do some more complex valuation in time but due to the incredible market situation detailed at the beginning of this article, I do think there is an immediate profit opportunity and hope those that read my Blast yesterday could participate in the first 10%.
A fundamental short will begin to become apparent over the next two quarters when we see exactly how sustainable their sales growth and margins actually are.
Although the media business does provide some long-term opportunities for the business I think current shareholders may lose patience before material revenues are realized.
Disclosure: The author is short GPRO. The author wrote this article themselves, and it expresses their own opinions. The author is not receiving compensation for it (other than from Seeking Alpha). The author has no business relationship with any company whose stock is mentioned in this article.