Blue Capital Reinsurance Holdings (NYSE:BCRH)
Considerable Capital Appreciation and Yield Opportunity in New, Underfollowed Reinsurer
Recommendation
Buy: $45 Price Target
Current Price: $19.7
Upside Potential: 130% + a 12.5% dividend while you wait
Summary
Blue Capital Reinsurance Holdings (ticker: "BCRH") is a closely held, recently IPO'd, non-traditional reinsurance company. Since BCRH only has one quarter of operating history, investors are unable to use algorithms to decipher what the business will look like, and subsequently, what it's worth going forward.
However, because of its relationship with Montpelier (TICKER:MRH), and unique positioning in the reinsurance business, BCRH should enjoy strong profits and dividends long-term. Based on BCRH estimates, statements, and recent quarters' results, the current year's dividend yield will likely be >12.5%.
Due to its earnings power, limited downside risk, fortress like balance sheet, size (it's small - and thus less followed by regular analysts), and insider buying, you have an interesting opportunity to invest in a reduced-risk, high-reward company.
Background
BCRH is a newly-formed Bermuda reinsurance holding company seeking primarily to offer collateralized reinsurance in the property catastrophe market. Their principal objective is to maximize the expected total return for their shareholders, primarily through the payment of dividends, by underwriting a diversified portfolio of short-tail reinsurance contracts and investing in insurance-linked securities (ILS) with what they believe to be attractive risk and return characteristics. They seek to provide shareholders with the opportunity to own an alternative asset class whose returns have historically been largely uncorrelated to those of other asset classes, such as global equities, bonds and hedge funds.
On November 5, 2013, BCRH's registration statement on Form S-1 was declared effective, pursuant to which they sold 6,250,000 Common Shares to the public at a price of $20.00 per share. Concurrent with the IPO, they completed the Private Placement with Montpelier Re pursuant to which they sold an additional 2,500,000 Common Shares at a price of $20.00 per share. As a result, Montpelier owns ~29% of BCRH's outstanding shares.
Subsidiaries of Montpelier manage BCRH's reinsurance underwriting decisions and provide them with the services of their Chief Executive Officer and interim Chief Financial Officer. Through this relationship, they leverage Montpelier's reinsurance underwriting expertise and infrastructure to conduct BCRH's business. Though this creates some conflicts, it also allows for considerable synergies, such as cost minimization and a captive supplier; which allows efficient deployment of capital.
From their most recent 10-K:
Blue Capital Management Ltd. and Blue Capital Insurance Managers Ltd., which serve as the Company's investment manager and reinsurance manager, respectively, are wholly-owned subsidiaries of Montpelier Re Holdings Ltd. (NYSE: MRH, "Montpelier"), a leading global provider of property catastrophe and short tail reinsurance solutions with over $3.5 billion of assets. Through this relationship, the Company benefits from Montpelier's industry leading proprietary reinsurance modelling tools, underwriting expertise and broker/client relationships.
BCRH expects to benefit from leveraging their relationship with Montpelier in order to gain access to a broader range of reinsurance businesses than they believe is typically available to most collateralized reinsurers. They expect to enter into fronting agreements with Montpelier, which will allow them to transact business with counterparties who prefer to enter into contracts with rated reinsurers like Montpelier. They also expect to enter into quota share agreements with Montpelier or other third-party reinsurers, which will provide them with the opportunity to participate in a diversified portfolio of risks on a proportional basis.
ILS issuance was a $7.4B business in 2013. Catastrophe Bonds were another $7.1B. This business is expanding rapidly as the current low yield environment has investors searching everywhere for yield. Given BCRH's current consumption of these instruments is $180M, there is ample opportunity to expand.
How the business economics work:
As a reinsurer, BCRH is in the business of insuring other insurance companies and products. It can be a wonderful business if risks are understood and high underwriting/investment standards are maintained. With BCRH specifically, their area of focus is with Insurance Linked Securities (ILS). Below is a slide pulled from Conning, which provides a good overview of ILS.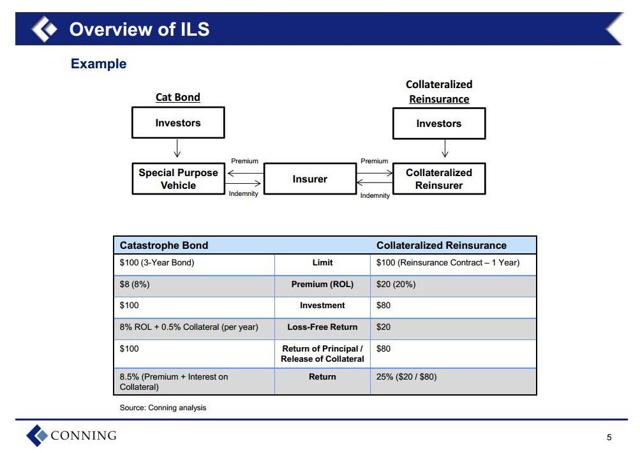 This second slide is pulled directly from Blue Capital's latest presentation: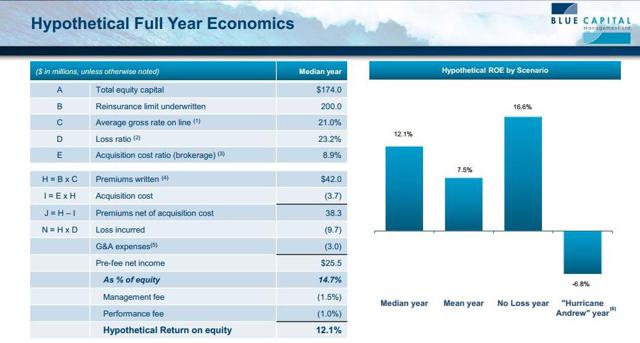 As can be seen above, BCRH puts up $174M in capital for which they receive $42M of premium, which is then classified as revenue. After the costs to acquire the business ($3.7M), SG&A ($3M), and losses estimated at ($9M), they pull in $25.5M; after which, they must pay out some management and performance fees, they should conservatively earn $19M.
BCRH's business model allows the company to maintain an exceptionally lean structure. Because of this and the inherent leverage of the model itself, BCRH is able to earn profit margins of >60% in a normal year.
With these economics, it is easy to see the attraction we found in BCRH.
Opportunity
Blue Capital Reinsurance Holdings has the makings of an interesting investment opportunity based on current yield and estimated future earnings power/distributions. As an investor, putting capital into a single ILS or Cat Bond can carry considerable risks. To lower the risk profile one would need to invest in a pool of these vehicles, which takes considerable capital, and is not usually available to the average investor. BCRH in the best of both worlds, it's a single vehicle that diversifies risk and provides ample financial reward.
BCRH is in an interesting position currently. With little operating history, a small capitalization, in a traditionally boring industry BCRH has seen little love from the market. This is true even though they will be paying out a dividend with a current yield of 6.8%. However, the market is clearly missing the big picture, which can only be seen if one is willing to do some research and dig into the financials.
For example, BCRH has stated they will pay a consistent dividend in the first 3 quarters of the year and release any remaining amount equal to 90% of full year distributable income to shareholders in the fourth quarter. In Q1, the dividend was $.30 while EPS was $.70. The current implied dividend yield is 6.8%. However, in the company's March 2014 presentation, they projected distributable income of ~$20M in 2014. With the current market capitalization of $160M, this would yield 12.5%.
We believe this opportunity is available due to three prominent factors: 1) the company is small, 2) it's in an unsexy industry (reinsurance) and 3) most investors now rely on computer algorithms and full data sets to screen investment leads.
First, with a market capitalization of $160M, BCRH is not garnering much attention. Only three analysts follow the stock and all three were underwriters for the IPO. There are dozens of publicly traded reinsurers and insurers, so a small new entrant would not normally garner much attention.
Second, reinsurance is attractive from a pure business perspective, but it's not a "sexy" industry like tech. Insurance and reinsurance has been around for a very long time. It is well understood and has many players. However, while BCRH is a "reinsurer," its business deviates from normally traded reinsurers.
Third, in the new world of where everything is computer generated and analyzed, the biggest likely opportunities will remain in areas where data is either incomplete or cannot be digested because of one of several factors. One such example is BCRH, where it IPO'd with no operating history; just cash on the balance sheet.
In Q1 2014, BCRH announced excellent results. They had revenue of $10.3M and net income of $6.1. Annualized, this would result in $41.2M in revenue and 24.4M in net income. Since this is the first quarter with any results, it is still likely difficult for algos to grab and put on analysts' screens for further analysis. Over the next few quarters, more data will come in and thus become easy for computer programs to interpret. This will serve as a catalyst for price rediscovery.
Combine the three items above and one can see how easy it is for BCRH to "slip through the cracks." However, if one takes the time to read through the documents it becomes abundantly apparent that an incredible opportunity exists with a considerable margin of safety.
Valuation
BCRH isn't a traditional reinsurance company but can still be valued much the same. However, we have chosen to use two manners to come to Intrinsic Value: dividends and our two guru method.
There are three scenarios we use for estimating the dividend manner of calculating Intrinsic Value:
A) Conservative:
We believe a 15x multiple, which implies a yield of 6.5%, is justified for the level of risk assumed. With $19M of earnings at a 6.5% normalized dividend yield, BCRH's Intrinsic Value would equate to $292M or $33.4/share. This is ~69% upside from the current price of $19.70.
B) Moderate Debt:
We will continue to utilize the 15x multiple or implied yield of 6.5%, for our moderate calculation. What we will modify in this scenario is the usage of debt to boast returns. With 175M in cash and zero debt, BCRH has the ability to rapidly juice their earnings potential with the addition of a reasonable amount of debt. For example, the current earnings potential of $175M is ~$19M in distributable income. By borrowing another $100M - and taking debt/equity to .63:1, you would have (assuming they can borrow at 6%):
$100 * 14% = $14M (Additional Revenue)
$100 * 6% = $6M (Additional Debt Expense)
=$8M in additional Distributable Income.
This $8M would represent an increase of 42% to current estimated distributable income of $19M, resulting in distributable income of $27M. Utilizing the same 6.5% normalized dividend yield, BCRH's Intrinsic Value would equate to ~$415M or ~$47/share. This is ~140% upside from current price of $19.70.
C) Optimistic/Aggressive Dividend Valuation:
Most insurance and reinsurance companies are currently trading with a dividend yield 2-3%. BCRH's current yield is an implied 6.5%. Solely looking at this factor BCRH would be worth double its current price or $36 per share.
However, if yield implied demand estimates hold, BCRH is currently trading with a forward yield of 12%. To bring that to a comparable 3%, you would need a share price of ~$73 or 300% above the current price. Though we believe it's unlikely to trade at such an aggressive level, it does provide some context as to the possible upside potential of BCRH.
Most reinsurance companies only pay out a small fraction of their "distributable income" every year. However, most of these same insurers are trading at a discount to book value. Yet, if one conducts a search for P&C insurers with the following criteria (payout > .5%, MKT CAP > 100M), all of them are trading above book, with an average price/book of 1.7x.
Furthermore, the average price/earnings moves from < 9x to 19x. Additionally, if you were to standardize all the average dividend payout to account for a 90% distribution, the average yield would be 5.4%. With BCRH paying out 90% of distributable income equivalent to $19M, and the average yield investors are willing to "pay up" for being 5.4%, BCRH's market cap would be $352M or $40/share (100% above the current valuation).
Now that we have calculated Intrinsic Value using various dividend estimates, we should also look at BCRH using the methods employed by two of the best investors alive (they also both run insurance companies).
Utilizing the Thomas Gaynor Method of valuing an insurance company we get the following:
Investments + 10x pro forma EPS = IV
$174M in Investments/8.72M shares = $19.95/share
10 x $2.80 (estimated 2014 eps) = $28/share
Gaynor Estimated IV = $19.95 + 28 = $48.
Utilizing the Warren Buffett "two column" Method of valuing an insurance company we get the following:
$174 * .5 = $87M/8.72M shares = $10/share
$24 * 10 = $240M/8.72 shares = $27.5/share
Buffett method estimate of IV = $10 + $27.5 = 37.5/share
Summary
The mean of all estimates is $45 or 130% above the current price. We believe this is exceptionally cheap as it is a $.44/dollar. Furthermore, due to the high dividend distribution, you get paid a considerable fee to wait until the market properly values BCRH.
Margin of Safety
The first and most obvious margin of safety is the considerable discount to IV, regardless of method. The second, and equally obvious, is BCRH's concrete balance sheet, where BCRH still trades at an 8% discount to its equity or liquidation value.
Risks
BCRH's business model is based on investing in securities tied to insurance. This includes but is not limited to: insurance linked securities (ILS), catastrophe bonds, and reinsurance in general.
Since BCRH invests in insurance securities, they are at risk from natural disasters and catastrophic events such as hurricanes, windstorms, earthquakes, floods, fires, explosions and terrorism, to name a few. These are real risks and an unusual activity in a given year can cause losses to BCRH.
Currently, BCRH has little operating history. While no operating history would traditionally put a company in the "start-up" camp, this case is considerably different. For starters, management has been engaging in this type of operation for many years (though it was within Montpelier). Additionally, the products in which BCRH is dealing with, has been around for a considerable time and their return profiles and risks are well understood. While the products that BCRH invests in are well understood, our ability to judge management's effectiveness, especially through a complete business cycle, is incomplete. Given the long history these products are available, as well as management's extensive experience in this arena, we are willing to issue a "pass" with regards to not witnessing management's performance over a complete cycle. What provides us even more assurance is the fact that A) BCRH is using Montpelier's decade's worth of experience in dealing with insurance risks, and B) Montpelier is a 30% shareholder in BCRH and is incentivized to minimize risks to their investments. However, we will keep a very close eye on the situation and if we see anything we do not like from a risk perspective, we will divest our position.
There are conflicts of interest such as management's incentive to increase the management fees and performance fees they receive. The only way management can do this is by either a) raising equity or b) issuing debt. As a shareholder I clearly prefer the debt route, but we cannot rule out the possibility that equity will be raised at an imperfect time. This would result in dilution, which we are, as a general rule, opposed to.
The only major counter to the capital raise objection is that at this current time, there is much more demand for BCRH's products than there is supply. If management can deploy this capital at yields that are comparable to current rates, the dilution would be somewhat mitigated. Regardless, we generally oppose dilution and this case is no different.
There are additional conflicts of interest regarding management's alignment with BCRH's clients. Management at BCRH also has clients at Montpelier so they are, at times, dealing with overlapping clients and deals. BCRH is also dependent on Montpelier for many things. If Montpelier were to have any major issues this could affect BCRH.
Reinsurance is also a cyclical business. Historically, the reinsurance industry has been cyclical, and reinsurers have experienced significant fluctuations in operating results due to competition, frequency of occurrence or severity of catastrophic events, levels of underwriting capacity, underwriting results of primary insurers, general economic conditions and other factors. The supply of reinsurance is related to prevailing prices, the level of insured losses and the level of industry surplus, which, in turn, may fluctuate, including in response to changes in rates of return on investments being earned in the reinsurance industry.
While we have highlighted several of the risks we believe are most pertinent to our thesis (though certainly not all), there are many other risks that are highlighted in the firm's risk section. When conducting your own due diligence make certain you read through all the potential risks and feel comfortable with them.
Conclusion
In the most recent Q1 2014 earnings release BCRH clearly showed its execution and earnings power. Management posted better than expected results and while some of the key metrics should regress to normalized levels, BCRH looks poised to deliver significant results going forward.
This means that investors are paying very little for what should be considerable upside. Much as bond investors are constantly searching for yield, the opportunity to acquire a solid business in a traditional field yielding significant dividends will become quite obvious in the coming quarters. Those with the insight to understand the opportunity presented (in this early stage) stand to make a considerable return from a low risk, high return situation.
At today's current price of $19.7, BCRH provides a compelling investment opportunity. Book value is approximately 5% above the current price and the current dividend yield is 6.5%.
While many consider reinsurance, and its derivatives unsexy, we find the current implied 12% yield to be downright scandalous for an insurance outfit. But that's not all of the current investment case, with their current fortress balance sheet, they have the opportunity to improve earnings rapidly.
Throw in the non-trivial and quite bullish fact that management is acquiring stock and Donald Smith & Co. own 8.1%, and you have a very compelling investment decision to make.
DISCLAIMER
THESE MATERIALS SHALL NOT CONSTITUTE AN OFFER TO SELL OR THE SOLICITATION OF AN OFFER TO BUY ANY INTERESTS IN MAREDIN CAPITAL ADVISORS OR ANY OF ITS AFFILIATES. AN OFFER TO SELL OR SOLICITATION OF AN OFFER TO BUY INTERESTS MAY ONLY BE MADE PURSUANT TO A DEFINITIVE SUBSCRIPTION AGREEMENT BETWEEN MAREDIN CAPITAL ADVISORS AND AN INVESTOR.
The information contained herein reflects the view of Maredin Capital Advisors as of the date of publication and serves as an opinion. These views are subject to change without notice at any time subsequent to the date of issue. Maredin Capital Advisors has an economic interest in the price movement of the securities discussed in this thesis, but Maredin Capital Advisors's economic interest is subject to change without notice. All information provided in this presentation is for informational purposes only and should not be deemed as investment advice or a recommendation to purchase or sell any specific security. While the information presented herein is believed to be reliable, no representation or warranty is made concerning the accuracy of any data presented. In addition, there can be no guarantee that any projection, forecast or opinion in this presentation will be realized. All trade names, trademarks, service marks, and logos herein are the property of their respective owners who retain all proprietary rights over their use. This presentation is confidential and may not be reproduced without prior written permission from Maredin Capital Advisors.
Disclosure: The author is long BCRH. The author wrote this article themselves, and it expresses their own opinions. The author is not receiving compensation for it (other than from Seeking Alpha). The author has no business relationship with any company whose stock is mentioned in this article.