One of the common beliefs amongst investors is that there is a symmetric relationship between higher yield and higher risk. The risk is usually perceived as a combination of distribution insecurity/unreliability and/or elevated capital peril. While I would agree that in many instances high-yield does represent heightened risk, I think the wide brush that is swiped across the space presents opportunity for both pure income and total return investors willing to invest in mispriced, misunderstood, or under analyzed situations.
What Does A Dividend Really Represent?
Although this viewpoint may create a stir amongst dividend detractors, I believe a dividend to be a periodic, convenient way for investors to share in ongoing corporate profits. A dividend is not a return of capital, nor does it necessarily result in permanent stock price destruction. Some companies, like most dividend growth C-corps pay dividends out of the goodness of their heart, while others, like REITs and BDCs are required, by law, to pay out most of their taxable income. When one invests in a company with a mandated or implied payout obligation, there should be an expectation that the price function of total return will lag relative to companies with more operational flexibility and fiscal balance.
But as long as a company's earnings, net income, funds from operations, or cash flow - depending on how one is measuring performance - are sufficient to cover payment of a dividend, it should not be perceived as a return of capital. If operations are not covering the dividend, then minimally a yellow flag should be raised as to why this is occurring - and whether it is a near-term situation or not.
Analyzing Higher-Yielding Companies
In general, higher yielding equities are going to be paying out a substantial portion of their profits to shareholders, resulting in likely limited amounts of capital available for expansion. Consequently, due to this lack of retained cash, many of your REITs and BDCs, in particular, will issue equity frequently to grow the business, shore up the balance sheet, or in more negative scenarios, maintain liquidity. Additionally, debt load may represent a substantial portion of capital stack, with cost of capital potentially representing a major implication on the yield that ultimately floats down to investors.
Therefore, if a company is paying out 75-100% of its cash stream (like many higher yielders do) to investors on a periodic basis, it has much less room to stumble than most C-corps., that are paying out less than 50% or even 50-75% of their earnings. For example, if Apple (NASDAQ:AAPL) has a bad quarter or two, while it will certainly be reflected in a lower stock price, dividend coverage won't be in jeopardy since current payout is only in the 30% range. Apple and other stocks with lower payout ratios can continue to raise the dividend comfortably even if earnings flat line.
On the other hand, if a couple of Realty Income's (NYSE:O) top tenants were to stop paying rent for several quarters and/or occupancy were to decrease - and cost of capital were to increase - this could potentially threaten dividend growth and coverage. With an FFO payout ratio of about 85% - a percentage not uncommon for a REIT - O has much less room to wiggle insofar as its dividend is concerned.
So the burden of managerial performance and stewardship in maintaining the dividend - and perhaps dividend risk alongside - would seem elevated regarding companies with higher current payout ratios and yields. Of course, that may be a somewhat simplistic near-term view of the situation.
One might just as easily argue that Apple's cash flows are dependent on just a few core products and that the whims of consumers along with disruptive competitive forces could alter the company's fortunes intermediate-to-long-term. Compare Apple's somewhat narrow, non-binding revenue sources to Realty Income's - which are long term and contractually bound, emanating from dozens of investment grade tenants in thousands of buildings. Despite Realty Income's arguably more visible long-term business model, Apple possesses the much lower payout ratio, affording it much more operational flexibility and dividend growth potential with its massive cash hoard over the near term.
Therefore, when one considers high-yield equity, "risk" should be analyzed relative to both current fundamentals of the dividend and forward growth/stability expectations for the company's cash flows. It's pretty easy to forecast where Realty Income's revenues will be coming from over the next decade, but can we accurately predict Apple's revenue profile in ten years given the competitively disruptive nature of its business?
Analysis obviously changes as we look at different companies in different industries. Most mortgage REITs possess higher nominal yields than equity REIT counterparts by investing in secure mortgage paper, but have erratic quarter-to-quarter dividend payments, highly leveraged portfolios, and elevated sensitivity to interest rate movements. Business development companies are typically well diversified, but they are taking equity and credit positions in mostly emerging private companies, which are certainly not ideal for widows and orphan investors.
So if one is able to invest in a company like American Capital (NASDAQ:AGNC) well below book value, despite its somewhat convoluted inner workings, how much more risk is one taking on than if one invests in a stock like Procter & Gamble (NYSE:PG) trading at an elevated P/E ratio? This is somewhat of an impossible to quantify question, but one that investors should consider nonetheless.
Volatility Is Not Risk
If we agree that permanent dividend and/or price destruction is the "risk" of investing in high dividend stocks, we should also agree that just because a stock is volatile does not necessarily make it risky. High dividend stocks may have aggressive investment platforms with complicated accounting that is called to question and/or complex strategies that the market may become uncomfortable with from time to time.
Case in point, two high-yield stocks that I've promoted in the past, Prospect Capital (NASDAQ:PSEC) and American Realty Capital (ARCP) have both seen near-term volatility related to questions about their business. Prospect dropped 15% this year mostly related to an SEC matter over its control companies and to a lesser extent on removal from S&P indexes, but has since snapped back and now trades roughly in line with last stated net asset value. American Realty's stock has dropped 20% as management's active style has been met with disdain by the market. Neither company has announced any dividend adjustment.
It would seem to be back to business as usual at Prospect and my sense is that the market will slowly but surely warm to the asset aggregation story at ARCP. In both cases market overreaction to what really seemed to be fairly benign issues has presented buy opportunities. But volatility can be difficult to stomach, which makes the potentially rocky trading nature of higher yield inappropriate for those prone to indigestion.
When 10% Yield Should Be 6% Yield
While rare, finding high-yield stocks that are simply misunderstood by the market can present robust near-term total return opportunity. Northstar Realty Finance (NRF), which has now spun off its asset management arm (NSAM) was one such opportunity. The company was being valued like a mainstream mortgage REIT, when in reality it was a hybrid operation with traditional brick and mortar real estate ownership, commercial debt originations, and asset management arms. The stock has tripled over the past two years and the yield on NRF has dropped from 10 to about 6%, while the dividend on a nominal level has almost doubled.
A company similar to Northstar, which I currently consider underappreciated, is RAIT Financial Trust (NYSE:RAS), which possesses a similar diversified CRE/management platform to NRF. Like NRF, it has lending, ownership, and lending arms:

RAIT, which currently yields about 8.5% paid out 18 cents a share to common holders last quarter, which represents less than 70% of the midpoint of expected CAD (Cash available for distribution) for this year. Thus, the company has continued room to increase the dividend. Currently trading at about $8.35, I wouldn't see $10 a share out of the question here if the market were to recognize the value.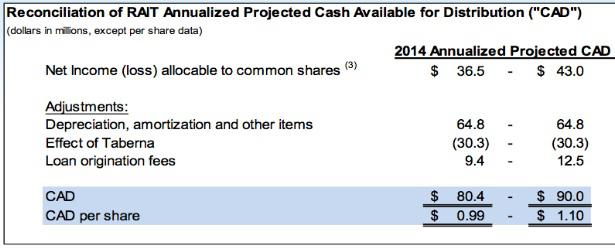 When High-Yield Poses Mutual Fund Like Risk
One of the strategies that stock investors can utilize to generate income on stock holdings is by selling calls on stocks owned within a portfolio. Depending on stock/market volatility, robust premiums can be achieved well in excess of 10 percent. For those disinclined to sell calls on their own, there are a variety of pooled products, mostly closed-end funds that employ call selling strategies. Most have their own nuances including the types of underlying stocks owned, varying percentage of the portfolio that is covered by calls, and how far out of the money the calls are sold for.
Below are the results of a search I conducted on CEFconnect.com for covered call funds with market caps in excess of $300 million: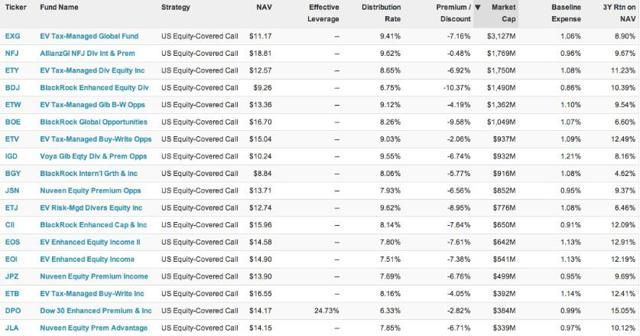 The major upside to most of these funds is that the premium income generated is categorized as return of capital, which means that it is tax deferred. The downside to owning a fund that sells calls is that the price upside is somewhat limited due to the fact that positions may be called away in bull markets. Thus, an option selling strategy functions most efficiently in a lazy, flat market.
Conclusion
High-yield securities are generally summarily slapped with the high-risk moniker - which I think is often times inappropriate - presenting an opportunity for investors willing to do some yield digging and cherry picking. Though some higher-yielders may present above average volatility and heightened economic sensitivity, the associated "fear factor" more times than not seems to generate buy opportunities as weak hands head for the exits.
At the end of the day, however, whatever strategies are employed, income investors should maintain ample sector, security specific, and probably even yield point diversity to combat unforeseen macro-events and overly optimistic outlooks on individual portfolio holdings. The biggest mistake you can make is to assume that a position is bulletproof.
Disclosure: The author is long AAPL, RAS, ARCP, NRF, NSAM, PSEC, EXG. The author wrote this article themselves, and it expresses their own opinions. The author is not receiving compensation for it (other than from Seeking Alpha). The author has no business relationship with any company whose stock is mentioned in this article.
Disclaimer: The above should not be considered or construed as individualized or specific investment advice. Do your own research and consult a professional, if necessary, before making investment decisions.