The economic news today is bullish for not only the general market but also the commodities market as well. We still do not want to focus on iron ore or the base metals in general, however with the special situation in the copper market we would continue to let those remaining positions ride out.
Focusing on the oil markets should continue to be a winning trade and although there are many talking heads saying that investors need to flee the utility stocks we are not sure that the thinking there is correct. Long term, yes, one would want to diversify away from current allocations in the utility names but until we have a string of good economic news it seems silly to just abandon an asset class. It has not worked to dump utilities at any point over the past 12-18 months because the blips in economic data never developed a trend, and a trend is what we are hoping to see before adjusting our playbook.
Chart of the Day:
We may see another 10% pullback in the utilities and the Utilities Select Sector SPDR ETF (NYSEARCA:XLU). Investors have seen that before and a move such as that should not be of concern for long-term investors when factoring in the returns year-to-date on the equity and the large dividends.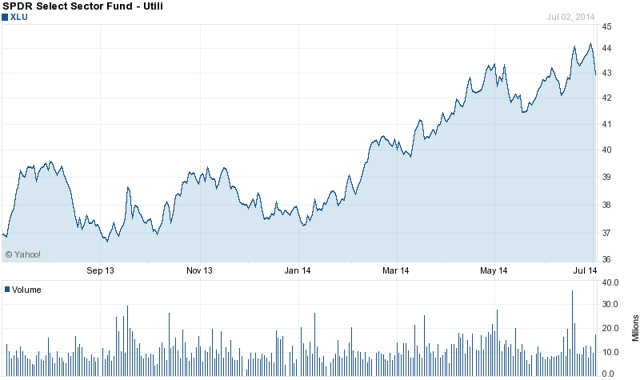 Source: Yahoo Finance
Commodity prices are as follows (at time of submission):
Gold: $1,320.40/ounce, down by $10.50/ounce
Silver: $21.075/ounce, down by $0.179/ounce
Oil: $103.77/barrel, down by $0.71/barrel
RBOB Gas: $3.0199/gallon, down by $0.0041/gallon
Natural Gas: $4.36/MMbtu, up by $0.003/MMbtu
Copper: $3.279/pound, up by $0.014/pound
Platinum: $1,503.60/ounce, down by $7.10/ounce
Copper Markets
Readers should be well versed on the overhaul that Indonesia attempted to implement in regards to the taxation and exportation of copper mined in their country. The two largest producers, Newmont Mining (NYSE:NEM) and Freeport-McMoRan Copper & Gold (NYSE:FCX), fought back and have been in negotiations to try and reach a settlement for months now. While Newmont Mining announced that they were walking away from the bargaining table and instead seeking arbitration, Freeport-McMoRan continues to negotiate with Indonesian leaders.
Production has been hampered from two of the world's five largest copper mines during this process and the longer this drags out the higher copper prices could rise.
We would also point out to readers that Freeport-McMoRan will be dropping 'Copper & Gold' from their name in mid July.
Two Names To Avoid
We remain bearish on Molycorp (MCP) and have avoided it at every turn for some time now. The rare earths space remains weak and Molycorp itself continues to perform poorly. Yesterday the stock hit a fresh all-time low at $2.31/share. We do not see value here and have doubts about the company's ability to move forward without the government agreeing to purchase a stockpile of various rare earths from them. Until demand picks up for the LREEs that they produce, along with the pricing, we will remain on the sidelines.
It was nearly a year ago when we saw the last rise caused by day-traders and our guess is that we will see a large correction following this run-up as well.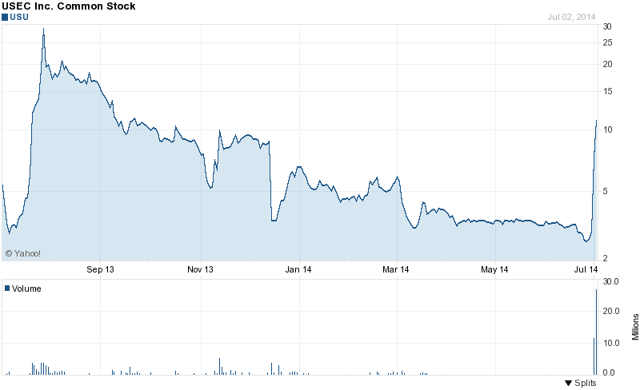 Source: Yahoo Finance
Also in the news lately has been USEC Inc. (USU) as the day-traders took advantage of another news item to squeeze the shorts and push shares dramatically higher. The stock was up over 140% on Tuesday and another nearly 50% on Wednesday in another move that leaves us shaking our head. Having gotten our start in the commodity business covering uranium miners and the industry as a whole, we have watched USEC for years and always find ourselves questioning why investors chase this name higher. Today's correction is a start, but we would expect a reversal to match the dramatic rise moving forward.
Disclosure: The author has no positions in any stocks mentioned, and no plans to initiate any positions within the next 72 hours. The author wrote this article themselves, and it expresses their own opinions. The author is not receiving compensation for it (other than from Seeking Alpha). The author has no business relationship with any company whose stock is mentioned in this article. Both FCX & XLU have previously been recommended.
Editor's Note: This article covers one or more stocks trading at less than $1 per share and/or with less than a $100 million market cap. Please be aware of the risks associated with these stocks.