By Jeremy Schwartz, Director of Research & Tripp Zimmerman, Research Analyst
Japan became an investors' darling in 2013 on the heels of Shinzo Abe being elected in December 2012 and enacting a platform of economic change and reform known as Abenomics, which comprised Abe's "three arrows." The yen weakened considerably, and Japanese stocks were the best performers in the developed markets in 2013.
The first arrow of Abenomics was aggressive monetary expansion, as Abe hand-picked the new head of the Bank of Japan (BOJ) to initiate a bold monetary stimulus package-anchored by an all-in, "do whatever it takes" mindset to achieve a 2% inflation goal on a sustained basis. In 2014, the market appears frustrated that the BOJ has not enacted more monetary easing measures, but we ask, why should it? At present rates, the Bank of Japan is already expanding its balance sheet by more than any other central bank in the world-doubling the purchases of the U.S. Federal Reserve, with an economy just one-third the size. Japan's inflation readings have been heading higher, and all signs are that the BOJ's policies are generally moving Japan in the right direction.
We believe Japan offers some of the best return prospects in the developed world over the next three to five years. And this is not reliant on more central bank actions. The case for Japan today is as a traditional value play. Japan's earnings are increasing more than stock prices-and we expect to see an increasing amount of capital returned to shareholders in the form of higher dividends and buybacks.
As will be discussed below, Japan's dividends reached a new peak, and we expect to see more gains from here. With this backdrop, we will evaluate the changes that occurred in the WisdomTree dividend-oriented index approach that adjusts weight once a year based on changes in relative value-back to the Dividend Stream®.
Valuation Improvement
We feel Japan is emerging as a traditional value opportunity, backed by some of the lowest global valuations with increasingly improving fundamentals. One way we quantify this is by looking at trends in earnings and prices across the major developed regions below. Despite having the best gains, its earnings are up more than other major regional markets, and it's the only major developed region to see a contraction in the price-to-earnings (P/E) ratios.

Japan Leads Regional Markets: Based on record government stimulus and yen weakness, it is not surprising that the earnings and price increases for Japan have been the largest of the above regional markets. It is impressive that even after such large price gains, Japan is the lowest-priced regional market based on the P/E ratio, at an 8% to 17% discount compared to other major developed world regions.
Earnings Have Driven P/E Ratio Lower: Japan's earnings improvement has been so dramatic that the P/E ratio has actually improved, even after a gain of more than 50% for equity markets. On the contrary, all other regional markets displayed above saw their prices outpace their respective earnings, so their multiples expanded from 13% to 24%. Just to put in context how dramatic earnings gains were, TOPIX earnings were up 71% over this period while S&P 500 earnings were up 13.4%.
The Power Of Dividends
We feel we are still in the early innings of Japan's transformation, and a more virtuous cycle has been kick-started with the weakening of the yen, earnings growth and signs of inflation instead of deflation in price levels. Dividends are a fundamental metric of value and one thing that we think is going to motivate local investors out of cash and government bonds and into equities. This is one of the stated goals of Abe's policies and is supported by the central bank.
Given Japan's return from deflation to inflation, the Japanese government bonds (JGB) that anchor pension fund allocations currently offer negative real returns. The 0.59% 10-year JGB does not compensate for the recent 1%+ inflation readings and certainly falls way short of the 2% inflation target Japan intends to reach. In light of this, investors naturally will look for asset classes that offer positive real returns:
In the U.S., the 1.92% dividend yield of the S&P 500 is now approximately 73 basis points below the 2.65% 10-year bond yield of the U.S. Treasury.
By contrast, the dividend yield of the TOPIX was over 3x the JGB yield, and practically 90% of stocks or more have a dividend yield ahead of the JGB yield.
The dividend yield spread of equities versus bonds is higher than both its historical averages and medians and close to its all-time high. We believe equities will continue to remain attractive compared to potential negative real returns on cash and government bonds ((JGBs)) with rising levels of inflation.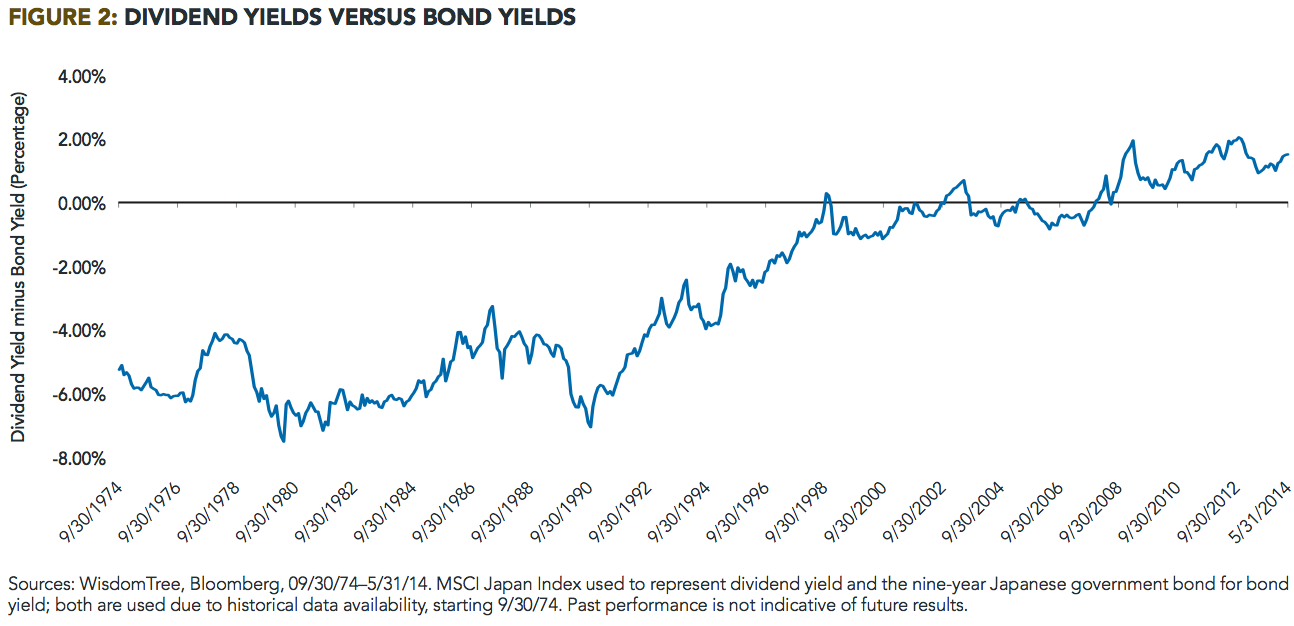 Dividend Yield Spread Near Record Highs: The dividend yield spread was higher than both the historical median and average by more than 4% and higher than 96% of historical monthly data points. Also, unlike fixed income, which by definition offers a fixed payment of interest over time and no growth potential, equities have the potential to see earnings or dividends grow over time. It is important to note that equities offer a different risk profile compared to fixed income. Over the most recent 10 years, dividends have grown more than 8.1% on an average annual basis, outpacing inflation by 7.8%. And the trend we saw this year indicates dividends may be trending even higher in the next three to five years than the 8% they grew in the last 10 years.
Dividend Growth
The total dividends paid by Japanese companies reached a record high ¥7.86 trillion, and we believe these trends in dividend growth remain very supportive. Two key initiatives from Abenomics third-arrow reforms revolve around corporate governance and investor stewardship. Both reform initiatives are designed to encourage companies to become better allocators of capital and encourage them to use their stockpiles of cash, leading to more distributions to shareholders.
The creation of the JPX-400 stock index, which focuses in on return on equity (ROE) or profits over shareholder equity, even encouraged one company to pledge to pay out 100% of its earnings in the form of dividends or stock buybacks because it was excluded from this Index. Paying out more dividends or buying back stock leads to less buildup of equity on the balance sheet and should help improve a company's ROE. The goal to better manage capital on balance sheets should make Japanese companies more efficient stewards of capital and may support above-average dividend growth over the coming years.

Japan Dividend Stream Reaches New High: The Dividend Stream has reached a new high of ¥7.86 trillion, an increase of 14.6% from the 2008 high. In dollar terms, the Dividend Stream also reached a new high of $77.2 billion, an increase of 4.5% from the 2012 high.
The most recent annual dividend growth was led by larger companies such as Toyota that are typically more export focused and benefited from a weaker yen. Even though the total dollar value of dividend growth was up significantly more than the median or typical stock's dividend growth, growth was still broad based, with increases across eight out of 10 sectors.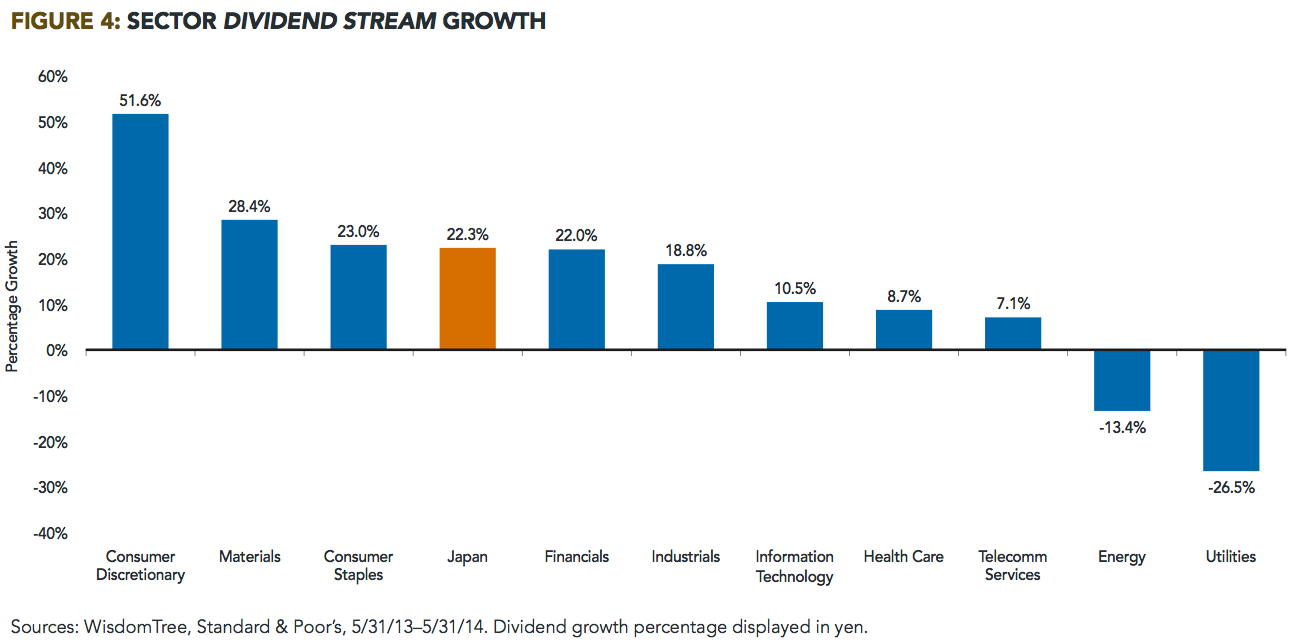 Consumer Discretionary-Led Sectors: The sector displayed the highest percentage increase and became the largest cash dividend-paying sector at more than ¥1.8 trillion, representing approximately 23% of the total Dividend Stream. The growth was led by large cash increases among exporters such as Toyota Motor Corp. (NYSE:TM), Panasonic (OTCPK:PCRFY) and Bridgestone (OTCPK:BRDCY). Toyota and Bridgestone also had significantly higher percentage growth than the Consumer Discretionary sector, while Panasonic recently reinstated its dividend after canceling it in 2012.
Utilities and Energy Lagged: Although both sectors saw double-digit declines in percentage growth, neither was significant in terms of the total stream because they represent the two lowest-paying sectors, each less than ¥100 billion.
Quantifying The Fundamental Rebalance
With market capitalization-weighted indexes, when constituents increase in price compared to other stocks, they gain greater weight and increase their impact on the performance of the index. WisdomTree Indexes employ a rules-based rebalancing mechanism that adjusts relative weights based on underlying dividend trends.
During the rebalancing process, which occurs once per year for each Index, the relationship between price change and dividend growth is measured. Dividend growth is a key factor in determining which companies get increased weight at each rebalance. This is a crucial element of the differentiation factor of WisdomTree's indexing approach.
In the table below, we quantify the dividend growth for companies that received increases in weight or decrease in weight, and compare that to the overall universe.

Dividend Growers Saw Weight Increase: The companies that saw their weight increase at the rebalance had a median dividend growth that was typically 20 percentage points higher than the companies that saw weight reduced at the rebalance.
Underperformers Typically Saw Weight Increase: Performance is also a key driver of relative changes. The typical stock that saw its weight increase had a median total return that was 9 to 13 percentage points lower than the median of stocks that had weight lowered.
Note: Going forward, the Japan Hedged SmallCap Equity Index and Japan SmallCap Dividend Index will be tracking the same index of stocks. This year there were more additions to the Japan SmallCap Dividend Index due to stocks that previously were trading on a different exchange that merged with the Tokyo Stock Exchange.
WisdomTree Japan Indexes Rebalance
In what follows, we outline how the annual screening data impacted WisdomTree's Japan Dividend Indexes. Each WisdomTree Index will compare its sector composition before the rebalance to its sector composition afterward. Additionally, each Index compares its underlying sector performance to the broad Index to look at the average performance of sectors that saw their weights increase or decrease. It is the interaction of dividend growth and price performance that provides the basis for determining which sectors tend to see increases or decreases in weight at the annual WisdomTree Index rebalance. Sectors that exhibit particularly strong performance must grow their dividends commensurately to maintain their weights. Sectors exhibiting weaker performance (assuming, of course, they're not reducing their dividends commensurately) could be more likely to have their weights increased.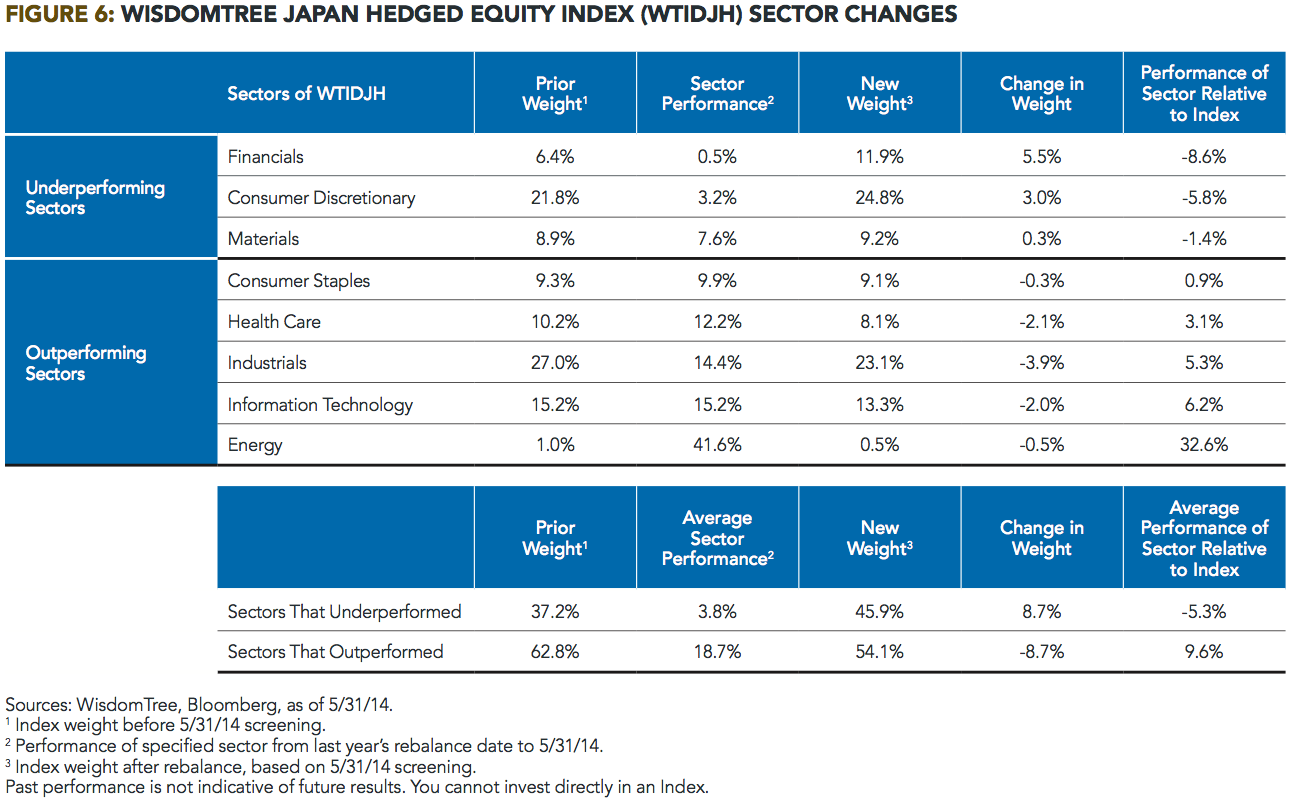 Relative Value Rotation: The sectors that underperformed the Japan Hedged Equity Index-Financials, Consumer Discretionary and Materials-saw weight increased from 37.2% before the rebalance to 45.9% afterward. That same total weight was reduced from the other five sectors that had outperformed the market by 9.6% on average.
Financials Saw Largest Increase in Weight: An increase of 5.5%, which was driven primarily by the addition of Mizuho Financial Group (NYSE:MFG) and Tokio Marine Holdings (OTCPK:TKOMY). Other noticeable increases were Nomura Holdings (NYSE:NMR) and Mitsubishi UFJ Financial (OTCPK:MBFJF), which both displayed positive dividend growth over the period but saw negative price performance. On aggregate, the sector was the worst performing over the period but displayed relatively high dividend growth, hence earning a higher weight. Other noticeable additions were in the Consumer Discretionary sector, which saw the highest total dividend growth but underperformed the broader index by almost 6 percentage points.
Industrials and Health Care Saw Largest Reduction in Weight: A decrease of 3.9% and 2.1%, respectively. These reductions were driven primarily by their comparatively strong performance but low relative dividend growth. Noticeable reductions within the Industrial sector were Fanuc Corp. (OTCPK:FANUY) and Sumitomo (NYSE:SMFG), which saw their prices appreciate greater than their dividends.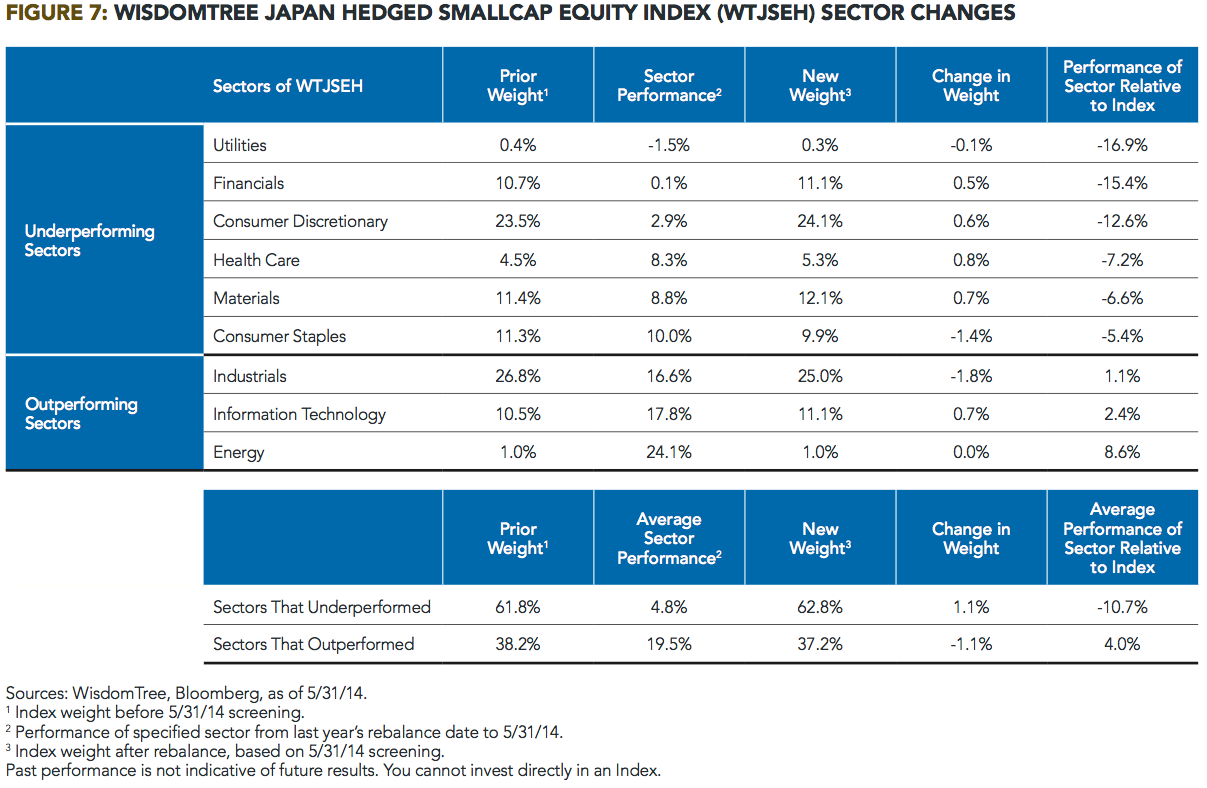 Health Care Saw Largest Increase in Weight: An increase of 0.8%, which was primarily driven by dividend growth. Among small caps within the index, the Health Care sector had the highest median dividend growth but the second-worst median price performance. This relationship between relatively high dividend growth and low relative performance improved the relationship between dividends and price, ultimately leading to larger weight.
Industrials and Consumer Staples Saw Largest Decrease in Weight: A decrease of 1.8% and 1.4%, respectively. Both sectors saw relatively high median price performance, but their median dividend growth wasn't able to keep pace, hence lowering the relationship between price and dividends and earning a lower weight.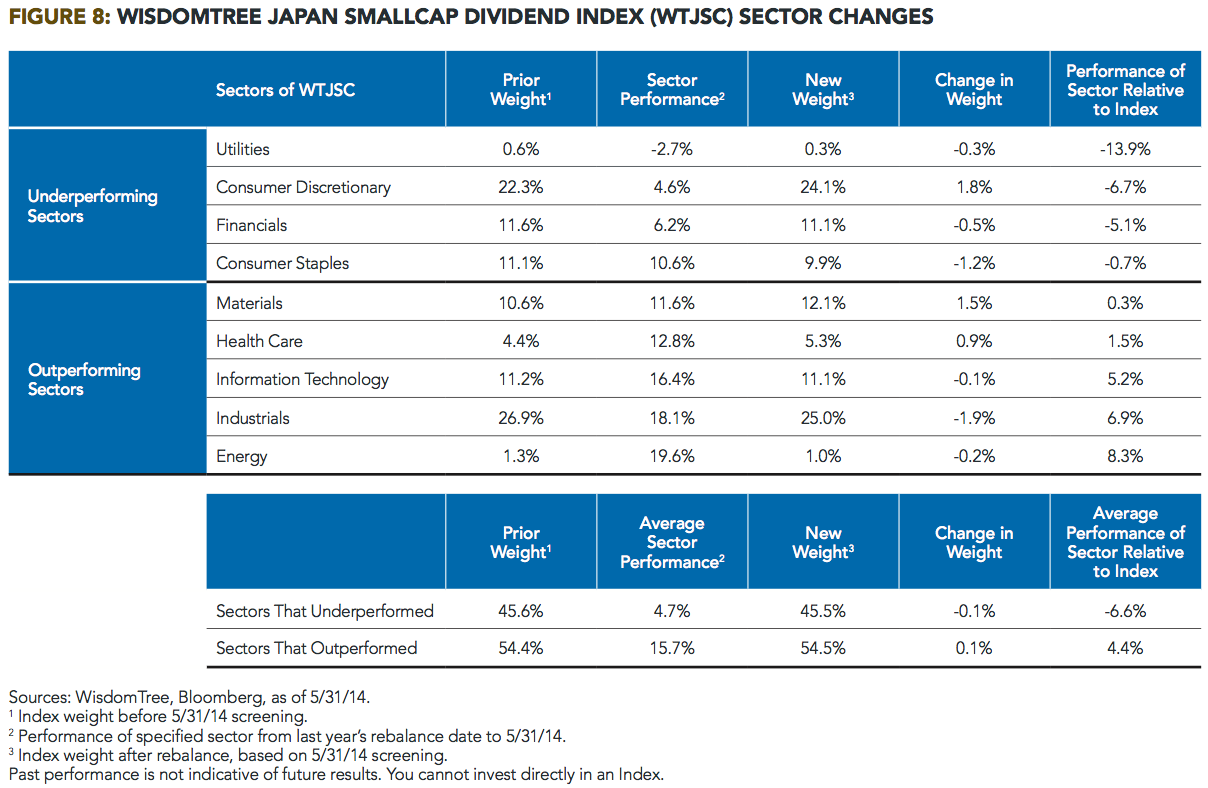 Consumer Discretionary Saw Largest Increase in Weight: An increase of 1.8%, which was primarily driven by multiple additions. As a reminder, this year there were more additions to the Japan SmallCap Dividend Index due to stocks that previously were trading on a different exchange that merged with the Tokyo Stock Exchange. Even though the sector saw relatively poor performance, the median dividend growth was slightly higher than median price performance, ultimately improving the dividend-to-price relationship.
Industrials Saw Largest Decrease in Weight: A decrease of 1.9%, which was primarily driven by multiple deletions. The Industrial sector median dividend growth was slightly higher than the Index, but it wasn't enough to keep up with the strong relative performance, ultimately earning a lower weight.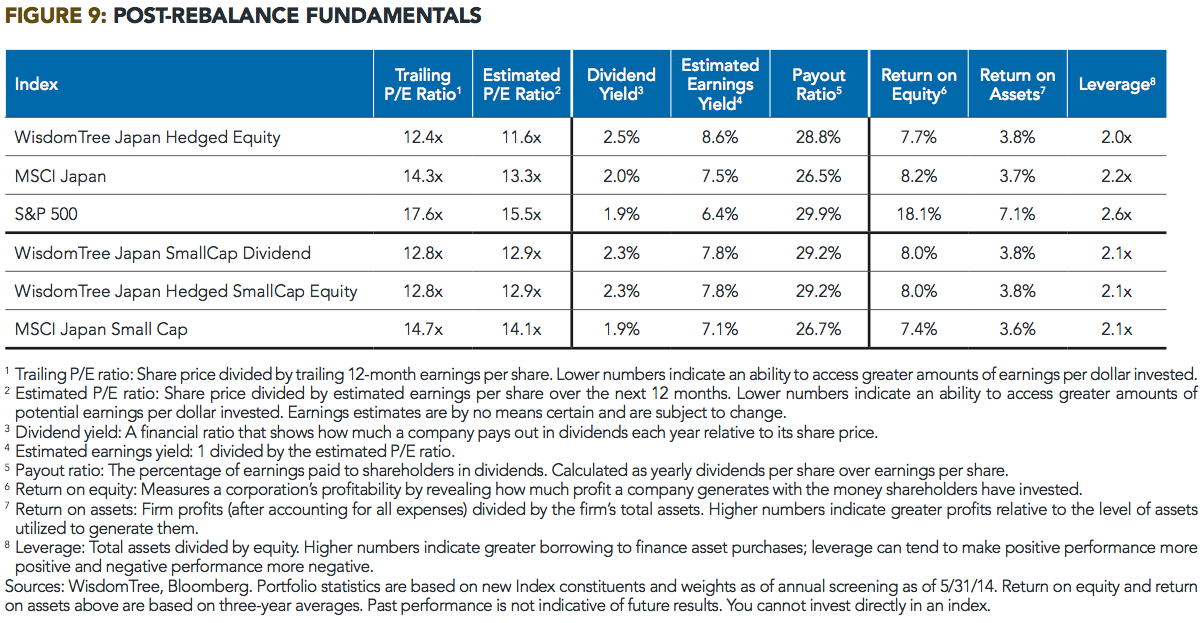 WisdomTree Indexes Typically Exhibit Lower Valuations: Whether one is looking at the price-to-earnings ratio or trailing dividend yields, WisdomTree Indexes will typically exhibit lower valuations compared to their market cap-weighted benchmarks. The annual rebalancing process helps manage valuation risk by consistently shifting weight toward firms that have exhibited greater rates of dividend growth than others. It is in this way that WisdomTree looks to mitigate the risk of being exposed to firms that may have enjoyed strong momentum and price increases but whose valuations have not improved commensurately.
Japan Looks Attractive Compared to S&P 500 Index: Investors typically display a home bias by over-weighting domestic equities and could potentially benefit from diversifying into foreign equities. We feel Japan looks attractive relative to the S&P 500 Index when looking at P/E ratios. WisdomTree Japan Indexes also displayed a higher dividend yield, lower payout ratio and lower leverage than the S&P 500 Index. This low payout ratio, coupled with other factors alluded to before, leads us to believe that current dividend levels have room to grow. Although ROE is much lower for Japanese indexes, recent government initiatives discussed above should help close the gap.
Conclusion
The WisdomTree annual rebalance is a key element of the added value of WisdomTree's Index methodology. We interpret Japan's current valuations and double-digit dividend growth as a very positive indicator of underlying market fundamentals. We believe these fundamentals, coupled with the ongoing third-arrow reforms, should help provide a notable foundation for potential future gains.
We take comfort in the fact that the overall valuations of Japanese stocks, even after impressive price gains, have actually become cheaper on an earnings basis. Our analysis also found that the Japanese Dividend Stream reached new highs, and the yield spread of equities versus bonds is close to its all-time highs. Just as critical, it is at each rebalance when WisdomTree engages in a disciplined process to adjust weight based on changes in relative value as well as in the relationship between dividend growth and price growth.
Disclosures: Unless otherwise stated, data source is WisdomTree.
Investors should carefully consider the investment objectives, risks, charges and expenses of the Funds before investing. To obtain a prospectus containing this and other important information, visit wisdomtree.com. Investors should read the prospectus carefully before investing.
There are risks associated with investing, including possible loss of principal. Foreign investing involves special risks, such as risk of loss from currency fluctuation or political or economic uncertainty. Investments focusing on certain sectors and/or smaller companies increase their vulnerability to any single economic or regulatory development. This may result in greater share price volatility. Investments focused in Japan may increase the impact of events and developments associated with the region, which can adversely affect performance. Investments in currency involve additional special risks, such as credit risk, interest rate fluctuations and derivative investment risk. These risks can add to volatility, may be less liquid than other securities and more sensitive to the effect of varied economic conditions.
WisdomTree Japan Hedged Equity Index: An index designed to provide exposure to Japanese equity markets while at the same time neutralizing exposure to fluctuations of the Japanese yen movements against the U.S. dollar. Constituents are dividend-paying companies incorporated in Japan that derive less than 80% of their revenue from sources in Japan. Weighting is by cash dividends paid. WisdomTree Japan Hedged SmallCap Equity Index: Designed to provide exposure to Japanese equity markets while at the same time neutralizing fluctuations of the Japanese yen's movements against the U.S. dollar. WisdomTree Japan SmallCap Dividend Index: Designed to provide exposure to dividend-paying small-capitalization companies in Japan. Tokyo Stock Price Index (MUTF:TOPIX): A market capitalization-weighted index that is calculated based on all the domestic common stocks listed on the Tokyo Stock Exchange First Section. MSCI Japan Index: A market cap-weighted subset of the MSCI EAFE Index that measures the performance of the Japanese equity market. MSCI Japan Small Cap Index: A market capitalization-weighted index designed to measure the equity market performance of Japanese small-cap securities. MSCI EAFE Index: A market cap-weighted index composed of companies representative of the developed market structure of developed countries in Europe, Australasia and Japan. S&P 500 Index: A market capitalization-weighted benchmark of 500 stocks selected by the Standard & Poor's Index Committee, designed to represent the performance of the leading industries in the United States economy. MSCI Europe Index: A market capitalization-weighted index designed to measure the performance of developed equity markets in Europe. JPX-Nikkei Index 400: A market capitalization index composed of companies with high appeal for investors, which meet requirements of global investment standards, such as efficient use of capital and investor-focused management perspectives.
WisdomTree Funds are distributed by ALPS Distributors, Inc.
Jeremy Schwartz and Tripp Zimmerman are registered representatives of ALPS Distributors, Inc. © 2014 WisdomTree Investments, Inc. "WisdomTree" is a registered mark of WisdomTree Investments, Inc.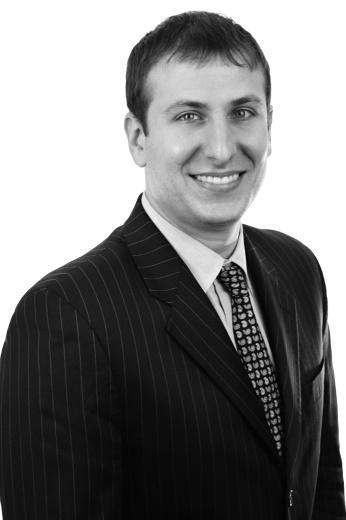 Jeremy Schwartz, Director of Research
As WisdomTree's Director of Research, Jeremy Schwartz offers timely ideas and timeless wisdom on a bi-monthly basis. Prior to joining WisdomTree, Jeremy was Professor Jeremy Siegel's head research assistant and helped with the research and writing of Stocks for the Long Run and The Future for Investors. He is also the co-author of the Financial Analysts Journal paper "What Happened to the Original Stocks in the S&P 500?" and the Wall Street Journal article "The Great American Bond Bubble."

Tripp Zimmerman, Research Analyst
Tripp Zimmerman began at WisdomTree as a Research Analyst in February 2013. He is involved in creating and communicating WisdomTree's thoughts on the markets, as well as analyzing existing strategies and developing new approaches. Prior to joining WisdomTree, Tripp worked for TD Ameritrade as a fixed income specialist. Tripp also worked for Wells Fargo Advisors, TIAA-CREF and Evergreen Investments in various investment related roles. Tripp graduated from The University of North Carolina at Chapel Hill with a dual degree in Economics and Philosophy. Tripp is a holder of the Chartered Financial Analyst designation.