By Jaime Peters
As a part of the Dodd-Frank Financial Reform and Consumer Protection Act, banks are losing the ability to issue trust preferred securities (TruPS) that qualify as Tier 1 capital for regulatory purposes. The "Collins Amendment" responsible for the change applies only to banks with more than $15 billion in assets and does not begin to phase in until 2013. In our opinion, this change is likely to hit the worst-off large regional banks the hardest.
Background
TruPS are a hybrid form of capital. For regulatory purposes, most TruPS currently qualify as Tier 1 capital. For tax purposes, TruPS are currently treated like debt, allowing a tax deduction for the interest payments. When the rules first changed in 1996 to give the securities Tier 1 status, banks seized the opportunity and issued the long-dated securities. As debt, TruPS are rather expensive, but they are a relatively inexpensive form of regulatory capital. However, once the new rules are in place, TruPS will not qualify as regulatory capital and instead will simply be expensive debt. Consequently, the Collins Amendment will likely spur the banks to call their TruPS and replace them with common or preferred equity, a more expensive form of regulatory funding.
The timing of the change is intriguing. The 2013 phase-in date seems to have two reasons behind it. First, it gives the banks time to either issue new securities or retain earnings to replace their TruPS. Second, most TruPS have a five-year lock up period. Due to the stress in the credit markets, banks' ability to issue TruPS dried up in mid-2008. Conveniently, the 2013 start date will allow banks to call the securities without worrying about the lock-up period.
Additionally, if a bank is anxious to replace the capital immediately--rather than waiting until the phase-in begins, most have a 90-day window following the bill becoming law (July 21 to October 19) to call their securities under 'capital treatment' event clauses written into the TRuPs' contracts. That clause appears to have been written for exactly this sort of legislation, and Comerica (NYSE:CMA) recently evoked the clause to call 100% of its TruPS.
Who Has TruPS?
With the exception of State Street (NYSE:STT), every large U.S. commercial bank uses TruPS to fund their assets. The amounts vary, but TruPS typically account for about 15% of a bank's Tier 1 capital--or 150-200 basis points of the ratio. Due to the credit crisis, the large banks have increased their Tier 1 ratios significantly-- from 7%-8% to 10%-12%, while the current minimum remains 6%. Consequently, most of the top banks do not appear to need their TruPS simply to meet the minimum. However, the combined effect of TARP funds dividends increasing (rates go from 5% to 9% in 2013) and the Collins Amendment means that a few of the banks are definitely going to need to bulk up their capital bases before the provisions go into effect. (Click to enlarge)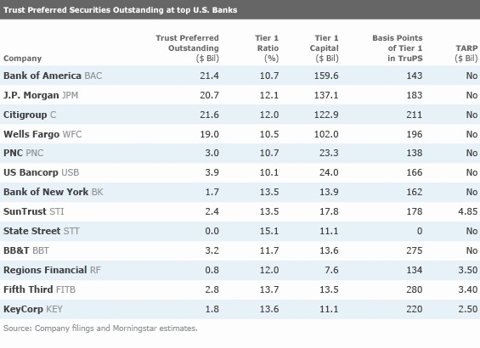 For the banks without TARP (with the exception of Citigroup (NYSE:C), discussed below), the loss of the Tier 1 status of TruPS is an inconvenience and will raise the cost of funding slightly, but is not a major hurdle in the road. Bank of America (NYSE:BAC), J.P. Morgan (NYSE:JPM), Wells Fargo (NYSE:WFC), PNC (NYSE:PNC), U.S. Bancorp (NYSE:USB), and BB&T (NYSE:BBT) all have enough capital to maintain its well-capitalized status without their current trust preferred securities. We believe each bank will have enough core earnings over the next two years to avoid being forced to issue new securities if they choose to call the trust preferred securities.
Citigroup may have repaid TARP, but the company is still under restrictions about calling TruPS while the government retains its common and trust preferred shares. The Treasury has already sold 53% of its common stock holdings, bringing its ownership down to 12.4% of the bank and has started to sell off its trust preferred securities as well. We believe the government will have divested all of its Citigroup holdings before the beginning of 2013, leaving the bank free to call in its TruPS when they no longer qualify for Tier 1 status.
Of the four top banks with TARP funds, SunTrust (NYSE:STI) and KeyCorp (NYSE:KEY)) are the best off. Both could technically repay their TARP funds, lose the Tier 1 treatment of TruPS, and still maintain a Tier 1 ratio above 8%. While we highly doubt the government is going to let the banks repay TARP without raising some sort of new equity, we believe SunTrust and KeyCorp are better positioned to bargain with the Treasury for a smaller equity raise than Fifth Third (NASDAQ:FITB) or Regions Financial (NYSE:RF).
Fifth Third is not in too bad of shape. The company has $3.4 billion of TARP and $2.8 billion of TruPS, representing a little less than half of its lofty 13.7% Tier 1 ratio. Without the benefits of TruPS or TARP, we estimate the company's Tier 1 ratio would be 7.4%. Consequently, we expect the bank will raise additional funds before 2013 and will wait to call its TruPS until then.
Regions Financial is in the worst shape of all. Not only is the company continuing to lose money, but its capital position is much worse than its 12% Tier 1 ratio would suggest. Our calculations estimate that without TARP and TruPS, Regions' Tier 1 ratio would be only 5.1%--under the well-capitalized standard. The U.S. government is not going to allow Regions to repay TARP without issuing a significant amount of equity to replace it--likely diluting current shareholders. A bet on Regions at this point comes down to a bet on the pricing of that eventual offering. On the other hand, this overhang likely means the company will not be tempted to call its TruPS in anytime soon--leaving dividend-hungry investors with a paycheck until 2013, in our opinion.
Conclusion
The Collins Amendment is an attempt to strengthen the capital bases of the financial companies, in order to help prevent a repeat of the financial crisis in 2008 and the subsequent cost to the taxpayer. While this might be a tiny step in that direction, it is more of a headache than anything else for the banks. It will raise the cost of funding, but that higher cost is likely to be quickly passed on to the customer in the form of higher fees and higher interest rates. Consequently, the long-lasting effects on the banks will be next to nothing, in our opinion.
Disclosure: Morningstar licenses its indexes to certain ETF and ETN providers, including Barclays Global Investors (BGI), First Trust, and ELEMENTS, for use in exchange-traded funds and notes. These ETFs and ETNs are not sponsored, issued, or sold by Morningstar. Morningstar does not make any representation regarding the advisability of investing in ETFs or ETNs that are based on Morningstar indexes.