Beginning with 28 Exchange Traded Funds (ETFs), the following Cluster Analysis walks readers through the process of building a well-diversified portfolio based on correlation clustering. ETFs selected include a range of U.S. Equities, Domestic Bonds, Domestic REITs, International REITs, Commodities, Developed International Markets, Emerging Markets, Precious Metals, International Bonds and Dividend Securities.
ETF Rankings: Ranking the ETFs is based on three metrics:
Performance over the past three months (91 days).
Performance over the past six months (182 days).
Volatility calculation using mean variance.
The spreadsheet has a semi-variance calculation for those who prefer this option. One of the primary reasons for such a ranking system is to help investors avoid poor performing ETFs by using the iShares 1-3 Year Treasury Bond ETF (NYSEARCA:SHY) as a "circuit breaker" ETF. ETFs (or stocks) performing below SHY are sold out of the portfolio. Only one ETF from this list exhibits this condition and it is the Vanguard Small Cap Growth ETF (NYSEARCA:VBK).
ETFs holding the top positions are REITs, Emerging Markets, and Dividend style funds. All throw off respectable dividends.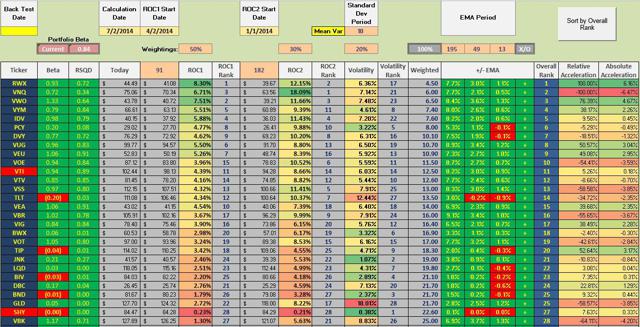 Cluster Diagram: The following diagram breaks the ETFs into 10 clusters based on correlations. It is important to include securities one has a good idea will come up with lower than normal correlations. Investors who style their portfolios along the lines of Dividend Aristocrats will find many low correlated investments using this type of analysis.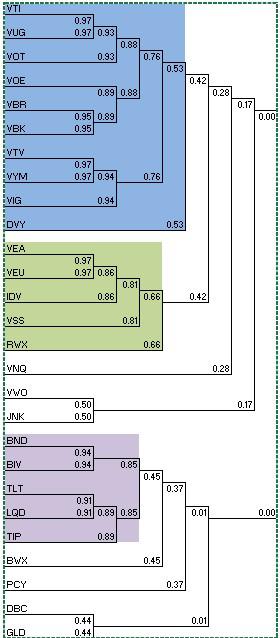 Buy-Hold-Sell Recommendations: In the following data table we see the ETFs that are extracted from each asset class. While I set the Weighting Cluster Filter to 10, not every cluster is represented by a recommended ETF. For example, Cluster #9 is represented by the PowerShares DB Commodity Index Tracking ETF (NYSEARCA:DBC). Ranked number 24, this ETF is not recommended for inclusion in the portfolio. The SPDR Gold Trust ETF (NYSEARCA:GLD) is in position number 25 and is also rated too low for inclusion. Clusters #5, #6, and #7 are also not represented.
The software recommends the number of shares to be invested in the top performing ETFs so long is they carry low correlations with each other. Share numbers for each recommended ETF are based on the current holdings and available cash.
The data table includes a wealth of information such as multiple Exponential Moving Averages, the "Golden Cross" and Absolute Acceleration (AA) percentages. AA measures the normalized growth over the most recent 91 days vs. performance over the most recent 182 days.
While a "clustered portfolio" may seem highly concentrated, it is actually well diversified as there are hundreds of companies in the five ETFs and those five ETFs carry low correlations with respect to each other. If the Weighting Cluster Filter were raised to a higher number, the performance "collar" is loosened so more ETFs would be included. My preference is to stick with the better performing securities.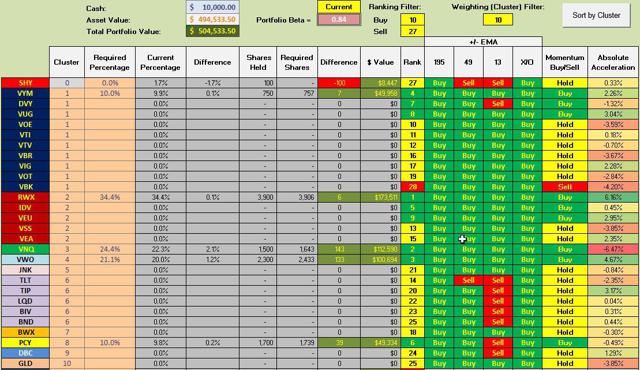 Cluster Weighting Momentum Table: The follow Cluster Rankings and Weightings table extracts the essential material from the above graph and presents the critical data in a simple format.
We end up with a portfolio consisting of High Dividend Yield stocks, International REITs, Domestic REITs, Emerging Markets, and Emerging Markets Sovereign Debt: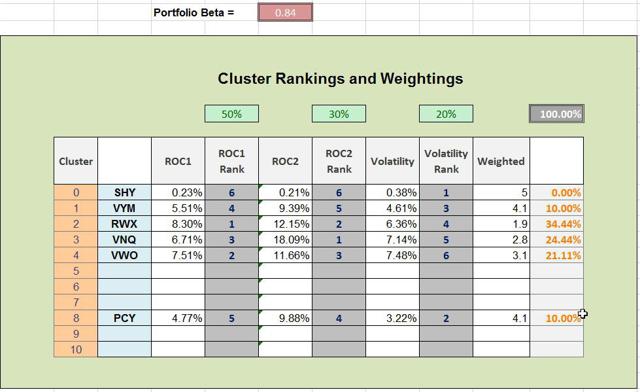 Disclosure: The author is long VYM, VNQ, PCY, VWO, RWX. The author wrote this article themselves, and it expresses their own opinions. The author is not receiving compensation for it (other than from Seeking Alpha). The author has no business relationship with any company whose stock is mentioned in this article.