When I first heard the news in April that Pfizer (NYSE:PFE) was having another go at merging with AstraZeneca (NYSE:AZN), I was skeptical that this effort would have a different outcome to the one in January. AstraZeneca's quick rejection following Pfizer's offer on May 2nd confirmed this. Not more than four days had passed after Pfizer had made its offer, before AstraZeneca started a charm offensive to convince investors that its prospects as a stand-alone company were very strong.
Pfizer decided to persist. Despite the very public rejection of their second offer and the grilling CEO Ian Read received from parliamentarians from the business and science committees of the House of Commons, Pfizer proceeded to make two more offers. As we know both were rejected.
The rejections did not come as a surprise, as I was expecting that the biggest obstacle Pfizer would encounter would be AstraZeneca's management and shareholders.
AstraZeneca had indicated in March 2013 that the company was refocusing their strategy. Their aim was to better balance the strength of their Primary care business by targeting further developments in the Specialty care business. Their immuno-oncology products have been key in this respect, and AstraZeneca was quick to use them as a tool to fend off Pfizer. Before Pfizer was able to make its third offer on May 16th, AstraZeneca rushed its best immuno-oncology drug (MEDI4736) to Phase-III trials.
It seemed to me that with hurdles like these Pfizer would find it very difficult to convince either management or investors that a takeover was the best thing that could happen to them.
Added to its takeover woes, Pfizer's Q1 results disappointed. Their sales missed by $700 million (9% below market expectations), and the slight improvement on their adjusted tax rate (25% instead of their 27% guidance) was not enough to change market sentiment on the stock. Pfizer's stock dropped close to 12% from their March highs.
As investors, we must see the events of April and May in a positive light. They are presenting us with a great opportunity to buy a major pharmaceutical company at a discount.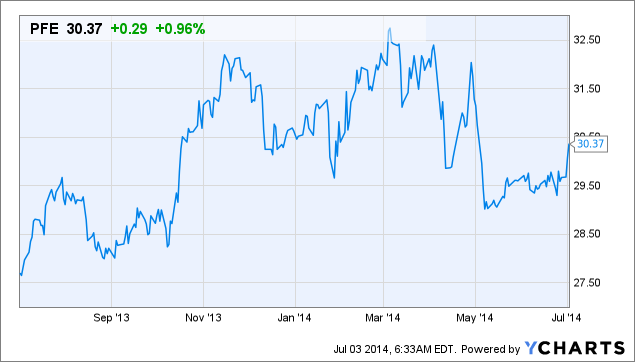 On a fundamental basis, the long-term outlook for Pfizer remains solid. Its financials have not significantly changed and neither has its outlook. With regards to its pipeline, the ACIP met to discuss Prevnar 13 in adults 65 and older in June, and as the company's CEO detailed during the earnings call, they expect a formal vote in October. With regards to palbociclib, the company announced in May that it would submit a new drug application following their discussions with the FDA regarding the final results of PALOMA-1. The submission is expected to happen in Q3.
The stock remains at an attractive entry level. Trading close to 13x forward P/E, it is one of the cheapest major pharmaceutical companies out there at the moment. Its outlook is positive with median price target for the stock close to $35.
| Company | Forward P/E |
| --- | --- |
| Pfizer Inc. | 13x |
| Merck & Co., Inc, (NYSE:MRK) | 16x |
| Eli Lilly & Co. (NYSE:LLY) | 19x |
| Bristol-Myers Squibb Co. (NYSE:BMY) | 28x |
Conclusion
The recent move lower in the price of Pfizer's stock is down to market sentiment. A badly managed takeover effort together with disappointing sales for Q1 resulted in the stock trading 12% lower.
Pfizer is still a solid company with a bright future. It can now be bought at a great price.
Disclosure: The author has no positions in any stocks mentioned, but may initiate a long position in PFE over the next 72 hours. The author wrote this article themselves, and it expresses their own opinions. The author is not receiving compensation for it (other than from Seeking Alpha). The author has no business relationship with any company whose stock is mentioned in this article.