Intel Corp. (NASDAQ:INTC) beats Google (NASDAQ:GOOG) in the race for consumer robots. Intel is planning to release the first version of the $1,600 robot, Jimmy, this coming September. This is great propaganda for Intel. Google made it clear that its purchase of Boston Dynamics is for consumer purposes, not for military contracts.
Boston Dynamics has the most advanced robots today. However, Google executives did not make any announcement regarding its robotics program during the recent Google I/O developers conference. This is a glaring omission because Google bought eight robotics companies last year.
Jimmy the Robot has Intel Inside and it is going to launch on the same month that Apple (NASDAQ:AAPL) will reportedly launch the iPhone 6. Apple is unlikely to use Intel chips inside their smartphones and tablets. However, INTC investors should still keep the faith. Intel is working hard to make smart bots become mainstream.
Smart Bots Like Smartphones
Jimmy is not going to be a cleaning robot like the Roomba. Intel's home-centric robot is a customizable, programmable, and interactive automaton. Intel is prepping up Jimmy the Robot like a smartphone. Unlike the products of Boston Dynamics, Jimmy's functions will not exclusively rely on complex Artificial Intelligence programming.
Customers of Intel's robots will be able to download apps for specific tasks and features. This method is far more user-friendly. Instead of robotics enthusiasts wasting a lot of time coding the AI for their robots, they can just stand on the shoulders of Intel's apps-powered 21st Century Robotics platform.
Intel is building an apps library for home robotics. The Jimmy the Robot project is open source. Expert developers can share their apps to help less-skilled people accelerate their overall robotics design workflow.
Intel is leading the way towards cheap multi-purpose robots.
Open Source Design
The open source robotics initiative of Intel is much like Google's approach to Android OS. However, Intel did not buy any robotics company lately. Jimmy the Robot is the brainchild of Intel Futurist Brian David Johnson. Johnson is the driving force behind The 21st Century Robot Manifesto. His day job at Intel is to imagine what products will be useful to humans 10 or 15 years from now.
The picture below compels me to believe that Johnson sees robots becoming as pervasive as human pets a decade from now.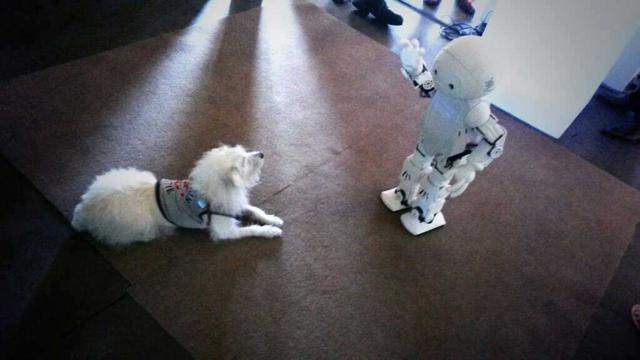 Source: 21stcenturyrobot.com
Johnson demonstrated Jimmy the Robot last year. He is betting big that this 2-foot tall robot is a small, but important, step towards making robotics become more mainstream.
Like Tesla's (NASDAQ:TSLA) Elon Musk, Johnson decided to make Intel's first commercial robot open source. Musk's release of Tesla patents is to accelerate the adaptation of electric vehicles.
Intel is also hoping to fast track the consumer adaptation of robots with Jimmy's open source policy. Like Tesla cars, robots can be very expensive. Intel wants robotics products to be affordable enough that ordinary homeowners can easily buy them.
Price reduction of any product is always easier done when more companies are producing it.
Musk wants other car companies to use Tesla's patents so he can make more money selling lithium-ion batteries with his Gigafactory project. On the same note, Intel wants other companies to use its robotics assets to help Intel sell more of its x86 processors.
The $1,600 version of Jimmy has the Edison mini-computer that uses a low-energy Quark processor. However, it is possible for people (or companies) to buy a high-margin Intel Core i7 processor to give more computing/thinking power to their own versions of Jimmy.
People will eventually require high-end processors to produce robots that can do intelligent interactions. I want an affordable robot that can help me learn French.
Robots will not laugh at me when I practice conversing in French with it. My nieces in Luxembourg, Pamela and Carmela, always burst into laughter when I try practicing French with them.
I do not think a Quark processor is powerful enough to make robots that can teach languages. Robotics is a future revenue stream for high-margin x86 processors. People will eventually get bored with dancing robots.
The future house robots will need to be smarter than pet dogs. Intel is helping the world come up with robots which can educate (and not only amuse) their human masters.
Custom Looks Via 3-D Printing
Intel is releasing the 3D design files of Jimmy so that customers can use 3D printers to customize the looks of Jimmy. A MakerBot 3D printer helped Intel produce early prototypes of Jimmy. People who already own 3-D printers can modify the $1,600 Jimmy the Robot.
Robotics enthusiasts who find the original 2-foot tall Jimmy as too small and want to make it as big as inMoov, can do so quickly by printing a larger model out of the 3D design files. People also have the option to print out new body parts to make unique looking versions of Jimmy the Robot.
Consumer 3-D printers are getting cheaper and more powerful. As additive manufacturing machines become more affordable to consumers, Intel's highly-customizable robots will gain more mainstream acceptance. Humans appreciate their robot companions to come with unique looks too.
Conclusion
I monetized my gains from Tesla last July 1 to acquire more Intel shares. Home robotics is a solid source of future growth for the company. Smart socially- interactive robots are also part of the Internet of Things revolution. This old tech company is still nimble and quick to market futuristic products.
Intel may completely miss the smartphone boat but it sure has an early bird advantage in consumer robotics. Intel bested Google in coming up with a real home-centric robot with the $1,600 Jimmy.
INTC also bested AAPL and GOOG in YTD performance. The +20.46% performance of INTC this year should inspire more long-term value investors to keep adding more INTC shares to their portfolios.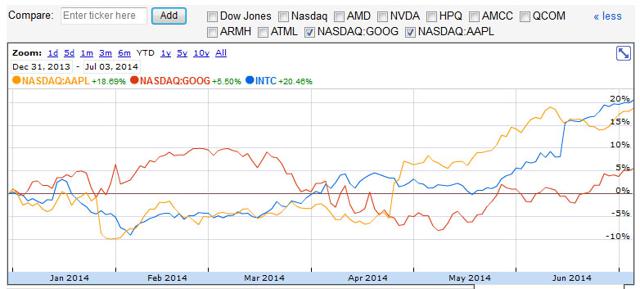 Source: Google Finance
Intel already posted a new 52-week (and 10-year high) of $31.26. However, Alpha Omega Mathematica still rates INTC as BUY. Thirteen analysts at BarChart remain very bullish on INTC. BarChart Opinion's technical indicators also give Intel an average score of 96% Buy.
Disclosure: The author is long INTC, AAPL. The author wrote this article themselves, and it expresses their own opinions. The author is not receiving compensation for it (other than from Seeking Alpha). The author has no business relationship with any company whose stock is mentioned in this article.