The high-end of the smartphone and tablet market is all about the margins. The world has kept a close eye on the slugfest between Apple (NASDAQ:AAPL) and Samsung (OTC:SSNLF) smartphones. The introduction of iPhone to global market was widely accepted in 2007. Samsung, however, battled its way to dominance among the smartphone companies. Thereafter, 2010 saw the first ever iPad and in the absence of competitors, Apple took the market by storm. However, opportunists were quick to react, and Samsung, ASUS, Sony and others manufactured their own tablet models.
As things stand, the consumer trend is seen to be shifting toward Android smartphones which certainly rings alarm bells for Apple. The iPad, regardless of its hefty reputation, carries certain shortcomings. Non-affordability rates, the virtual keyboard and lack of multitasking tend to be a turnoff for users.
Samsung's market share has skyrocketed, and currently holds 31% i.e. only in the first quarter of 2014. Apple is languishing around 15%. Samsung is now being generally accepted by the tech savvy masses. This could be attributed to featuring dozens of models that carry higher affordability rates. In addition, the Android Operating System seems to penetrate deeper in the market; many of these attributes being non-existent in Apple.
Samsung has gone to lengths to introduce both high and low end tablets for the consumer market. Unveiled this year, the high-end tablets constitute the Galaxy Note PRO and Galaxy Tab PRO. While many large tablets measure around 10 inches, the Galaxy Note PRO and Galaxy Tab PRO measure 12 inches at most to as small as 8 inches. The high-end tablets are estimated to cost around $US650 to $US850 while the low-end tablets are rumored to cost around $US100. Samsung is smart enough to leverage its Galaxy S success by building on established technology and market recognition
The Samsung Galaxy S smartphone series had overnight sales success, which proved a boon for the brand. Based on the Galaxy S smartphone series, Samsung chose to launch the 8.4 and 10.5-inch Galaxy Tab S which is a high-end tablet. The 10.5-inch weighs 465g and is 0.26 inches thick as compared to Apple's iPad Air weighing 469g which is 0.29 inches thick. The 8.4 version weighs 294g which is lighter to Apple's iPad mini with Retina displays weighing 331g.
Samsung Electronics recently introduced a new lineup of premium tablets called the Galaxy Tab S series, as it seeks to gain high-end market share in a tablet market that has shown signs of slowing growth. The tablets will come in two screen sizes - 8.4 inches and 10.5 inches - and will retail from $399 and $499 in the United States, depending on storage capacity and wireless configurations. While the devices do look impressive, sporting an improved design and cutting edge hardware, they may not contribute very significantly to Samsung's bottom line, given the possible high manufacturing costs and the competition from Apple's iPad, which dominates the high-end of the tablet market.
The tablets have Super AMOLED screen with the fingerprint scanner in addition to Samsung's fastest octa-core processors. Samsung is expected to dominate much of the market share with the introduction of Samsung Galaxy Tab S, a similar trend it followed with the Samsung Galaxy S series smartphone. Samsung's self-designed cases for Galaxy Tab S called Book Covers snap on to the back of the tablet so that one may prop it on a flat surface to view three different angles.
While both Apple and Samsung tablet business still continue to thrive, Samsung is moving faster, ever so slightly. According to IDC, Samsung's tablet business grew 86% annually to capture 18% of the market while Apple's iPad business grows 13.5% annually for 33.8% of the market.
Samsung Gaining Tablet Market Share
While global tablet shipments continue to expand, the growth rate has been declining. As of Q1 2014, tablet shipments grew by just about 3.9% compared to the same period a year ago and IDC forecasts that tablet shipments for the year will rise by just about 12.1% compared to a growth rate of around 51.8% during 2013. [1] However, Samsung, for its part, has been gaining traction in the market, owing to its attractive promotions and a diverse product portfolio, which includes tablets at different price points and screen sizes. During Q1 2014 the company's tablet shipments grew by around 32% to around 11.2 million units, while market leader Apple saw its shipments fall by 16% due to supply constraints and possible saturation in the high end of the market. Samsung held about 22.3% of the global tablet market as Samsung's products are available in varying prices suitable for a range of individuals in addition to the option of changing screen size, inbuilt features and product design, from one to another smartphone.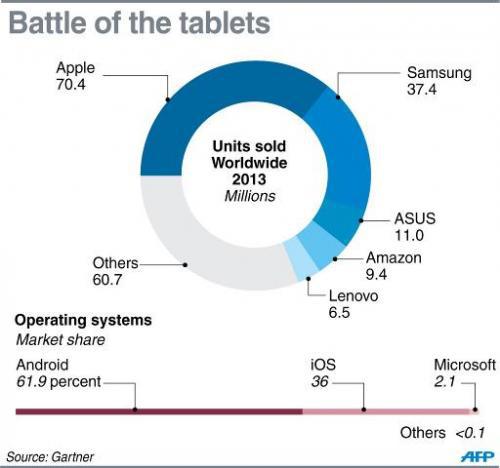 With the induction of a similar trend within tablets, Samsung is sure to reign supreme over all other tablet manufacturing companies.
Going After Apple's Market Could Prove Challenging
Apple remains the undisputed market leader in the high-end of the tablet space, with around 32% share of the overall tablet market. Samsung's new launches are targeted squarely at Apple, is believed to be more in demand within US. However, within emerging markets and those well established such as China, there is an ever increasing demand of the Android operating system. In addition, Samsung began receiving orders for Galaxy Tab S even before its launch in the market.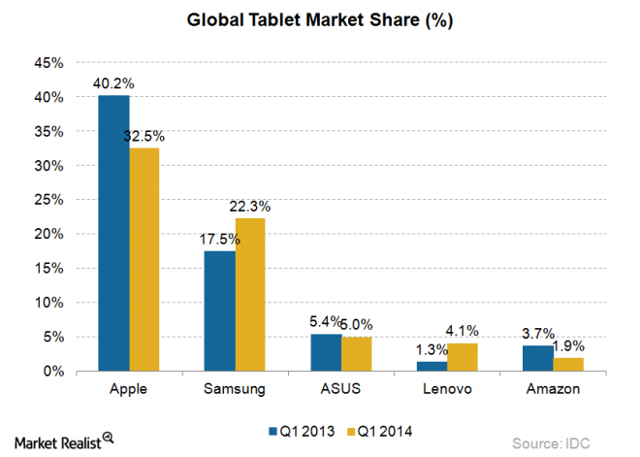 Samsung, as yet, has to witness a global response for its Galaxy Tab S, but there is no denying the market is waiting in anticipation to get its hand on the tablet. Samsung's past success in grabbing market share in the phone business certainly does not bode well for Apple's position in the global tablet market. The fight is on. No matter what you're looking for in a long position, Samsung can fit that mold and provide long-term gains.
Disclosure: The author has no positions in any stocks mentioned, and no plans to initiate any positions within the next 72 hours. The author wrote this article themselves, and it expresses their own opinions. The author is not receiving compensation for it (other than from Seeking Alpha). The author has no business relationship with any company whose stock is mentioned in this article.
Editor's Note: This article discusses one or more securities that do not trade on a major U.S. exchange. Please be aware of the risks associated with these stocks.