American Capital Agency Corporation (NASDAQ:AGNC) is an externally-managed mortgage REIT company. It invests in agency pass through securities whose payments are being guaranteed by the U.S. government or its sponsored entities.
I am bullish on the company because of its sustainable high yield and attractive investment opportunities available in the TBA market. The company's book value also recovered after falling for five straight quarters, which is an encouraging sign for investors. This was primarily driven by shifting the portfolio-t-mix to 15-year fixed MBS from 30-year fixed MBS. The book value has shown an improvement because of wider spreads in 15-year MBS.
Furthermore, I am not worried about the end of the Fed's stimulus program later in the year because the cut down in asset purchase is backed by strong economic fundamentals. As mentioned in my previous article, economic fundamentals are improving. Unemployment data is improving and actually, it has been better than the Fed's expectations; the federal agency has now reduced its expectations to 6%-6.1% from 6.1%-6.3% for the current year.
Similarly, consumer spending has improved by 0.2% in May, which is a major chunk of GDP. But the interesting thing is that in real terms, spending decreased by 0.1%. I believe that spending will improve in the future because personal income in May rose by almost 0.4%, which is way higher than the contraction in real consumer spending. So it is just a matter of time before Americans start spending and I am optimistic about the June report.
Although inflation continues to be below the Fed's target, the recent consumer price index showed that on a seasonal adjusted basis, the All Urban Consumer index rose by 0.4%. It has been the 4th consecutive month in which the index has shown signs of improvement. So, inflation is picking up overall, and while it may be slow in doing so, it is still improving. The Fed's overall target for inflation remains 1.5%-1.7%, which now looks difficult to achieve, but I believe the numbers will change favorably in the second half of 2014.

Source: Bureau of Labor Statistics
An important thing for investors to understand is that rising rates are not necessarily bad news for mortgage REITs. If rising rates are predictable and backed by strong economic growth, then companies adjust accordingly and reshape their portfolios. What happened last year was based on uncertainty. Nobody knew when the Fed would start tapering and the market overreacted in panic. Even the Fed itself was not clear. In the six months from May to December, AGNC's stock price was down by almost 40%, only based on the news of possible tapering and not even a single dollar was cut by the Fed. Since December till now, the stock price is up by almost 15.5% because things are more predictable and interest rates have stabilized. So it's good that the Fed has been continuously tapering $10 billion and it is expected to be completed by the end of the year.
Favorable demand supply dynamics
Furthermore, as discussed in the company's first quarter earnings call, there will be a smooth transition when the Fed ends its tapering because gross supply for MBS is expected to remain low at $843 billion, which is $450 lower than the 14-year average of $1.3 trillion. Although the Fed has been cutting down its asset purchases, it still holds a major chunk, as shown in the figure below, which means the impact of tapering has been somewhat minimized. This is also the primary reason why mortgage rates have remained lower than what was expected by the market.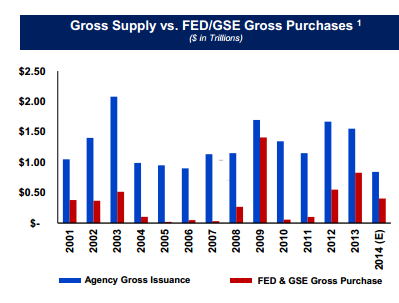 Source: Company 1Q Earnings Presentation
Dividends & Valuation
An attractive dividend yield is a major attraction for investors, I expect AGNC to maintain its dividends at $0.65 per share, yielding 11%. The dividend of $0.65 per share is sustainable with a core EPS of $0.72 per share. Also, the company has undistributed taxable REIT income of $0.42 per share, which could help the management maintain its dividends.
It is also undergoing an aggressive share buyback program. In the recent first quarter, the company has repurchased 3.4 million shares with an average price of $22.10 per share, which brings the total to 46 million shares since the fourth quarter of 2012. It means that the management believes the company is trading at a discount. The management also has the mandate to buyback another $1 billion worth of shares till the end of this year.
Although the company has been historically trading at a premium to its book value, my price target is $24, which represents a slight discount to 1Q14 BVPS because of yield curve volatility. Currently, the stock is trading a little higher than $23, which means that there is a modest possibility of price appreciation as the stock price has already increased by 20% YTD.
Conclusion
I think the economy has been showing steady signs of improvement and this momentum could be carried in the future as well. Also, the low supply of MBS helps reduce the impact of tapering. With a dividend yield of 11% and modest potential for price appreciation, I believe AGNC provides an attractive total return among the agency mortgage REIT space.
Disclosure: The author has no positions in any stocks mentioned, and no plans to initiate any positions within the next 72 hours. The author wrote this article themselves, and it expresses their own opinions. The author is not receiving compensation for it (other than from Seeking Alpha). The author has no business relationship with any company whose stock is mentioned in this article.