Johnson & Johnson's (NYSE:JNJ) orthopedics-focused subsidiary DePuy Synthes and Johnson & Johnson Innovation have formed a strategic alliance with Tissue Regeneration Systems ("TRS") for developing patient-specific implants. The implants will be used in the treatment of large bone segmental defect in trauma and orthopedic oncology. TRS will contribute its 3-D printing technologies for the development of the implants. Johnson & Johnson Innovation, a newly formed organization of J&J, will help the alliance translate the implants into commercially viable products.
The reputation of DePuy Synthes has been trashed a little, due to alleged deceptive marketing claims over its recalled metal-on-metal hip implants. Faced with an array of challenges, DePuy Synthes initiated a reorganization procedure that will eliminate approximately 400 jobs. I believe that such negative news will keep J&J's stock under pressure going ahead. However, I don't believe that any near-term weakness in J&J would be a good investing opportunity, despite the company's impressive growth prospects. A substantial portion of its growth is already in the price of the stock.
What Does TRS Do?
TRS is a start-up medical device company aiming at commercializing its breakthrough technology in skeletal reconstruction and bone regeneration. The technology, which has been evaluated in several large animal studies with promising results, uses a biodegradable polymer mesh to grow new bone. The company's ultimate goal is replacing the titanium implants currently in use. TRS has recently been granted a 510K approval by the FDA that will help the company launch its first product in the US within the next few quarters.
TRS recently raised $2.25 million in its second round of venture capital funding, including $500,000 from a new state of Michigan fund. The start-up is expected to start generating revenues as early as next year. Its technology will help produce polymer-based implants with dissolvable mesh coated with growth factors. The technology has potential to replace titanium-based implants of large companies, such as Medtronic (NYSE:MDT) and Stryker (NYSE:SYK), apart from Johnson & Johnson itself. Since titanium is stronger than the surrounding bones, it causes degenerative problems. TRS' technology is expected to be superior to currently available technologies.
What could be Johnson & Johnson's Interest?
Starting with trauma and orthopedic oncology, Johnson & Johnson wants to diversify the use of TRS' technology in several other areas of orthopedics. If the strategic alliance remains successful, I believe that Johnson & Johnson will acquire TRS eventually, which will not only boost J&J's orthopedics revenues, but also help the company outcompete rivals like Stryker and Medtronic.
J&J's acquisition of Synthes in 2012 for $19.7 billion set the stage for the company's orthopedics business expansion. The combined strength of Synthes and DePuy fueled the company's orthopedics revenue close to $7.8 billion immediately after the acquisition in 2012. The combined entity helped the company start restoring and re-launching its OTC products in the US, after numerous orthopedics-related recalls. With the TRS collaboration and many other such collaborations, J&J can experiment with new technologies that have commercialization potential, keeping R&D expenses at the minimum level.
Conclusion
Analysts expect that J&J's orthopedics business will grow at a CAGR of mid-teens in the next five years and orthopedics will continue to fuel its medical device business in the future. The company's forward valuation is relatively higher compared to its competitors in orthopedics and medical devices, due to better growth prospects. However, a substantial part of that growth is already priced in.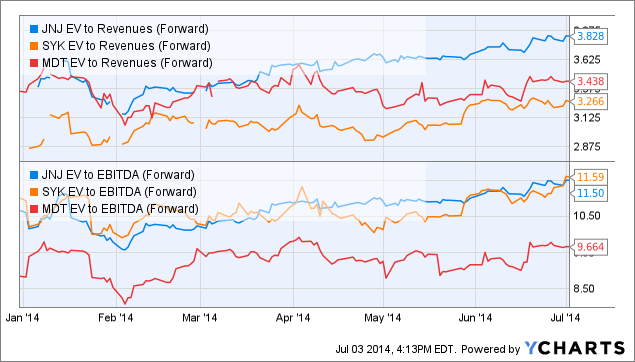 JNJ EV to Revenues (Forward) data by YCharts
In the past five years, the company's overall revenue grew at a CAGR of 3.7%, and in the next five years, revenue is expected to grow at a CAGR of ~10%. In FY2019, its expected revenue would be around $115 billion. Currently, the company is trading at 2.5x 5-year forward revenue, which doesn't represent an attractive valuation. I don't believe that J&J is a good long-term investment at the current price.
Disclosure: The author has no positions in any stocks mentioned, and no plans to initiate any positions within the next 72 hours. The author wrote this article themselves, and it expresses their own opinions. The author is not receiving compensation for it (other than from Seeking Alpha). The author has no business relationship with any company whose stock is mentioned in this article.