Real Implied Growth Rate (RIGR) shows market expectations for long-term growth in earnings implied in an individual firm's stock price. RIGR analysis shows growth expectations for both Google (Nasdaq: GOOG) and Apple (Nasdaq: APPL) are in the upper 60th percentile for S&P 500 companies…closer to the middle than the top.
RIGR is derived using the Risk Premium Factor Valuation model (RPF Model). The RPF Model has shown very strong correlations with actual S&P 500 Index levels for the past 50 years. You can read my introduction to RIGR on Seeking Alpha (here), a summary of the RPF Model on Seeking Alpha (here) or the full paper on SSRN (here).
The charts below shows RIGR for computer hardware and computer services industries as defined by Market Guide: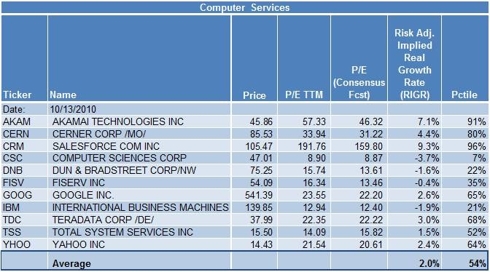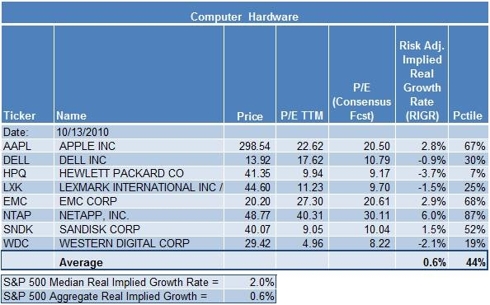 Source: Data from I-Metrix (http://i-metrix.edgar-online.com/); Analysis by Hassett Advisors
While we might reasonably place companies like HP (NYSE:HPQ) and IBM in the same industry, the major players are present and we can draw some interesting observations:
RIGR for Google and Apple are 2.6% and 2.8% putting them in the 65% and 67% percentile relative to the S&P 500, putting them closer to the middle than the top.
Hewlett-Packard and IBM both have negative RIGR, implying the market expects earnings of both to decline over time.

They both rank in the bottom 20% of the S&P 500 in terms of growth expectations.
Yahoo (Nasdaq: YHOO), perhaps surprisingly to some, has RIGR of 2.4% putting the company at the 64% percentile, close to Google and Apple in terms of growth expectations.
Why would Yahoo have similar expectations for growth to Google and Apple? The market is a dispassionate arbiter. While Google and Apple are truly exceptional companies, there is a real question as to whether they can sustain the current level of growth. Meanwhile, Yahoo, which has underperformed operationally is under considerable pressure, is viewed as a turnaround story.
Once expected growth declines, valuations fall, so some of the key questions are:
While Google dominates search advertising and has a pipeline of exciting products, can these new products can generate sizable profits?
The iPhone and iPad account for a significant chunk of Apple revenue.

Can they maintain growth and margins in iPhone and iPad in face of increasing competition?
Disclosure: Long YHOO