In a blog I put out ahead of the Intel (INTC) numbers, I noted that reasonable guidance from Intel would help stabilize sentiment on the PC market and by extension help the LED market find new, more positive direction.
Though this is only part of the story for LEDs, this appears to have been the case. Veeco (VECO) and Aixtron (AIXG) are finding some clear demand, though Rubicon (OTC:RBCN) still appears weak. My own opinion is that the recent negative sentiment on Rubicon is likely to prove to have been misplaced. However, the focus of my attention is Cree (CREE).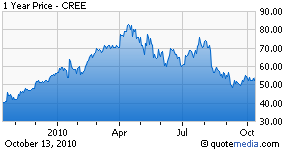 I think it worthwhile to restate the merits of this leader in the coming lighting revolution. CREE is some 30% off its highs since May but the price action is now suggesting that it is stabilizing and due for a comeback.
Energy efficient LED lighting is a solid opportunity for Sustainable Investing. CREE does produce LEDs for other uses – and has recently therefore been caught up in the generally confused concern over excess supply in the sapphire wafer and general LED backlighting market. However, CREE's core market is clearly energy efficient LED lighting and this dominates its earnings outlook.
Hopefully, the stabilization of sentiment on LED stocks alone will now help investors to focus on the very compelling story for CREE in LED lighting. The benefits of LED lighting for energy efficiency and CO2 emissions are clear – with savings averaging somewhere around at least 68% when replacing old incandescent light bulbs for LED lighting – and as high as 85% for the best CREE product.
Moreover, consumer adoption looks ready to steadily increase –
The regulatory framework in the U.S. means that incandescent bulbs will be banned in phases, starting with the 100w bulb in 2012 and ending with the last 40w bulb in 2014.

According to the National Assoc of Realtors there are 131m housing units in America. The average U.S. home has 52 light sockets. The room for growth here as consumers adopt energy efficient lighting is self-evident. Meanwhile, the corporate market may actually develop ahead of the consumer.

Compact fluorescent (CFL) bulbs are an alternative but these contain toxic mercury and the newer LED bulbs are more efficient. Moreover, with incandescent bulbs being phased out, there is plenty of room for growth for both CFLs and LEDs.

LED lighting represents an up-front investment, with savings accruing later. However, prices have been dropping. And for fully dimmable, recessed lighting LED is the clear winner.

There are other players in the LED lighting market. However, CREE is the clear quality leader. Moreover, they have significant property rights in this arena. GE (GE) has a new LED bulb coming – but it will be produced with CREE LEDs and technology. It is therefore merely another strong source of demand for CREE.
Perhaps the most pivotal point in the growth of an industry or business is when a previously bespoke or niche product makes its way into the mainstream market. CREE has been the leader in LED lighting at least since 2003. Its sales have largely been to corporations looking to cut energy bills. Up until a year ago LED bulbs seldom cost less than $100 a pop.
However, in years to come we will perhaps look back on the recent push Home Depot (HD) has made into this market as a pivotal moment which finally pushed LED lighting into the consumer sector in a meaningful way. With their EcoSmart brand, Home Depot now offers recessed 65 watt equivalent LED lights produced with CREE for $49.95. And they have an EcoSmart LED bulb produced with Lighting Science for $18. These products save up to 85% on energy bills and are now on the radar screen for consumers – and they will likely now grow in popularity.
This will no doubt only be helped as States hopefully follow Vermont's initiative in offering significant rebates via Utilities on the introduction of LED bulbs and fixtures via their Efficiency Vermont program.
From here CREE looks like solid risk-reward with a medium-term target of $85 – and a potential for $115 next year.
Disclosure: Long CREE, RBCN